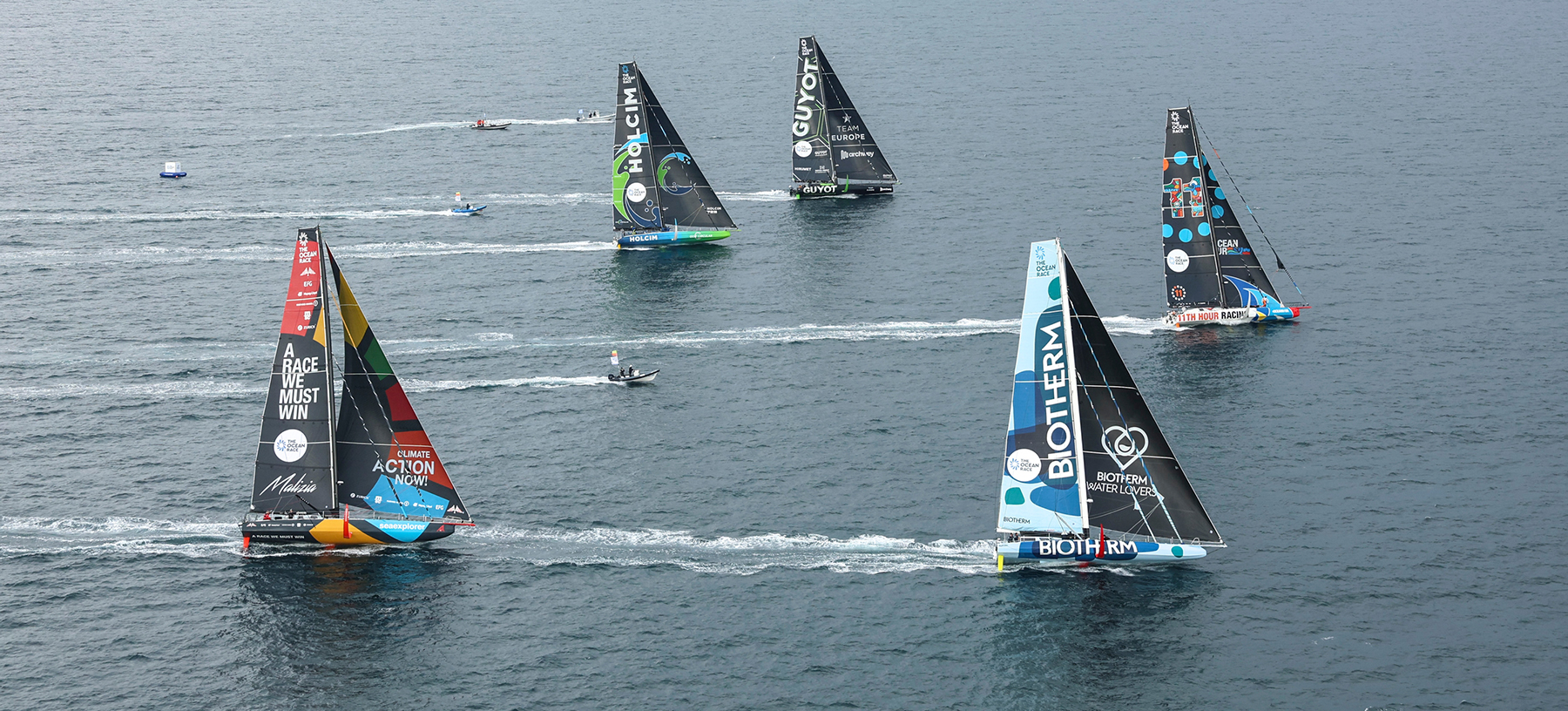 10 ways we are working #fortheocean with The Ocean Race
The Ocean Race starts on January 15, 2023, at 10:00 AM EST/ 16:00 CET, and we can't wait for all of the teams to cross the start line in Alicante!
As the title sponsor of 11th Hour Racing Team, Premier Partner of The Ocean Race, and Founding Partner of the Racing with Purpose program, we are even more excited by the robust sustainability initiatives that make up the fabric of the race.
With that in mind, these are some ways the world's toughest race is putting the ocean first.
The One Blue Voice Immersive Experience


We are biased, but we can't wait to share this multisensory, immersive experience with the world! The One Blue Voice Immersive Experience, presented by 11th Hour Racing at

The Ocean Race Ocean Live Parks

, will take visitors on a journey beneath the waves to discover the race below. Created in collaboration with

Tellart

, the show combines video, audio, and hologram (at select stopovers) to give visitors a new perspective on the ocean and meet its unsung heroes.

Photo credit: Sailing Energy/ The Ocean Race

Sustainable boat building


During the design and build of their new boat, Mālama, 11th Hour Racing Team closely tracked material components, supply chain, and environmental impact. This data was published in an

impressive report

that aims to drive positive action within the marine industry and provide a roadmap for aligning with international frameworks for positive climate action, including the Paris Agreement. By '

lifting the lid

' on the impact of building a race boat, the team has highlighted that the sport must prioritize sustainability along with performance.

The Ocean Race will collect more environmental data than any sporting event!


Every boat participating in the race will

measure different scientific data

, including indicators of climate change, microplastic pollution, meteorological data to improve global weather forecasting and ocean biodiversity.

Carbon calculations


The race is carefully managing its greenhouse gas emissions and has set a goal of a

75% reduction in race organizer emissions

compared to the last race. Ocean Live Park runs on renewable energy, wherever possible, using solar power, hydrogen fuel cells, and even a people-powered energy floor to power the Park in some locations. The Race plans to be 'climate positive' by balancing the event's unavoidable greenhouse gasses through blue carbon projects.

Danni Washington as the host of The Ocean Race Summits


The Ocean Race Summits

use the race's global platform to accelerate action for our marine world. The current series of summits, hosted by TV personality, science communicator, and ocean explorer

Danni Washington

, is helping to drive new and improved policies around the issues affecting the ocean, honing in on making waves for

ocean rights

.

Photo credit: Cherie Bridges / The Ocean Race

Champions for the sea


More than 186,000 students have been part of

The Ocean Race's world-class learning program

. Available in nine languages, the lessons are suitable for schools, at-home learning, community and youth groups, and sailing clubs. The race's unique perspective on the marine world provides an exciting backdrop to show younger generations what makes the ocean so amazing. Plus, they support the

United Nations Sustainable Development Goals

(SDGs) that seek to 'transform our world' by 2030.

Wisdom's Way


When visiting Ocean Live Park, kids can explore Wisdom's Way! Created in honor of

Wisdom

, the world's oldest known breeding albatross and Volvo Ocean Race mascot, this self-directed and family-friendly activity takes you around Ocean Live Park to learn more about ocean health and rights, science and sailing, and the Race.

Photo credit: Sailing Energy / The Ocean Race

Hold the plastic


Following the 2017-18 edition of the Race, when 388,207 single-use plastic water bottles were avoided by providing water refill stations, the race has made more strides in hosting an event without single-use plastic. Now the race will have no single-use plastic in any food and beverage services, and we can't wait to see the different compostable cutlery and reusable cup systems around the world!

Come for the sailboats – stay for the sustainable seafood!


All seafood served within Ocean Live Park is from sustainable fisheries – and if you'd rather not eat from the sea, you'll find plenty of low-impact vegetarian and vegan options.

11th Hour Racing Team Grantees


Leaving a positive impact in their wake – the Team

joins forces with organizations

at each stopover that are committed to advancing innovative projects that improve ocean health and inspire change.

Save The Med Foundation is 11th Hour Racing Team's grantee based in Mallorca, Spain working closely with local authorities and stakeholders to create an effectively manage network of Marine Protected Areas around the Balearic Islands. Photo credit: James Cooke/ Save The Med