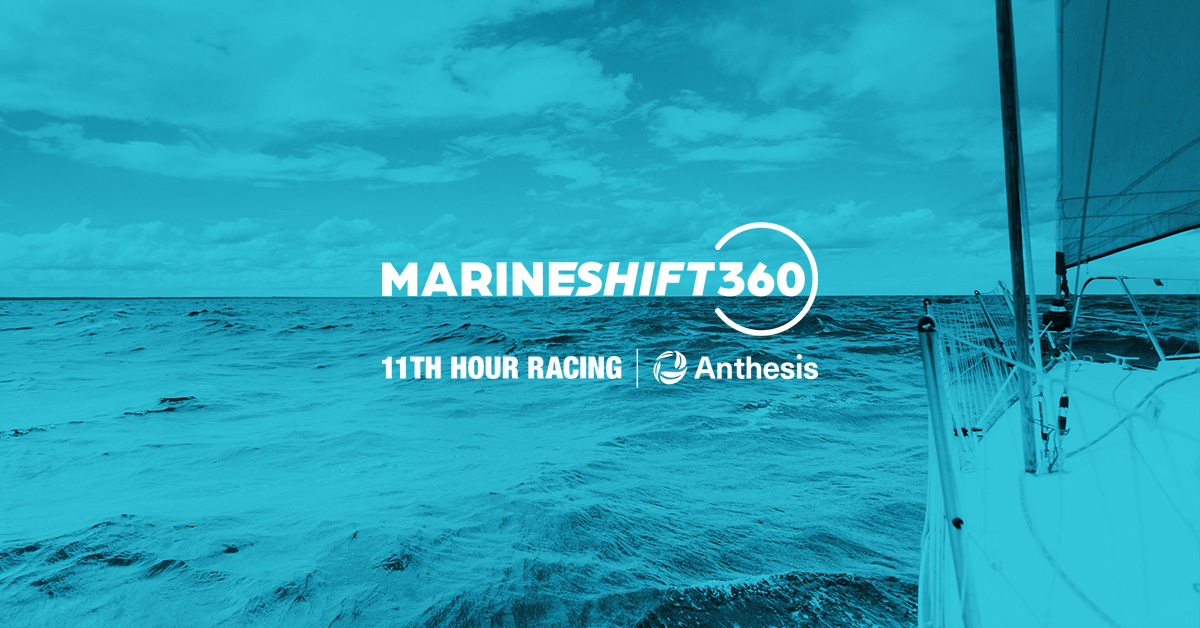 11th Hour Racing and Anthesis Launch MarineShift360
A PIONEERING SUSTAINABILITY TOOL FOR THE MARINE INDUSTRY
11th Hour Racing, in collaboration with global sustainability firm, Anthesis Group has today launched a Life Cycle Assessment (LCA) sustainability tool, MarineShift360. Designed by marine industry experts for marine designers, manufacturers, boat builders and engineers, the software tool enables users to evaluate and compare materials and processes, investigate alternatives, and drive innovation as well as positive, sustainable change throughout the whole product life cycle.
Built as a web-based application, MarineShift360 is intuitive and easy to use, enabling marine businesses to fully understand the environmental footprint of products and processes by quickly assessing their impact, whether individual marine components or a whole yacht. By identifying efficiencies, the LCA tool allows users to reduce environmental impact and costs without compromising performance, all at the touch of a button.
MarineShift360's founding sponsor, 11th Hour Racing, established a cohort of industry experts and partners to support the product's development phase. The management of tool development was led by Jill Savery, 11th Hour Racing's Sustainability Director, alongside former Mini-Transat and Whitbread round-the-world sailor and boat-builder, Michel Marie, and the Anthesis team, led by Chief Technology and Metrics Officer and transatlantic sailor, Craig Simmons. 11th Hour Racing selected Anthesis to be responsible for the development and management of MarineShift360, as one of the world's leading sustainability firms recognised globally for its work with forward-thinking industry leaders to shape smart solutions that drive impact and unlock sustainable performance.
To evaluate MarineShift360 in a real-life setting before launch, a diverse range of businesses, from performance to production, rigging, sails and deck hardware, acted as pilot partners and provided invaluable feedback. Pilot partners included: Williams Jet Tenders, Philippe Briand Ltd, Briand Yacht Design, GAC Pindar, 11th Hour Racing Team, Syroco, Gsea Design, Princess Yachts Ltd, Doyle Sails, Arksen, Group Beneteau and OneSails.
Jill Savery, Sustainability Director at 11th Hour Racing, commented: "11th Hour Racing invested significant time and resources into the development of this customised marine industry LCA tool because we are committed to fostering a circular industry. We are very excited that the time has come to launch MarineShift360 to the wider industry in collaboration with Anthesis. Our pilot partners have provided instrumental feedback and helped us develop the tool from conception to the leading sustainability software it is today."
Craig Simmons, Chief Technology and Metrics Officer at Anthesis Group, added: "This is a pioneering project for the industry, and we have welcomed supporting 11th Hour Racing. Until now, such a comprehensive LCA tool has not been accessible in the marine industry due to the specialist skills and complexities needed to conduct and interpret an analysis. MarineShift360 will be such an important tool to progress long-term sustainability goals across the whole industry and will allow businesses to drive innovations and make informed, environmentally and economically sustainable decisions that will see companies stand out in the sector."
Commenting on the tool, Ollie Taylor, Head of Commercial Development at Williams Jet Tenders, said: "Life cycle assessment provides the data to help you make smart decisions. As a result of using MarineShift360, we are planning to make significant changes to our operations and to our current supply chain. More importantly, MarineShift360 will form the backbone of how we go about designing and developing new products moving forward."
More information on MarineShift360 can be found at MarineShift360.org, including detailed Q&As and information on the subscriptions available.