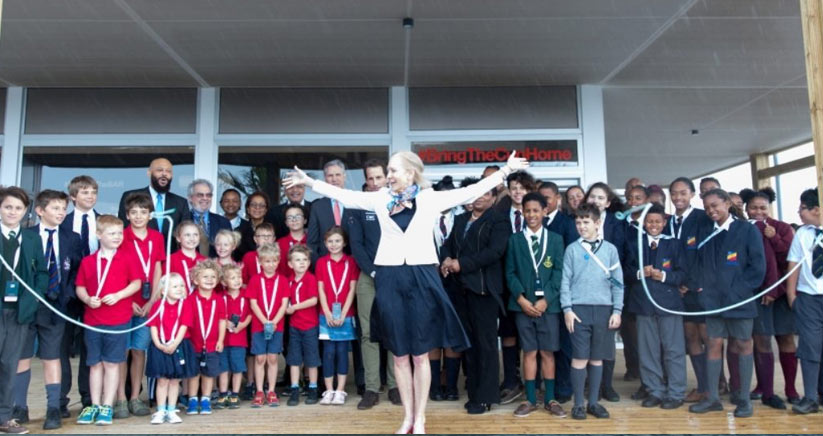 11th Hour Racing Exploration Zone Opening
Released by Land Rover BAR.
11th Hour Racing Co-Founder Wendy Schmidt opened the 11th Hour Racing Exploration Zone at the Land Rover BAR team base in Bermuda. This dedicated educational space brings to life-critical topics around ocean health, sustainability, innovation and technology, with a series of creative displays. The ocean is our playing field and we want to preserve it: supported by Land Rover BAR's Exclusive Sustainability Partner, 11th Hour Racing, the Exploration Zone will inspire audiences to make a tangible and positive impact by reducing ocean plastics, learning about the power of the sun as a source of renewable energy, and understanding the devastating effects of invasive species, particularly the lionfish that infests Bermudian waters. Other exhibits highlight the team's sporting and design challenge, and the technology and innovations that enable the latest generation of wing-sailed, hydrofoiling America's Cup multihulls that fly.
Land Rover BAR are bringing this unique, inspirational experience to Bermuda as part of their ambition to be the planet's most sustainable professional sports team and to engage with a number of different audiences: local residents, tourists, sailing enthusiasts, media, families and school groups are all expected to visit. The 11th Hour Racing Exploration Zone can also be used as a classroom space dedicated to delivering lessons resourcing the team's online digital education programme, BT STEM Crew. Children from six local middle schools attended the opening, and were treated to a lessons on invasive species and mechanisms along with a tour of the exhibits.
Wendy Schmidt, Co-Founder of 11th Hour Racing commented:
"With the 11th Hour Racing Exploration Zone, we hope to create a legacy lasting well beyond the 35th America's Cup. Through interactive displays, we focus on some of the concerns that are top of mind for all of us: which invasive species is creating havoc in the Atlantic Ocean? How widespread is the problem of ocean plastic pollution? We also look at bigger issues, such as what it means to have a circular economy and how we can accelerate the transition to the use of more renewable energy. We are thrilled to share this story with Land Rover BAR's fans, sailing and sports enthusiasts, the public, and we hope to capture their imagination and spark creativity and interest in our oceans."
Published by: Land Rover BAR, February 06, 2017.