11th Hour Racing Grantees at 2016 Our Ocean Conference
The Our Oceans conference held in Washington D.C. on September 15 and 16th 2016 not only brings together organizations from around the globe to discuss pressing ocean issues, it also encourages participants to pledge action to create long-lasting impact. A number of 11th Hour Racing's grantee participated in this global conference and further committed to taking action for our oceans. Read more about their first-hand experiences here!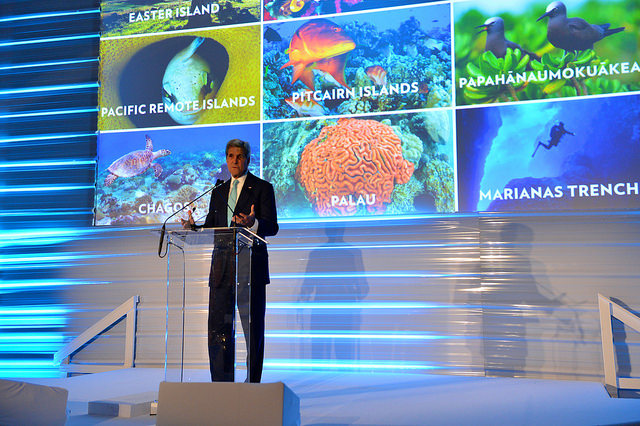 "We have to keep the momentum going so that we can come together and protect our ocean. Why? Because our ocean is absolutely essential for life itself – not just the food, but the oxygen and weather cycles of the planet all depend on the ocean. "- Secretary of State John Kerry
Rozalia Project for a Clean Ocean
"Inside the spectacular auditorium where the Our Ocean 2016 Conference was held, there were some big, inspiring stories, pledges and commitments. But, just outside, in the exhibition hall with the blue lights and amazing sculptures, there was some big, inspiring and potentially high impact action. Representing Rozalia Project and our partners, including 11th Hour Racing, I got the opportunity to do two things that could keep more plastic out of the ocean than any other project that directly involves individuals and families. Because I had the opportunity to present on the Idea Stage, I got to teach people about the relatively unknown problem of synthetic microfiber pollution – our clothes breaking up in the wash and flowing out with the drain water and into our public waterways. And, I got to introduce the first human-scale, consumer solution to that problem – Rozalia Project's microfiber catcher (a cool-looking device you just drop into your wash and it collects microfibers keeping them from washing into the nearest river or bay)! While speaking, I could see that many people in the audience had not known about the problem, or our solution. Those people are future partners, people who will amplify our optimistic message, people who could legislate change, support innovation and people who will use the microfiber catcher. We are grateful for the opportunity to be part of this incredible event and excited to move forward with our own project to protect our ocean!"- Rachael Miller, founder of Rozalia Project for a Clean Ocean
Watch Rachael's presentation here on the Idea Stage!
The 5 Gyres Institute
"The momentum at the Our Oceans conference was truly groundbreaking, and builds on the last 2 years of growing global awareness around critical ocean issues. Seeing influential world leaders – from President Obama, to Secretary of State John Kerry, to policymakers from around the world gather to not only address conservation issues, but issue commitments to action, sets a tremendous model for the global conservation sector. Looking forward to Our Oceans 2017!" – Anna Cummins, Co-Founder, The 5 Gyres Institute
5 Gyres will be partnering with U.S. Environmental Protection Agency launching a pilot project in Puerto Rico to engage citizen scientists in studying microplastics in local waters, and leveraging our findings to drive upstream solutions to reduce the threat of microplastic pollution. A secondary goal of the project is to develop systems and inspire new collaborations to replicate this type of work in other regions of the Caribbean and beyond. This collaboration illustrates the 5 Gyres model of "science to solutions".
Ocean Conservancy
Ocean Conservancy, along with Trash Free Seas Alliance Partners, announced a commitment to raise an additional $2.75 million to design a fund to pool resources among industry, governments, multi-laterals, and private investors to support waste management improvements in the Asia Pacific, with a goal of reducing plastic inputs to the ocean by forty-five percent over the next decade.
University of Georgia, Dr. Jenna Jambeck:
"It was such an inspiring event! To see all of these scientists, funders, NGOs and representatives from countries from all over the world come together to commit to restoring, preserving and protecting our oceans was just incredible. This was the biggest Our Ocean yet (in terms of commitments) and Europe, Indonesia and Norway have committed to taking the event forward by hosting the next three years, respectively."- Dr. Jenna Jambeck
At the conference, Dr. Jambeck on behalf of the University of Georgia announced a $2 million grant to its New Materials Institute and Center for Circular Materials Management to encourage innovative research on new materials based on green engineering principles, and education and training of the next generation of scientists and engineers in the design and realization of curricular materials.
Overall 136 commitments were made to protect ocean areas, manage fisheries, clean up pollution, and pursue other priorities, collectively valued at more than $5.2 billion! We look forward to see how all these ideas, pledges and commitments help to create solutions to improve ocean health in both the short term and long term!
To read more about all the commitments pledged at Our Oceans see
http://www.state.gov/r/pa/prs/ps/2016/09/262042.htm