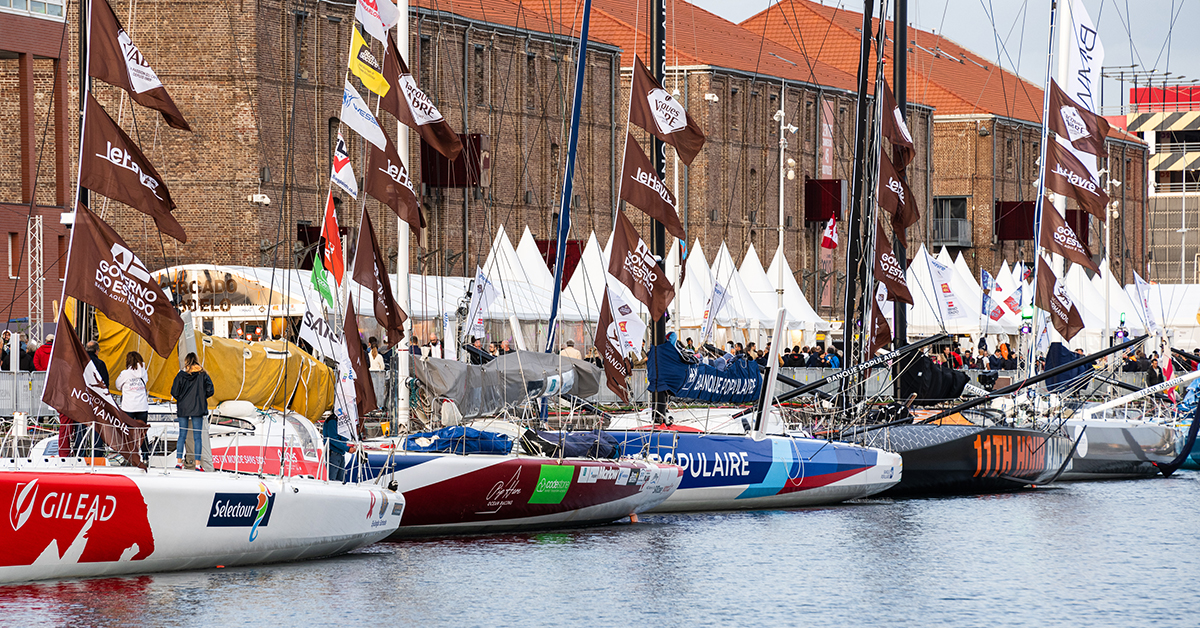 11th Hour Racing Named Official Partner of the Transat Jacques Vabre — Organizations Work Together to Highlight Ocean Health in Race Village
Building on 10 years of sponsorships focused on the power of sport to create change, 11th Hour Racing announced today its support of the 2021 Transat Jacques Vabre Normandie Le Havre as an official partner of the race.
11th Hour Racing will support a series of initiatives within the Race Village in Le Havre, France — open from Oct. 29 to Nov. 7 — to showcase the importance of restoring ocean health and engage the public on tangible solutions. The collaboration will bolster the event's enduring commitment built around environmental and social responsibility.
The biennial Transat Jacques Vabre, now in its 15th edition, is considered the toughest and longest-running two-handed transat and follows the traditional coffee route from France across the Atlantic — for the first time in its history, the race will finish in Martinique instead of Brazil.
"The Transat Jacques Vabre Normandie Le Havre is proud to partner with 11th Hour Racing for this year's race edition," said Caroline Caron, event director, Transat Jacques Vabre. "11th Hour Racing's mission to advance solutions and practices that protect and restore the health of our ocean provide valuable and vital elements to the event, contributing to our shared vision for healthy future seas and a healthy planet."
The initiatives supported by 11th Hour Racing within the Race Village include the following:
Pavillon des Initiatives Positives, a community space featuring workshops, conferences, and events focused on sustainable development, coastal restoration, renewable energy, and ocean conservation.
LILLI (Large Interactive Laser Lightshow Installation), a 3D hologram experience for Race Village visitors to discover what's under the surface of the race route from Le Havre, France, to Fort-de-France, Martinique.
Explore's Karavan des Océans, a mobile, educational display and comprehensive program about marine conservation and its challenges.
Additionally, as it did in 2019, 11th Hour Racing will supply Bluewater stations throughout the Race Village to ensure clean drinking water is available for race attendees to refill their water bottles.
"We are delighted to see the Transat Jacques Vabre is building on its pioneering role to reduce its environmental footprint since 2007," said Jeremy Pochman, co-founder and CEO of 11th Hour Racing. "La Transat Jacques Vabre, c'est le top du top de la course au large. This race is committed to being a leading voice in the conversation about sustainability. The educational narrative will explore the connection between what happens on the water and what impact that has on the ocean, as well as solutions to mitigate that impact."
11th Hour Racing establishes strategic partnerships within the sailing and maritime communities to promote collaborative, systemic change. This work includes grants to more than 180 organizations, including Station Marine de Concarneau and Explore in France, and an ambassador program, including French professional offshore yacht racer François Gabart — who won the 2012-13 Vendée Globe and set a new race record, won the 2015 Transat Jacques Vabre in the Ultime class, and holds the solo round the world record (Trophée Saint-Exupéry, 2017) of 42 days 16h 40mn 35s aboard the trimaran Macif. Additionally, 11th Hour Racing is the title sponsor of the 11th Hour Racing Team, which will have two entries in the IMOCA 60 class — a first in the 30-year history of the Transat Jacques Vabre.
Header image credit: Alea | Transat Jacques Vabre