11th Hour Racing Named Official Supplier of the Route du Rhum – Destination Guadeloupe
Organization to sponsor waste management initiatives in the Saint-Malo race village
Expanding its global reach using the power of sport to create change, 11th Hour Racing announces its support of the Route du Rhum – Destination Guadeloupe as an official supplier of this iconic transatlantic race.
11th Hour Racing's sponsorship focuses on waste management initiatives in the Saint-Malo, France race village — open from Oct. 25 to Nov. 6 — to engage fans in behavior change to improve ocean health. This sponsorship reinforces the organization's mission to work with sailing, maritime, and coastal communities to inspire solutions for the ocean and strengthens 11th Hour Racing's positioning within French offshore sailing.
"11th Hour Racing is pleased to support the Route du Rhum – Destination Guadeloupe as an official supplier with key initiatives to develop its sustainability program," said 11th Hour Racing Managing Director Todd McGuire. "Sailing is an integral element of French culture, steeped in tradition and embedded in youth education, and with an estimated 2 million people visiting the race village, the reach of this event is incomparable. Our support of the race will bring demonstrable solutions to reduce the event's environmental impact, positively influence other event organizers, and showcase simple behavior changes people can incorporate into their daily lives."
The initiatives 11th Hour Racing supports within the race village include the following:
An Echo Cube trash skimmer in the marina that collects floating waste, categorizes the materials, and collects data to understand the region's marine debris issues.
Four water refill stations where visitors can fill reusable water bottles.
Video messaging to highlight best practices for waste management.
The Route du Rhum – Destination Guadeloupe, created in 1978, is regarded as the queen of solo transatlantic races. The 3,542-mile race welcomes an ocean racing fleet of all levels on the starting line in Saint-Malo every four years.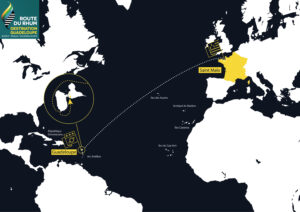 Header image credit: Alexis Courcoux