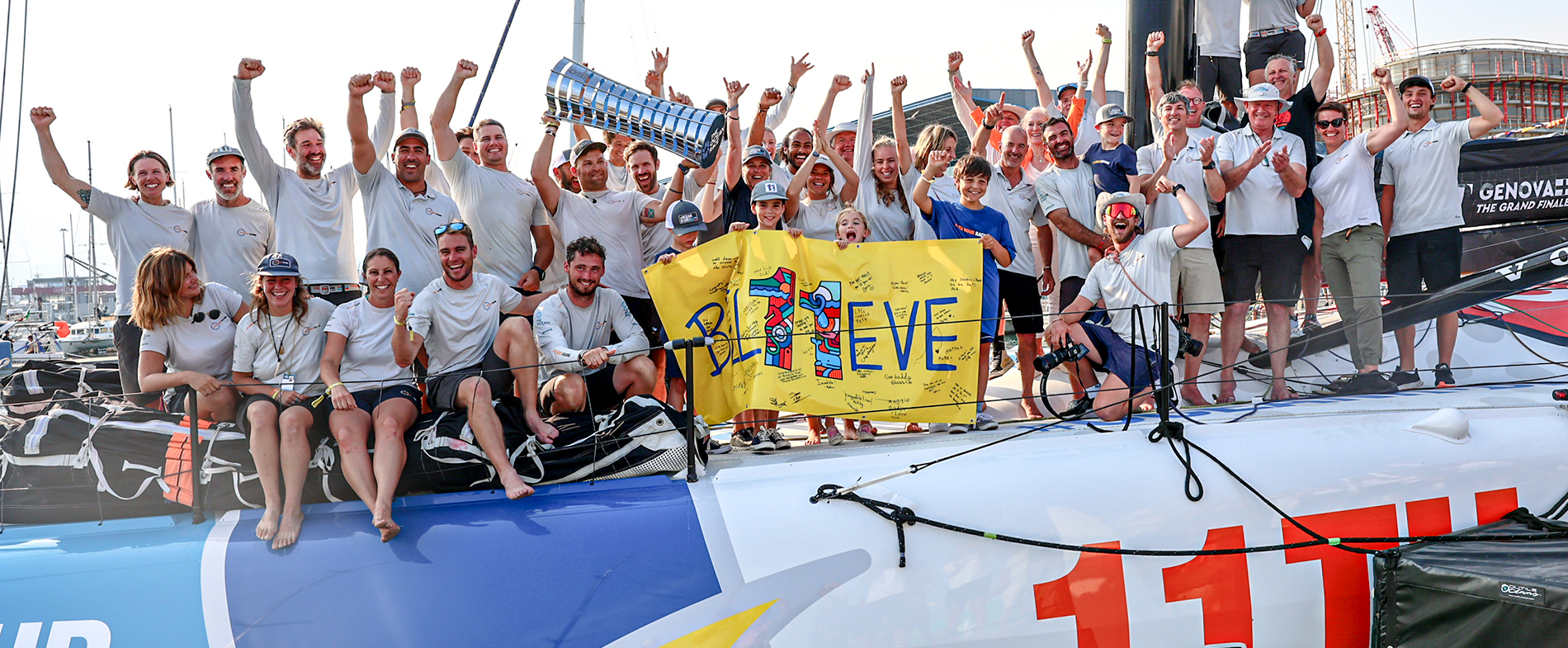 11th Hour Racing Team Wins The Ocean Race With a Focus on Restoring Ocean Health
First U.S. team to win iconic race around the world is inspired by 11th Hour Racing's commitment to a sustainable future
Placing ocean health and sustainability at the heart of all operations, U.S.-flagged 11th Hour Racing Team successfully fulfilled its mission by capturing an historic win in The Ocean Race. 
Charlie Enright is now the first American skipper to lead a U.S. team to victory and hoist the iconic trophy in the 50-year history of The Ocean Race, the famed race around the world. Crew member, Francesca Clapcich, also became the first Italian to win the race. 
Fueled by the visionary leadership of its Newport, Rhode Island based sponsor 11th Hour Racing and co-founders Wendy Schmidt, Jeremy Pochman, and Rob MacMillan, 11th Hour Racing Team launched a global impact campaign in 2019 to compete in the world's longest and toughest team sporting event – The Ocean Race – and ignited a call to action for the ocean within sailing and coastal communities. 
Skipper Charlie Enright (USA), Navigator Simon Fisher (GBR), Trimmers Jack Bouttell (AUS/GBR), Francesca Clapcich (ITA), Justine Mettraux (SUI), Damian Foxall (IRL), Charlie Dalin (FRA), and Franck Cammas (FRA), and Media Crew Members Amory Ross (USA) and Pierre Bouras (FRA), demonstrated exceptional teamwork, resilience, and determination – overcoming many challenges in the past six months as they sailed seven legs, visited four continents, and covered 32,000 nautical miles (60,000 km) racing around the world on their 60-foot IMOCA Mālama. 
Throughout their entire campaign, led by CEO Mark Towill (USA), 11th Hour Racing Team set new precedents and forged the path for other organizations, teams, and individuals to become part of the solution in the climate emergency, on and off the water. The Team created a free Sustainability Toolbox, which now supports almost 600 users worldwide; published a comprehensive Design & Build Report that provided detailed insights into the boat's construction, material components, supply chain, and environmental impact, to drive positive action within the marine industry and provide a roadmap for aligning with international frameworks for positive climate action; and committed to an ambitious Climate Action Plan to reduce their own footprint and inspire wider audiences to measure and minimize their environmental impact. 11th Hour Racing Team also influenced five new rules prioritizing sustainable boat design within the IMOCA Class.
But the Team's journey doesn't end here. This win sparks the desire and determination to do more, to do better, and to expand our collective sphere of influence to find and implement solutions for the ocean. 
"This victory is an extraordinary accomplishment – but it's about more than a team winning a race," said Wendy Schmidt, co-founder of 11th Hour Racing, and president and co-founder of the Schmidt Family Foundation and Schmidt Ocean Institute. "We want to engage people in the bigger task of protecting our planet, of restoring ocean health because there is no life on earth without a healthy ocean. This race around the world is a symbol of that task. We want everyone to be on our team. I am extraordinarily proud of the entire 11th Hour Racing Team and all they have overcome. They did more than sail around the world. They carried the message of sustainability, with the singular focus of restoring ocean health. Today, the real winner of this race is the ocean."
"Congratulations and a huge thank you to the entire 11th Hour Racing Team and to each and every person who worked relentlessly for the past four years to get to this historic result," said Jeremy Pochman, co-founder and CEO of 11th Hour Racing. "Today's win is more than a sporting achievement; it's also a win for the ocean. In 2019, we set off to win The Ocean Race. Today, we won, and how we won matters. The race organizers, the competing teams, the fans, the other sponsors – our community – all have joined us in this journey, at this 11th hour, to restore the health of our oceans. Our journey doesn't end here – our desire and determination to do more and to expand our work continue because when the ocean wins, we all win."
"To be the first U.S.-flagged team to win this storied race is an honor," said Rob MacMillan, co-founder and president of 11th Hour Racing. "I am so proud and grateful to every person on this team who made this dream a reality, showing outstanding resilience, integrity, and strength. More than ten years ago, we sat down with Mark and Charlie and created a list of ambitious goals – the first was to win The Ocean Race. Second on that list was to prove that performance and sustainability need to co-exist. So today is a win for the ocean, 11th Hour Racing, and the community of fans around the world. We all did it!"
"We're immensely proud of the effort our team has put in, from top to bottom," said 11th Hour Racing Team skipper Charlie Enright. "One thing we like to pride ourselves on is never getting too high, never getting too low, and just working through everything. We say if you're not winning, you're learning, and this whole race, we've just tried to improve in every single area."
11th Hour Racing is also a Premier Partner of The Ocean Race and the Founding Partner of the Racing with Purpose Program, which includes a broad range of initiatives to reduce the race's footprint, collect scientific data, and affect meaningful, long-term change by garnering support for ocean rights.
To read more stories from 11th Hour Racing Team and view the complete results of The Ocean Race, visit 11thhourracingteam.org.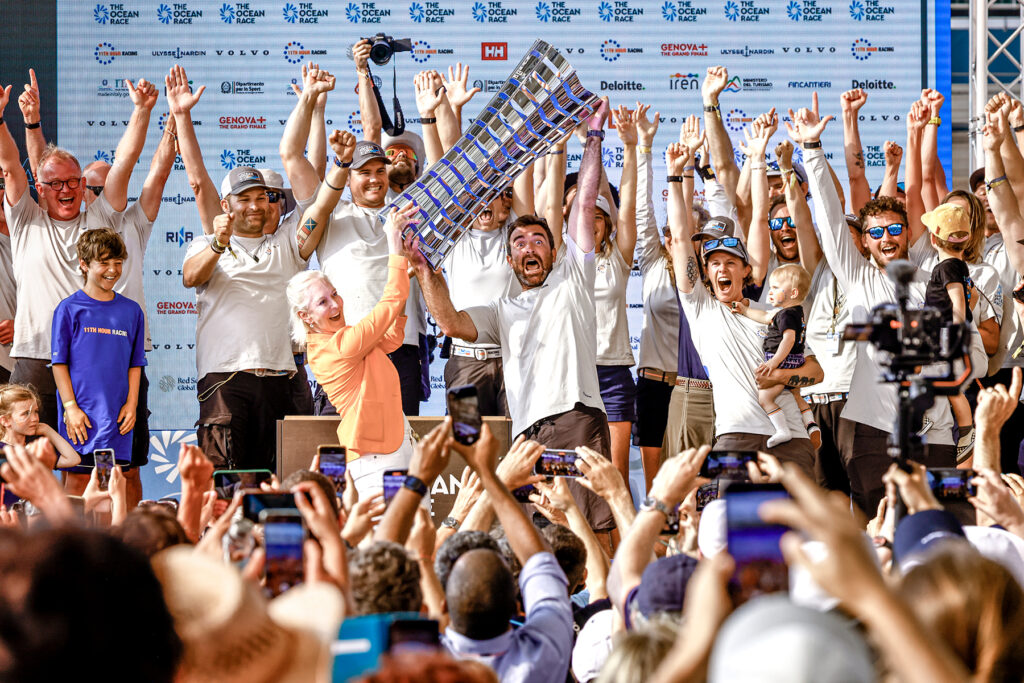 Header image credit: Sailing Energy / The Ocean Race