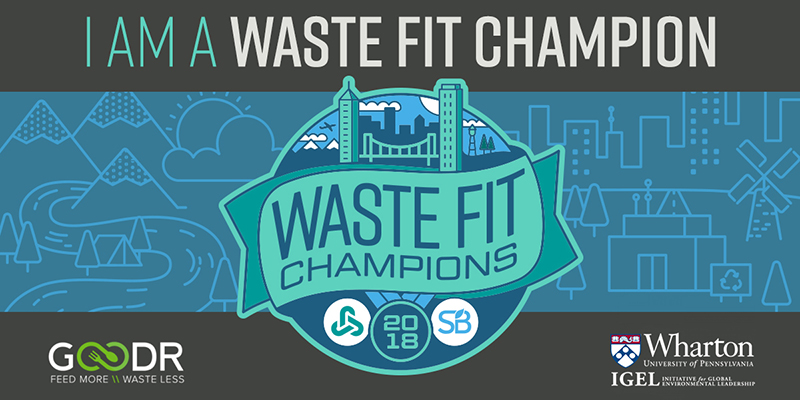 2018 Waste Fit Champions
Vestas 11th Hour Racing and Clean Ocean Access both named 2018 Waste Fit Champions
We're proud to share that Damian Foxall, Sustainability Manager of Vestas 11th Hour Racing and Dave McLaughlin, Executive Director of Clean Ocean Access were both named 2018 Waste Fit Champions.
The joint initiative of Rubicon Global, Sustainable Brands, Wharton Initiative for Global Environmental Leadership and Goodr recognizes waste diversion dynamos, sustainability superstars and zero-waste warriors who are driving change in their business or city to reduce waste and expense.
Damian Foxall was named for his work with Vestas 11th Hour Racing. The team entered the 2017-18 Volvo Ocean Race, the longest and toughest professional sporting event in the world, and one of sailing's Big Three events, alongside the Olympics and the America's Cup, with dual goals of achieving exemplary results on the water, while also integrating sustainability into the heart of the team's operations. Damian Foxall, the team's Sustainability Manager, built its sustainability program around Positive Outreach, Sustainable Operations, and tracking its Environmental Footprint. These efforts included eliminating single-use plastics, incorporating reusable water bottles, coffee cups, and cutlery, and supporting the UN Environment Clean Seas Campaign.
Dave McLaughlin was named a Waste Fit Champion for his work with Clean Ocean Access, which has championed causes such as cigarette litter and plastic bags. In 2014 the organization collected 46,000 debris items (a staggering 13,000 were cigarette butts). With the mantra of "passion doesn't influence policy, but data does," the group embarked on a successful campaign to prohibit smoking on beaches and in parks and recreation areas of all three communities of Aquidneck Island, Rhode Island. When a bag ban was introduced, Clean Ocean Access had already removed over 15,000 plastic bags from the local coastline – proving that this wasn't just a global theoretical issue.
Click here to view the full list of 2018 Waste Fit Champions and the innovative environmental programs they are championing.