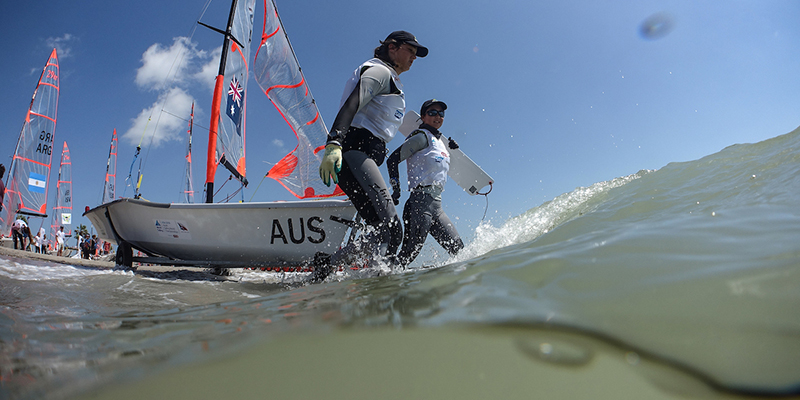 2018 Youth Sailing World Championships Sustainability Report
[vc_row][vc_column][vc_column_text css=".vc_custom_1566331576141{margin-bottom: 0px !important;}"]
Youthful Energy & Exemplary Sustainability
The boats are packed up, and the medals celebrated – but the all-volunteer green team of the 2018 Youth Sailing World Championships (YSWC) just wrapped up its work by publishing the event's sustainability report. This document serves as a comprehensive case study that will empower regatta organizers – big or small – to implement and execute a thorough sustainability plan.
"Undoubtedly, lifetime memories are created at the Youth Worlds, and I very much hope that the key sustainability messages will have influenced our sailors at an early juncture in their sailing careers." – Dan Reading, Sustainability Programme Manager, World Sailing
The 2018 YSWC was the first World Sailing Championship to focus on sustainability and ocean conservation – acting as a benchmark for future events, a key step for World Sailing in the delivery of its Sustainability Agenda 2030. 11th Hour Racing, the official Sustainability Partner of the Championship, provided critical guidance and funding to offset costs.
The event host, Corpus Christi Yacht Club, created a green team to ensure the 2018 YSWC left nothing on the table when it came to environmentally conscientious event management. The green team included leaders in local and state conservation groups, representatives from Texas A&M University-Corpus Christi, and key personnel from the City of Corpus Christi. This group was tasked with creating a strategy to address the environmental, social, and economic impacts of the regatta. To develop this plan, the green team gathered ideas and input from internal and external stakeholders, including World Sailing, 11th Hour Racing, and Sailors for the Sea. After careful analysis the following goals were set forth:
Reach the Platinum (highest) level of Clean Regatta, as designated by Sailors for the Sea.

Promote environmental awareness and ocean conservation to the participants in the regatta and local South Texas community.

Create an environmental legacy program for the South Texas Community and future World Sailing Championships.

Publish a sustainability report referencing the

Global Reporting Initiative (GRI) Standards

, which can be used as a benchmark for subsequent sailing and sporting events.
The committee also laid out five critical areas for the plan to cover: environmental impact, behavioral habits, education programs, gender/nationality representation, and legacy programs.
"Every organizer running a sustainable event will face unique challenges. Challenges for CCYC included hydrating over 500 people in extremely hot, humid conditions; composting when the city had no compost facilities; making changes amid skepticism and apprehension; working with vendors who were chosen prior to the decision to run an environmentally friendly event; and more. There was no blueprint for us to follow. The 2018 YSWC was the first YSWC to include an environmental focus. We were truly breaking new ground." – Elizabeth Kratzig, Green Team Co-Chair, 2018 Youth Sailing World Championship Committee Volunteer
The hard work of the green team committee proves that a dedicated group of volunteers, supported by the organization authority, can bring forth excellent results, which are detailed in the report's 85 pages. Below is a selection of highlights:
Avoided the use of 65,000 single-use plastic water bottles (12 oz.) by using refillable water bottles and water refill stations.

A total of 3.28 tonnes of waste was diverted from the landfill or 89.8% of total waste created. This meant 53.8% was recycled and 31.5% was composted – preventing 22 tonnes of carbon dioxide from being emitted.

400 re-usable bungee cord connectors replaced plastic zip ties, banners and flags were held with renewable bamboo flag poles – the bamboo poles were given to community gardens for re-use after the event.

283 storm drain inlets were marked with information about the flow of pollution and to prevent illegal dumping.

More than 400,000 people were exposed to the problem of plastic pollution through art events that engaged the broader public, including an exhibit at Corpus Christi International Airport.
Click here to read the 2018 Youth World Sailing Championships Sustainability Report.
"The lesson was simple. Make green choices to protect our most precious asset: our environment. While the lesson is simple, implementing a green sustainability plan is not a static decision. It is a choice you must make every day. A conscious choice to limit your environmental footprint." – Craig Henderson, Commodore, Corpus Christi Yacht Club[/vc_column_text][/vc_column][/vc_row][vc_row][vc_column][mk_gallery images="6887,6885,6883,6882,6881″ style="style1″ order="DESC"][/vc_column][/vc_row][vc_row][vc_column][vc_single_image image="7281″ img_size="large" alignment="center" onclick="img_link_large"][/vc_column][/vc_row]