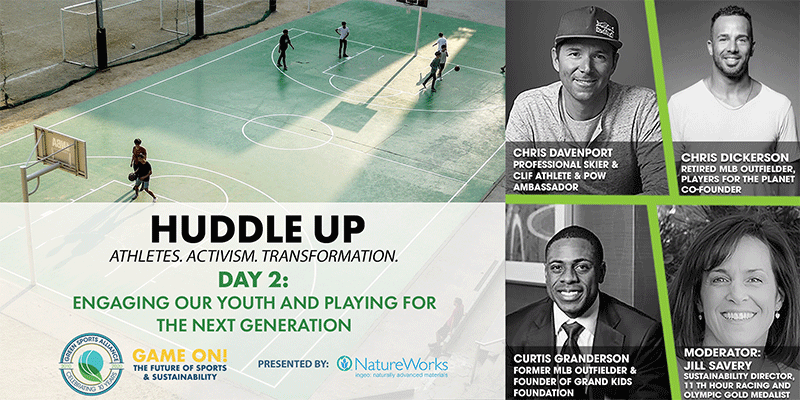 2020 Green Sports Alliance Summit
Jill Savery, 11th Hour Racing's sustainability director, participated as master of ceremonies and panel moderator in this year's Green Sports Alliance Summit which took place virtually in October. Below she provides a brief summary of the event.
The focus of the Summit, now at its 10th edition, was "Game On! The Future of Sports & Sustainability." Two days of content were packed with a great diversity of speakers who explained what they and their organizations are doing to promote sustainability in and through sports.
Green Sports Alliance executive director, Roger McClendon, kicked off the event explaining that we are now facing three pandemics: COVID-19, climate change, and social justice.
Key topics discussed during the Summit addressed these three pandemics and how sports can tackle them: reopening sports venues safely, building back better, social and environmental justice, the power of partnerships, athlete activism and engagement, inclusion, and access to sport, and more.
There has been a shift in the sport and sustainability movement and profession from a primary focus on sustainable operations to the inclusion of social sustainability issues and engagement – especially social, racial, and environmental justice and diversity and inclusion.
Two athlete panels showcased how athletes can use their platform and influence to create change and inspire young people. Collaboration and teamwork were highlighted as what is needed to create change, inspire people, and promote thriving and healthy communities. Sport has the power to bring us all together.
ATHLETE PANELS
Athletes Leveraging Their Voice for Impactful Change
Nelson Cruz – Right Fielder Minnesota Twins & Players for the Planet
Renee Montgomery – Activist & WNBA Champion
Brent Suter – Pitcher Milwaukee Brewers & EcoAthletes & Players for the Planet
Forrest Shearer – Professional Snowboarder and CLIF Bar Athlete
Engaging our Youth and Playing for the Next Generation
Chris Dickerson – Retired MLB Outfielder & Co-Founder Players for the Planet
Chris Davenport – Professional Skier & CLIF Athlete & Protect Our Winters Ambassador
Curtis Granderson – Former MLB Outfielder & Founder Grand Kid Foundation
For more information about the Green Sports Alliance, click here.
Header image credit: Green Sports Alliance