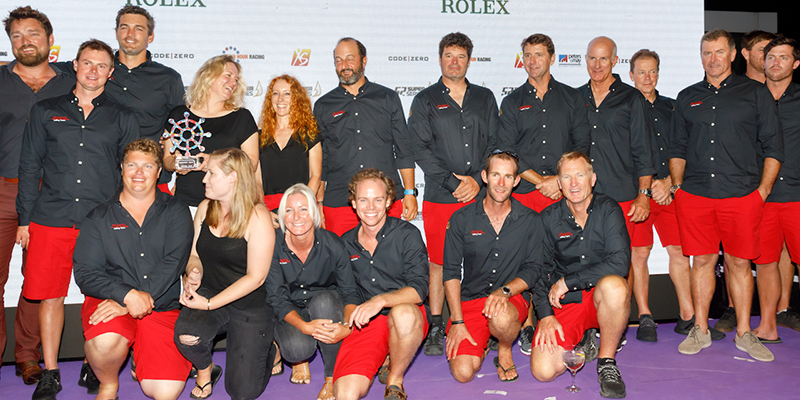 52 Super Series Greenest Team of the Year
Team Phoenix is a Natural at Sustainability
At the end of its debut season with the 52 SUPER SERIES, Hasso and Tina Plattner's Team Phoenix was crowned "Greenest Team of the Year" at the final prize-giving ceremony held in Valencia, Spain. Determined, consistent, and with high attention to detail, the team displayed all the qualities a 52 SUPER SERIES champion needs to take home the annual sustainability award. The prize? A water hydration station, donated by Bluewater, which will be installed in Puerto Portals, Spain, leaving a positive and beneficial legacy to the famous Balearic Island.
Team Phoenix put its entire operation under the microscope, from how to refill water bottles throughout the day, to how sandwiches are wrapped. The team's days start like most others' – with an energy-jolting shot of espresso; but rather than using coffee capsules, the team invested in a small barista machine, gave all crew members a reusable mug, and opted for sugar cubes over paper sachets, all to reduce unnecessary waste.
The team prefers reusable food containers to cling-film, stainless steel water bottles to aluminum as they last longer, and is meticulous about composting and recycling. Purchases made in bulk reduce waste, coordinated flights allow for carpooling to and from the airport, and Ecoworks Marine cleaning products empower the team to clean the boat with eco-friendly products.
As Sustainability Officer for the 52 SUPER SERIES, it was Christoph Kröger's responsibility to select this year's winners. He noted:
"It's really great to see that all of the teams are working hard on their own programmes, and we're seeing some really great results across the fleet. But this year, Team Phoenix has really opened up their stride. I've been incredibly impressed by their forthcoming nature, and by how quickly they have influenced change up and down the ladder of leadership."
Speaking shortly after receiving the award, Team Phoenix Owner-Driver, Tina Plattner said:
"We are very honored to be awarded the greenest team award. The entire team has been putting thought and effort into creating awareness around sustainability and to decrease our own environmental footprint from event to event. I'm very proud that everybody on the team has contributed their bit towards this achievement, and we'll be trying even harder next year to reduce our environmental impact. We hope lots of other teams all around the world will join us in this quest."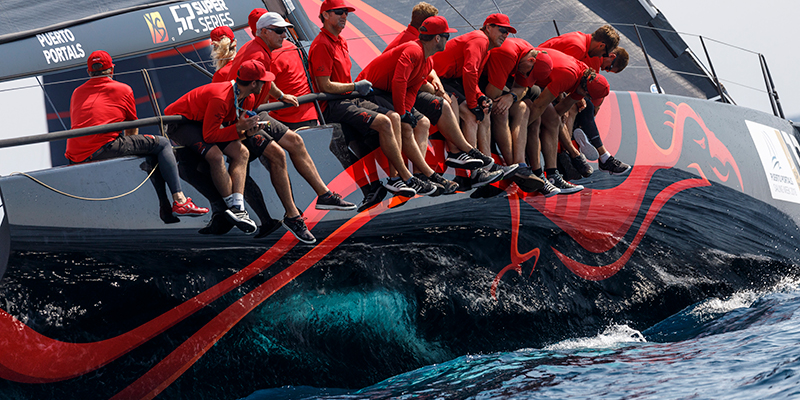 Not a day goes by without seeing a crew member of Team Phoenix at their usual hangout spot – the Bluewater hydration station, filling up giant water coolers with purified drinking water for the long day of racing ahead. Perhaps it only fits that as a reward for the team's efforts, they will get to install a Bluewater unit in Puerto Portals, on the Balearic Island of Mallorca. The Balearics are still heavily reliant on single-use plastic water bottles so this new alternative will be a welcome step in the right direction.
On the broader 52 SUPER SERIES sustainability program, Jeremy Pochman, 11th Hour Racing Co-founder and Strategic Director, says:
"We are proud of the 52 SUPER SERIES efforts and achievements throughout the 2018 season, and we wish to congratulate all at team Phoenix for their leadership and vision. It is wonderful to see how this partnership with 11th Hour Racing, now in its fourth season, has been embraced by individuals, teams, event organizers, venues, supporters and volunteers, and how this collaborative effort has led to a tangible legacy focused on restoring ocean health. We also wish to thank Bluewater for being part of this journey and for their leadership in providing sustainable and accessible solutions to communities worldwide."
Anders Jacobson, Bluewater President, and Chief Strategy Officer adds:
"Joining forces with the 52 SUPER SERIES and 11th Hour Racing demonstrates how sustainable technology and solutions already exist and can be harnessed where there are a common will and commitment."
Whilst sustainability is a hot topic; it's a slow burner; a marathon, not a sprint, and a journey that still yields many unanswered questions. What is clear though is that the initiative taken by the entire Phoenix team is a great example to follow for any sports team, and they have perfectly demonstrated how support from leadership can have tremendous trickle-down effects on their collective goals.
For more information about the 52 SUPER SERIES Sustainability Program, please click here.