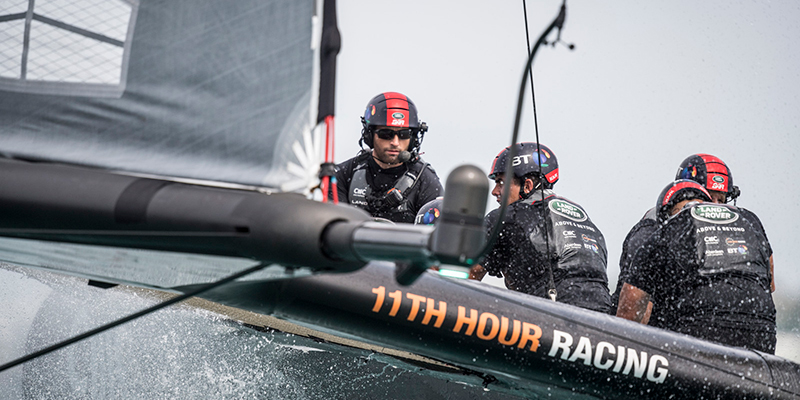 6 Highlights from the 35th America's Cup Legacy Report
While the sailing world anxiously awaits for more exciting details to come out ahead of the 36th America's Cup – more good news is coming out of Bermuda about the benefits of hosting the 35th America's Cup.
In November 2017, the organizing authority published the America's Cup Bermuda Legacy Impact report, highlighting the legacy and sustainability of the event sharing the benefits that came to the island – that will leave a lasting legacy for years to come.
Below are some highlights, taken from directly the report, which you can read in full here.
COMMUNITY OUTREACH BY ACBDA, ACEA & TEAMS $500,000 DONATED TO BERMUDA COMMUNITY
From refurbished sailboats to school supplies, playground equipment, furniture, hydration stations, Wifi devices for public schools and computer equipment, donations were received by communities, schools, and government departments. These benefit Bermuda's communities, leaving a legacy on the island.
PROTECTING HABITATS
Land Rover BAR, with its sustainability partner 11th Hour Racing, has been dedicated to helping the lionfish problem in Bermuda, a spiny and voracious invasive species with no known local natural predators, which threatens Bermuda's native fish and the health of its coral reefs. It has sponsored conservationists to deploy a robot prototype designed to stun and capture lionfish at depths that human divers rarely reach. 11th Hour Racing organized the #EatLionfish competition, where chefs from around the world competed to create meals using Lionfish, to promote the fish as a safe food to eat. Land Rover BAR's lionfish legacy project was recognized by the Bermuda National Trust, highlighting its work to preserve and restore Bermuda's heritage and to preserve and raise awareness of the island's environment.
THE AMERICA'S CUP ENDEAVOUR PROGRAM OVER 1,600 STUDENTS ENGAGED
Bermuda's school students engaged in sailing through after-school programs and extra-curricular activities. Over 1,600 students, 9 – 12 years old learned to sail while studying STEAM (Science, Technology, Engineering, Arts, and Mathematics). The program has secured funding for the next two years from the generous support of companies from Bermuda.
"STEAM education will be essential to the next generation of youth in Bermuda, and around the globe, as the demand for career-ready scientists, technologists, engineers, artists, and mathematicians continues to grow." – Dr. Erika Ebbel Angle
THE 35TH AMERICA'S CUP SUSTAINABILITY CHARTER
For the first time in America's Cup history, all participating teams were signatories to a sustainability charter, named the 35th America's Cup Sustainability Charter, and although not a signatory to the document, ACEA actively supported the agreement and implemented it across its business operations. The charter outlined ten objectives that collectively aimed to positively impact environmental stewardship and social responsibility, both within the sport of sailing and the worldwide marine industry. With these groups leading by example and providing various educational programs amongst the Bermuda community, there was every intention to leave a legacy of increased awareness and continuation of practicing environmentally friendly measures.
WORLD-CLASS TRAINING
Bermuda basked in national sporting pride. Nine Bermudian youth were exposed to a possible sailing career, males and females, pushed to their physical, intellectual and emotional limits with full-time training and world-class competition. They were selected from over 120 athletes and sailors who tried out for the squad.
LAND ROVER BAR'S EXPLORATION ZONE
One example of an educational program was Land Rover BAR's Exploration Zone, which was located at the team base at the entrance of the America's Cup Village. Nearly 2,000 children visited to learn about the importance of sustainability, reducing waste and sustainable technologies. The space was created to feature interactive exhibits and lessons to educate visitors on the technology of the boats used to sail, as well as the technology deployed to create long-term sustainable solutions to help the environment. Martin Whitmarsh, CEO for Land Rover BAR, explained that "Whilst the sailing community will be closely watching the racing in Bermuda over the coming weeks, it's important that we also leave a positive legacy. The solar panel installation at the National Museum is important in helping to reduce the team's short-term impact, but also for offsetting our carbon footprint and helping to demonstrate how we can build sustainable island communities."
Click here to read the full 35th Americas Cup Bermuda Legacy Impact report.