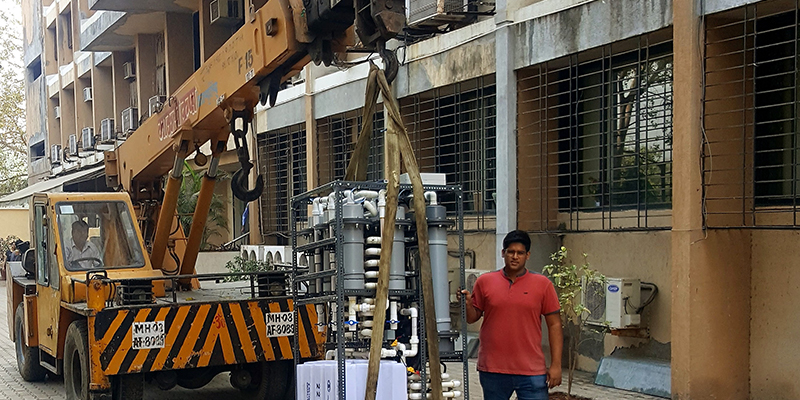 6 Solutions That Can Help to Solve the Urban Water Crisis
The second annual Urban Water Challenge judged 226 applications from 38 countries before honoring three winners and three finalists at World Water Week in Stockholm. This year's Challenge was hosted by Imagine H2O, alongside founding partners 11th Hour Racing, and water tech innovator Bluewater.
The World Water Week awards ceremony honored winning startups WatchTower Robotics, Indra Water, and Zilper Trenchless, and showcased three startups as finalists — each of which received deployment award funding. Finalists included SmarterHomes, StormSensor, and Upepo.
Watch the video below to hear from the 2019 winners and finalists about how their companies are reimagining clean water solutions around the world. 
Kevin Kihara, Managing Director, Upepo (finalist) shares how the company reimagines clean water solutions for Kenya. 
Amrit Om Niyak, CEO & Co-founder, Indra Water (winner) speaks about how to connect businesses and ideas to bring solutions to Mumbai, India. 
Daniel Zillante, CEO & Co-founder, Zilper Trenchless (winner) seeks to fundamentally change the economics of putting a pipe underground for Cota, Colombia, and other developing countries. 
Vivek Shukla, CEO & Co-founder, SmarterHomes (finalist) imagines scalable smart metering and automated leakage prevention systems for future generations in Windhoek, Namibia. 
Erin Rothman, CEO & Co-Founder, StormSensor, aims to help and to solve the problem of climate change and urban flooding in New Jersey, USA. 
Tyler Mantel, CEO & Co-founder, WatchTower Robotics, aims to deploy small scale robots for in-pipe leak detection in Da Nang, Vietnam.
Video below: Minhaj Chowdhury, CEO & Co-founder of Drinkwell, discusses the company's deployment in Chittagong, Bangladesh after winning the inaugural Urban Water Challenge hosted by Imagine H2O. Drinkwell now provides clean water access to hundreds of thousands of people in Bangladesh. Here is Drinkwell's success story:
Header image: The Indra team, finalist of the UWC, installing modular wastewater treatment systems in Mumbai, India. Credit: Amrit Om Nayak | Indra