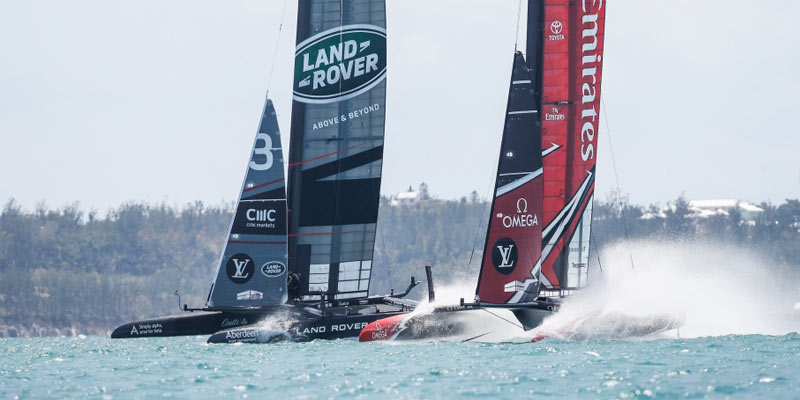 A big day in Bermuda
Released by Land Rover BAR.
An epic day of racing unfolded on the Great Sound in Bermuda for the Louis Vuitton America's Cup Playoff Semi-finals as Land Rover BAR faced off against Emirates Team New Zealand.
The first race got underway after a slight delay waiting for the wind to drop below the 24 knots average limit. Emirates Team New Zealand only just made the start after damage sustained to their wing after docking out. It was panning out to be a full on day with both teams sailing at the limits hitting speeds in excess of 45 knots.
The British team won the start and led Emirates Team New Zealand for five of the nine leg race, before getting low on oil which enabled Emirates Team New Zealand to take the lead, as Sailing Team Manager Jono Macbeth explained;
"These boats are so physical up until now we have been racing a five or six leg course,  today was a nine legger.  It is unbelieveable how much energy is required to get around these courses, unfortunately for us we got low on oil at a critical time, so our manouvres weren't as crisp as they have could been".
In the second race Ben Ainslie and his British team again won the start, before Emirates Team New Zealand suffered a dramatic capsize on the first reach, with the race subsequently being awarded to Land Rover BAR.
Ben Ainslie, Skipper and Team Principal "The most important thing is that everyone is okay on Emirates Team New Zealand after their capsize. I think all four teams out there showed great seamanship to deal with these boats in these conditions. It was absolutely full on. We look forward to seeing them back on the race course."
"It was unbelievable racing in gusts up to 27-28 knots. Certainly, in thirty years of racing boats, it was the most full-on, exhilarating moment I've ever had. It was incredible out there.
"I liken it to skiing on ice. No holds barred; if you start to slow up and play it safe that's when it is worse. When you sail these boats fast it is very rewarding, but in conditions like today sometimes it is not possible. Days like today it is the ultimate team sport."
Bleddyn Mon, Grinder: "It was pretty exciting out there. All the teams have been saying they've never been out in winds like that before, and certainly not racing.
"On the final approach in the pre-start we got the hook on them and sat up on the start line. We bore away, they followed behind and the next thing we know, we look behind and they capsized. First thing was to check everyone was okay and we sent our chase boat over to assist them.
"Hopefully we will be back out on the water tomorrow and it's all to play for".
The current forecast for tomorrow is predicting stronger winds than today.  The team are getting ready for another epic day of racing.
Race squad – Tuesday 5th June
Race 1
Ben Ainslie, Helm
Paul Campbell-James, Wing trimmer
Giles Scott, Tactician
Nick Hutton, Boards
Neil Hunter, Grinder
Ed Powys, Grinder
Race 2
Ben Ainslie, Helm
Paul Campbell-James, Wing trimmer
Giles Scott, Tactician
Nick Hutton, Boards
Bleddyn Môn,  Grinder
David Carr, Grinder
Published by: Land Rover BAR, June 06, 2017.