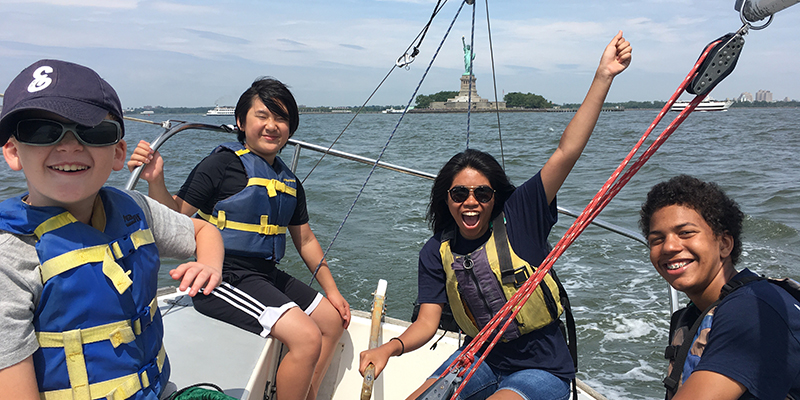 A bright future for Sail Academy students
Hudson River Community Sailing's (HRCS) Sail Academy is a year-round youth development program in Inwood, a neighborhood in the New York City borough of Manhattan, that provides academic support to help underserved students succeed through the transition to high school and beyond. With a grant from 11th Hour Racing, HRCS launched its second Sail Academy location for middle school students in Inwood, a neighborhood at the northern tip of Manhattan.
STEM Education
In 2019 HRCS taught 65 middle school students at the Inwood location, focused on essential STEM and social-emotional skills through sailing and boat building, in partnership with Children's Aid. Staff used lessons from US Sailing's REACH curriculum to teach students about measuring wind, buoyancy, water quality testing, marine debris, and more. Students also learned fractions while simultaneously learning how to read technical documents that are typically used in boat building, gaining skills that can be applied to school and careers later in life.
Confidence
Throughout the winter in 2018-19, the students built a wooden Optimist Pram that they launched the following spring. At the launch ceremony, the students got to demonstrate their sailing skills on the water for their families and instructors. By the end of the school year, 100% of students felt comfortable participating in water activities. With this newfound comfort comes high confidence, knowing they can overcome challenges if they set their mind to it.
Longevity
Now in its second year, HRCS Inwood has 65 students participating in the program. A new winter project will allow students to explore underwater with Remote Operated Vehicles, expanding STEM activities and opening up a new world for students. The Sail Academy class of 2019 demonstrates the success of the program with 100% of seniors graduating from high-school, and 86% of those students enrolled in 4-year colleges.
Watch the video below to meet the staff and students of Hudson River Community Sailing.
Header image credit: Hudson River Community Sailing