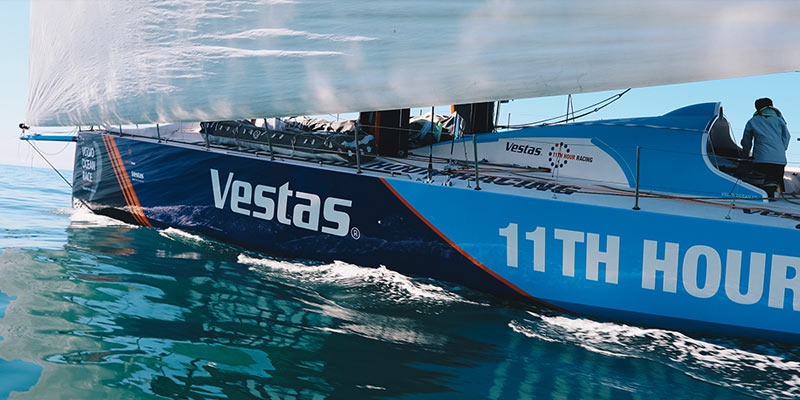 Ancient ice, climate change, and a boat race
Ahead of the race start our team attended a sustainability program at the Cambridge Institute for Sustainability Leadership (CISL) and the British Antarctic Survey (BAS). It was an eye-opening two days, with workshops and presentations to gain new understanding and awareness around global ocean health trends and science of climate change. The in-depth training, hosted by our team's co-title sponsor 11th Hour Racing, has given us tangible actions to help meet our goal of being the most sustainable team in the Volvo Ocean Race.
If you're like me, the science behind climate change can be a daunting concept to wrap your head around. The topic can feel abstract, and the information comes in complicated pieces that do not seem tangible. But the impressive team at CISL and BAS broke down the incredibly vast, multifaceted, and fascinating work they do to help us sailors understand the changes happening beneath our boat hulls.
Tony Juniper, CBE (short for Commander of the British Empire) started with an overview of What's Really Happening to our Planet (also his latest book title) with a focus on ocean health. He emphasized the fact that the ocean is currently being hit with a multitude of threats from plastic pollution to overfishing, warming seas and ocean acidification – making our mission all the more important.
It was an honor to meet Dr. Robert Mulvaney, OBE (Order of the British Empire – even climate scientists get awards in Great Britain). He will soon be heading on his 27th field expedition. Dr. Mulvaney took the time to explain his life's work, the study of ice cores, and how the trapped air bubbles allow scientists to understand atmospheric composition at the time the ice formed. Due to these studies, he told us that without a doubt in the past 800,000 years, our atmosphere has never contained 400 parts per million of carbon dioxide.
Mulvaney showed us how they retrieve ice cores from Antarctica. We held ice formed 140,000 years ago and sliced off a thin piece to reveal the air bubbles the scientist's test. Then when we introduced the ice to warmer air and held it to our ears, we heard ancient bubbles explode!
After this incredible experience, we got down to the real work: to better understanding how we can make an impact to better our planet – and act as spokespeople for something that sustains our livelihood – the ocean.
For both Charlie and myself, it has been hard to comprehend how an individual's actions can make a difference. However, what we have learned from our partners at 11th Hour Racing and Vestas is that there are many solutions – and by slowly steering up, just like we do at the helm of the Volvo65, we can make progress one degree at a time. Living on a boat becomes a microcosm for making sustainable choices, from small steps like bamboo toothbrushes instead of plastic to bigger steps like tracking our carbon footprint, and working at each stopover with the local community to help their sustainability efforts.
After the session, we reflected on how we can make changes to our course both onboard and personally, to ensure we walk the talk. For Charlie, he plans to live a more minimalist lifestyle (no small feat with two children under the age of 3): "Do I really need this new thing"? If a team of nine people can live with four bowls for nine months, there's probably a lot of stuff I "need" at home that isn't necessary.
As for myself, I'm thinking back on my Hawaiian upbringing and the values to live in harmony with nature which made me fall in love with the ocean in the first place. I know it's important to bring my community along with me on this journey, and the next generation – so at every stopover, I plan to learn about local ocean health issues, and engage with students from the area.
I urge you to follow us along on our journey and join our mission to create a sustainable future. Web: vestas11thhourracing.com, Facebook: @Vestas11th HourRacing Instagram: @vestas11thhourracing Twitter: @Vestas11thHour. You can also get educated on these topics on Facebook by following @CambridgeSustainability and @BritishAntarcticSurvey.
Charlie Enright, Skipper, Vestas 11th Hour Racing
Mark Towill, Team Director, Vestas 11th Hour Racing
We would like to thank all of the presenters and the teams at CISL and BAS for their hospitality and education, as well as our race partners Musto and Bluewater for attending.
Program presenters in speaking order:
Dame Polly Courtice, DBE, LVO, Director, CISL
Jo Royle, Sea Champion and Founder, Common Seas
Lindsay Hooper, Executive Director, Education, CISL
Tony Juniper CBE, Fellow, CISL
Dr. Emily Shuckburgh OBE, Climate Scientist and Deputy Head of the Polar Oceans Team, BAS
Dr. Robert Mulvaney OBE
Dr. Huw Griffiths
Damian Foxall, Sustainability Manager/Crew, Vestas 11th Hour Racing
Julianna Barbieri, Sports Event Management, Risveglio
Zoë Arden, Associate, SustAinability