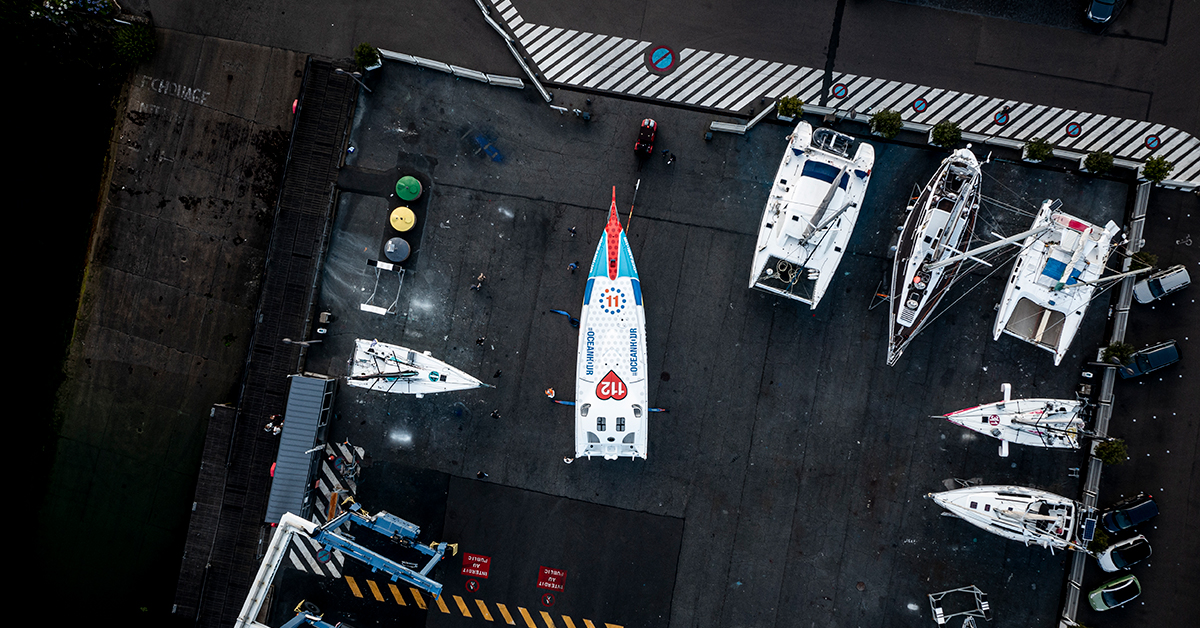 Boat building industry comes together to drive action for the planet
Collaboration and commitment is needed for the industry to slash its greenhouse gas emissions
A new survey by The Ocean Race has found an overwhelming number of people working in the sailing and boat building industry want the field to become more sustainable. 90% of respondents feel that not enough is being done to reduce the environmental impact in their area, with three main barriers to change identified: a lack of technical knowledge of alternative materials, lack of funding for research and development, and concern that sustainable developments could affect boat speed.
The results of the survey are being shared today, 14th September, at The Ocean Race's Innovation Workshop on Sustainable Boat Building; an event developed in collaboration with 11th Hour Racing, Premier Partner of The Ocean Race and Founding Partner of its Racing with Purpose sustainability programme. The third in the series of workshops on this subject brings together 100 participants, including boat builders and designers, sailors, NGOs, universities, sponsors, and federations, to tackle the main challenges that need to be met for the boat building industry to become more sustainable. Among the participants are some leading innovators in alternative materials, including Greenboats, CompPair Technologies Ltd., Bcomp and GS4C.
The aim of the event is to get industry-wide commitment to collaborate on a roadmap of activities that can be implemented immediately. Actions will be identified in this workshop and build on outcomes of previous workshops, along with industry studies.
Anne-Cécile Turner, Sustainability Director at The Ocean Race said: "Competitive sailing has been focused on speed and performance for years, but building the boats remains material, energy and waste intensive. This urgently needs to change. The world has just nine years to halve greenhouse gas emissions to be on track with the global ambition to limit warming to 1.5 degrees Celsius by 2030 and prevent even more catastrophic climate change. Currently, the boat building industry is not on target to achieve this, but it isn't too late. By collaborating and committing to change we can slash emissions and show real leadership as an industry."
The workshop is being hosted in Lorient, France, with attendees participating in person and joining online from across the world. It is being held in cooperation with IMOCA (the class association for the 60-foot boats that participate in The Ocean Race) and Eurolarge Innovation, a support programme for the competitive sailing industry based in Brittany. Broadcaster and double Olympic sailing gold medalist Shirley Robertson will host the event, which will feature:
Carole Bourlon from Eurolarge Innovation
Henry Bomby from Swell Marine Innovation Funding, the marine industry's only innovation funding specialists
Michel Marie, who will present a life cycle assessment tool for marine businesses
Craig Simmons from Anthesis, a consultancy focused on ecological footprinting and other natural capital accounting methods
Sam Strivens from Carbon Trust, who work to accelerate the delivery of a sustainable, low carbon economy by helping businesses, governments, and organisations around the world
Sustainability Program Manager for 11th Hour Racing Team, Damian Foxall, is also speaking at the event, following the launch of the team's new IMOCA 60 last month, which has been built in preparation for the next edition of The Ocean Race in 2022-23. Aiming to set a benchmark for sustainable boat building, a range of techniques have been used to reduce the impact of the new vessel, including substituting highly polluting materials with new alternatives, reducing single-use elements, and refining the boat's shape to make it more energy-efficient.
Ahead of the workshop, where he will be sharing key learnings and best practices from the build, Damian Foxall said: "Our approach to the build of our new IMOCA 60 has been to measure everything – from the energy used in the design, computations, and construction, to the material usage and the waste. By measuring our footprint, we can manage our approach to reducing it through introducing alternative materials, processes and innovations. We now have a benchmark for our IMOCA 60 build which can be used for future builds within the Class."
As a small industry made up of small companies there are many challenges when it comes to innovation. When asked what would motivate them to create more sustainable boats, increased demand from clients comes out top amongst those surveyed. 60% feel that this will drive change, followed by a better selection of sustainable products and changes to the racing rules, with half of the respondents stating that these factors would make a difference. More industry collaboration is also cited by four in ten.
The Ocean Race has introduced specific rules to help drive teams to be more sustainable. For the 2022-23 edition of the Race, for example, teams will be required to generate at least 30% of the energy they use onboard through renewable energy sources (hydro, wind, solar) and may be asked to carry scientific equipment onboard to gather data about the state of the ocean. Looking ahead to subsequent editions of The Ocean Race, the goal is to identify workable rule changes that will inspire solutions for 100% renewable energy to manage life onboard, as well as new construction materials and technologies that have minimal environmental impacts.
The survey, which was conducted by The Ocean Race in August and September 2021, was sent to 100 people in the sailing and boat building industry and supported by 40 stakeholder consultation calls to deep dive into industry barriers and enablers.
Header image credit:  Ben Bireau / 11th Hour Racing