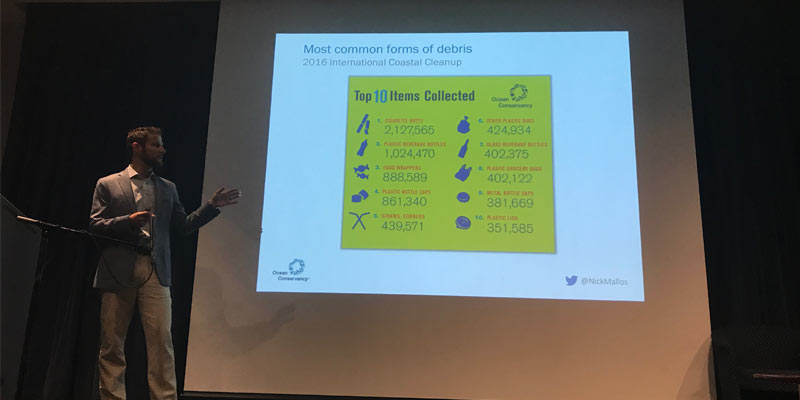 BUEI Talks: Global Perspectives and Solutions for a Clean Ocean
On Wednesday, June 1 leading ocean plastic experts Nicholas Mallos, Director of Ocean Conservancy's Trash Free Seas Program, and Rachael Miller, Executive Director of The Rozalia Project for a Clean Ocean and co-creator of the Cora Ball discussed ocean plastic pollution and solutions with students and the general public at the Bermuda Underwater Exploration Institute. Both organizations have been collaborating extensively with 11th Hour Racing on many projects, through our rich grant portfolio.
Almost 40 students, ages 9 to 15, attended the school visit/workshop. The students learned about the global issue of ocean pollution and microfiber pollution, and engaged in a Q&A session with Nick and Rachael; after that, the students were given a tour of XL Catlin's 'Living with the Ocean' – an exhibit dedicated to conserving our ocean, and then went to a classroom for the Plastics Lab which consists of a plastic display of items collected from Bermuda's beaches over the past 15 years.
During the evening presentation and lively Q&A session with the general public, Nicholas shared a global perspective on sources, impacts and solutions to plastics in the ocean, while Rachael discussed a new form of pollution – microfiber pollution – and solutions to combating this issue. Also in attendance at the evening presentation was Amy Munro, Sustainability Officer at Land Rover BAR: the team is already using the Cora Ball in their washing machines!
Nicholas feels it is important to educate the next generation and get them engaged in finding solutions to this problem:
"The younger generation is so critical for this issue. In many cases, students are far more conscious about how they're living their lives and the decisions they make, and they're very much aware of issues like ocean plastic pollution. Students rarely need to be informed about the problem, but rather they want to know what we do about it — they want to know the solution.
"In fact, this awareness and demand for change is what keeps me optimistic as our younger generation will be (and is) our next ocean champions on which ocean health depends."
For more, visit The Royal Gazette.