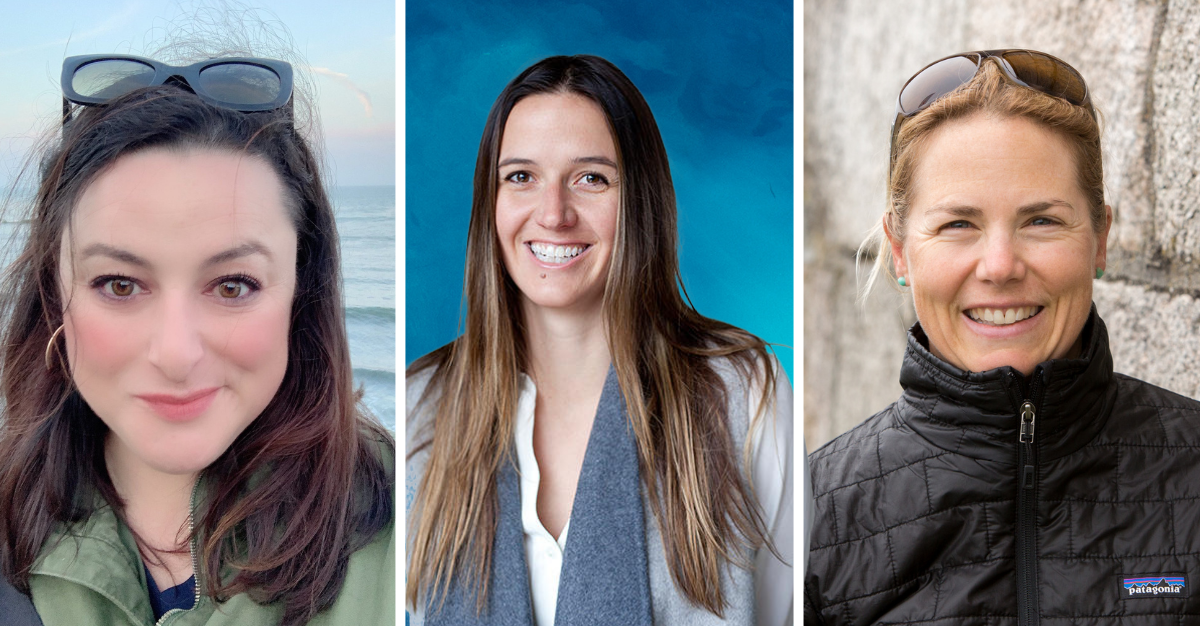 Celebrating Women's History Month
11th Hour Racing works with inspiring women and leaders at the nexus of sport, sustainability, and technology. For Women's History Month in March, we join people around the world to celebrate women with the shared goal of creating an equal world that is free of stereotypes.
Read the stories of three incredible women who #BreakTheBias in their respective fields.
Marce Gutiérrez-Graudiņš, Founder and Executive Director, Azul
Marce Gutiérrez-Graudiņš is the Founder and Executive Director of Azul, a grassroots organization that elevates the voices of the Latinx community and invokes their participation in protecting our ocean and coastal communities. Through her work, Marce has helped design and implement a statewide network of marine protected areas in California as well as a sustainability and marketing program for local fisheries in the state. As a leader in the 2014 campaign to ban single-use plastic bags in California, she worked to reduce marine pollution and protect ocean wildlife through an inclusive grassroots organizing campaign. In 2016 she participated in the first Congressional Roundtable on Environmental Justice on Capitol Hill and was the principal author of a 2016 white paper on Latino Environmental Leadership lauded as "a blueprint for diversity in the Environmental Movement" by Representative Raul Grijalva, ranking member of the House Committee of Natural Resources.
What inspired you to found Azul in 2011?
First, to work with my own community and communities across the state, nation, and eventually at the global level. I knew from personal experience that we (Latinxs) had a strong connection to the ocean, and I knew that conservation was a way of life for many of us. I wanted to highlight that connection and organize opportunities for people to get involved, to grow our collective power.
You have a unique background in sustainability and environmental justice. Have you ever faced gender inequality in your line of work?
In the conservation field per se, I haven't experienced it in obvious ways as I have with discrimination and racial inequity. In fundraising and leadership roles – you start to notice it more clearly and directly. Women in the movement continually deal with men taking our work, our ideas, and presenting them as theirs. Just one example of the male entitlement in this space was when a colleague, who does not work in the ocean space, once asked me for speaking points for him to present at a conference on ocean conservation instead of suggesting they invite me to speak on the work I do every day.
What advice would you give to girls and women interested in leading a nonprofit someday?
If you're interested in starting your own nonprofit, look into a fiscal sponsorship. It is a great way to get started with the support that allows you and any team you're working with to grow and focus on the work that inspires you.
If you're interested in leading an organization, apart from understanding the programmatic work (i.e. your mission!), it is a great idea to focus your professional development on communications, fundraising, team management, and accounting to prepare yourself for the mighty work ahead.
Jamie Haines has been sailing professionally since 2005. Before that, she was involved with many other teams on the match racing circuit and with various Olympic classes and handicap racing. Jamie was on the sailing team at Connecticut College and at her high school, St. George's in Middletown, RI. Jamie grew up racing on Narragansett Bay, and sailing has always been a big part of her life. Jamie has been actively involved in initiatives that support water quality, marine debris and build local ocean stewardship on Aquidneck Island and Jamestown. While on the board at Clean Ocean Access (COA), she worked to build awareness within the sailing community to human impacts on ocean health by having a presence at major sailing events such as the Volvo Ocean Race Newport stopover, as well as other events such as Block Island Race Week, where COA was a sustainability partner.
How did you get involved in sailing? Was it challenging to progress in the sport as a female athlete?
I was involved with sailing from a young age, as it was something that my family did. We went cruising for family holidays and we left on our cruising boat when I was 9 to sail around the world, returning when I was 13. I grew up racing on our family's boats from a very young age. It wasn't really an option not to sail. 🙂
Progressing in the sport was challenging as a female athlete. There were definitely obstacles to entering the professional sailing world, so a certain amount of determination and grit are required to forge ahead. Additionally, gaining additional skills (for me it was rigging) was instrumental to my progression in the sport.
How important do you think it is to have gender balance in the sport of sailing?
I think it is incredibly important to have gender balance in the sport of sailing. Including women at the decision-making table, the navigation station, and all across sailing teams leads to innovative thinking and perspectives resulting in success.
What advice would you give to girls and women interested in becoming professional sailors and overcoming gender bias in sport?
Find your niche or skill that makes you unique. Seek out your advocates and don't be afraid to ask for help. An upbeat and hard work ethic counts for a lot. Keep forging ahead with your goals and dreams… if it was easy everyone would do it!
Kelly Trott, Vice President of Deployment & Impact, Imagine H2O
Kelly Trott is Vice President of Deployment & Impact at Imagine H2O. She leads Imagine H2O's Urban Water Challenge, a global competition for entrepreneurs who are ready to launch tech solutions to advance water sustainability. Kelly also spearheads Imagine H2O'so overall grantmaking activities to support water innovation projects globally and has reviewed 700+ early-stage companies, funding 50+. She collaborates across various industries and engages with a diverse set of entrepreneurs, corporate partners, investors, NGOs, and government agencies to accelerate the adoption of innovative water technologies.
Prior to Imagine H2O, Kelly worked at Bank of America Merrill Lynch, Draper Richards Kaplan Foundation, American Museum of Natural History, and NatureVest. Kelly holds an MBA from the Tuck School of Business at Dartmouth College and a BS from Vanderbilt University. Kelly currently serves as a Radicle Impact Fellow, Ocean Sewage Alliance Steering Committee Member, and SNAPP Coastal Health Working Group Member.
What advice would you give to girls and women interested in leading a nonprofit someday?
Jump in and do it! If you are inspired by a cause and mission, this will automatically translate into curiosity and excitement for the job. But don't forget about the hard skills like finance, negotiations, and project management. Making sure that you have the business training will help you immensely in leading a nonprofit. Also, stop apologizing. Stop saying sorry for having opinions, standing up for yourself or prioritizing your time.
You have an interesting background at the intersection of finance and technology. Have you ever faced gender inequality in your line of work?
Unfortunately, yes. From banking to nonprofits to working in tech. And it takes all shapes, from small inadvertent acts to direct overtures. My biggest takeaway would be to speak up as I have been overwhelmed by the support I have received by all of my colleagues.
The Urban Water Challenge helps entrepreneurs scale their water technology. Does the Challenge receive diverse applicants, or are there still barriers for women in tech?
When we first started the Challenge in 2018 we had no female finalists. This year, we had 65% of applicants with female founders or senior leadership (growth rate of 14% from 2020) and 50% of our finalists are female. While we are excited about this progress, we certainly still have a ways to go for women in water tech.
Header image from left to right: Marce Gutiérrez-Graudiņš, Kelly Trott, and Jamie Haines.