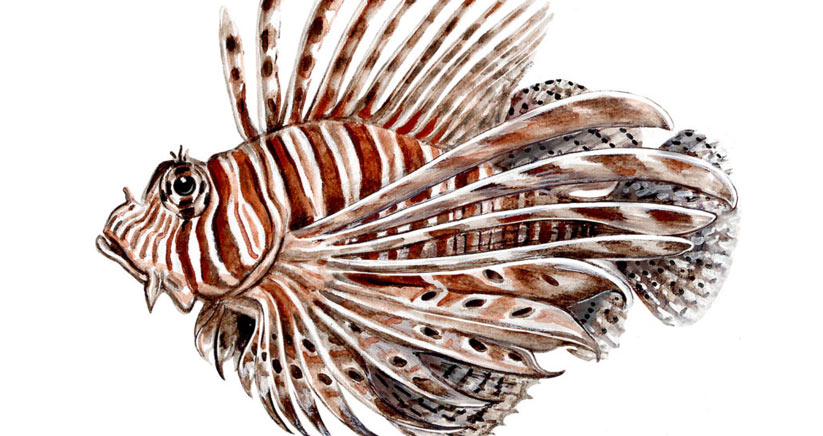 Celebrity chefs join 11th Hour Racing and America's Cup sailors to fight invasive lionfish
Putting them on menu is the best defense
Innovative robot will help harvest more lionfish
Celebrity chefs committed to sustainability will compete to see who has the tastiest solution to the problem of invasive lionfish at the #EatLionfish Chefs' Throwdown, to be held at the National Museum of Bermuda on April 19, ahead of Earth Day.
Organized by 11th Hour Racing, the Chefs' Throwdown brings together all the teams competing in the 35th America's Cup around an important environmental issue, promoting Bermuda's position as a leader in sustainable fishing practices.
Timed to coincide with Earth Week, each of the six nations participating in the competition for the oldest trophy in international sport will be represented by a top chef vying to create the best lionfish dish in the Throwdown.
Judges of the contest will be the skippers and representatives of the America's Cup teams. The winning chef and the team represented by the chef will be awarded a prize of $10,000 each, to be donated to a charity of their choice.
"Protecting the oceans is one of humanity's most important challenges," said Jeremy Pochman, President of 11th Hour Racing. "We need to recognize the vital connection that we all share with this resource that is now under extreme pressure. The ocean connects and sustains all of our continents; more than three billion people globally depend on the ocean for their daily living."
The day before the Throwdown, the chefs are scheduled to have the chance to watch the America's Cup teams training on their foiling catamarans as they prepare for this spectacular sailing contest, which runs from May 26th to June 27th.
"The ocean is our playground, and we take our responsibility to care for the this amazing resource very seriously," said Sir Ben Ainslie, skipper of Land Rover BAR, The most decorated Olympic sailor in history, Ainslie and his team are committed to sustainability in sports, with 11th Hour Racing as their exclusive sustainability partner. "I'm proud that all the teams contending for the America's Cup have signed onto a sustainability charter, with commitments ranging from avoiding single-use plastics to protecting marine habitats."
All of the chefs participating in the competition are committed to sustainable cooking. Choosing what to put on the menu is a powerful part of that effort: "By putting this voracious predator on a plate and creating a market for lionfish, we can help to put the ocean back into balance," said Rob Ruiz, executive chef of the Chefs' Throwdown and a longtime advocate for sustainably-sourced seafood.
"Godfather of Sustainability" Rick Moonen — of RM Seafood and RX Boiler Room in Las Vegas — will emcee the cook-off.
Participants in the Chefs' Throwdown include (ordered alphabetically by nation):
The cooking contest will highlight a new way to cull the lionfish population, by using undersea unmanned robots. Robots in Service of the Environment (RISE) is developing small, cost-effective ROVs that can stun and capture lionfish on a wide scale, and at depths unavailable to sport divers, who traditionally hunt the spiny, venomous fish with spears. RISE is a new nonprofit backed by some of the best minds in robotics and co-founded by Colin Angle, founder, and CEO of iRobot and Erika Angle, founder and executive director of Science from Scientists. An early prototype of the robot will be used to capture lionfish for the first time in a marine enclosure in Bermuda on Monday, April 17 and Tuesday, April 18, prior to the cooking competition.
In an effort to maintain the lionfish-containment momentum following the completion of the America's Cup, 11th Hour Racing is engaging culinary students from Bermuda College to be part of the Chefs' Throwdown, as well as local and international organizations who are leading efforts in scientific research and innovation around invasive species.
President of Bermuda College, Dr. Duranda Greene noted, "I am pleased that Bermuda College has been able to participate in this signature event by having our culinary arts students partner with the celebrity chefs in such an exciting initiative. It underscores the responsibility that everyone shares in sustaining our environment and it brings a wonderful element of enterprise and innovation to Bermuda's efforts to source local, sustainable foods. I applaud the very hard work of our Dean, Dr. Trescot Wilson, our Chef Instructor, Mr. Shawn Ming, and particularly our students who have risen to the occasion and who, I'm sure, will make us all, very proud."
The #EatLionfish Chefs' Throwdown represents the highlight of a broad scope project and model that can be replicated by communities worldwide to transform lionfish or other invasive species into sustainable food sources.
Native to the Indian and Pacific oceans, lionfish are rapidly expanding their range in the Caribbean and Atlantic, where they have no natural predators. The lionfish has even been spotted in Malta and most recently, Italy. A single lionfish will lay up to 50,000 eggs every three days and preys on over 100 fish species.