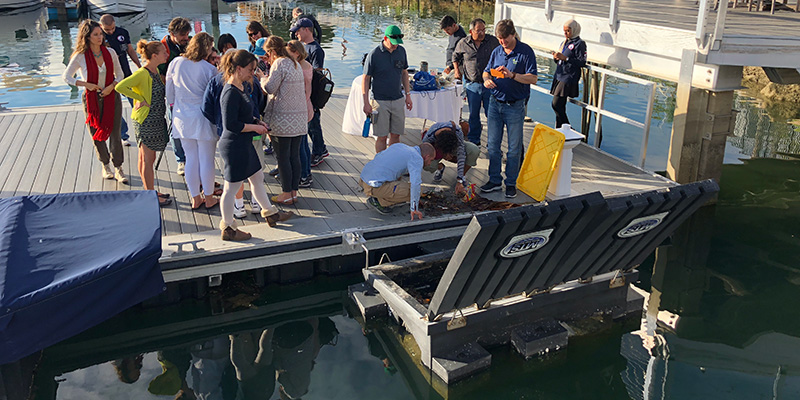 Clean Ocean Access tackling plastic pollution in the Providence River
Providence, R.I. — Mayor Jorge Elorza, City of Providence, joined elected officials, partners and stakeholders to announce the installation of The Hot Club Marina Trash Skimmer in the Providence River. With this installation at The Hot Club, the City of Providence becomes the first state capital in the United States to host the innovative technology with the goal to eliminate marine debris and improve coastal water quality in the Ocean State.
Funded by 11th Hour Racing, the Hot Club Marina Trash Skimmer is part of the Southeast New England Marina Trash Skimmer program, a multi-year initiative by Clean Ocean Access (COA) that seeks to improve the health of southern New England's harbors and marinas frequented by tens of thousands of residents and visited by millions of tourists annually. Additional education and outreach efforts to engage the broader Providence community through the marina trash skimmer program are made possible by funding from the Amgen Foundation and the Island Foundation.
"The purpose of the project is to bring awareness to the types of materials that are littering our communities and finding their way via stormwater into our coastal waters. The skimmer is the last line of defense for our oceans, and each installation allows for open, positive and forward-thinking conversation of how to solve the local and global problem of litter and marine debris," says Dave McLaughlin, Executive Director of Clean Ocean Access.
Floating marine debris not only presents a nuisance to recreational and commercial vessels, it also impairs water quality and degrades marine habitat and ecosystems that are critical to Rhode Island's coastal communities. The Southeast New England Marina Trash Skimmer program strengthens and expands the current efforts for improving water quality and eliminating marine debris from the shoreline and nearshore water across the region. Marina Trash skimmers are a production-ready technology and highly effective method for removing surface marine debris, absorbing toxins and pollutants, and improving the vitality of our local waters.
"The City of Providence is taking bold action against the life-threatening effects of climate change and the degradation of our natural resources – from reducing our carbon footprint to removing trash and other debris from our precious water ecosystems," said Providence Mayor Jorge O. Elorza. "Together with Clean Ocean Access and other community partners, we are demonstrating that these bold actions are not only critical to the sustainability of our environment but are also achievable."
The Southeast New England Marina Trash Skimmer program builds on COA's proven success with two trash skimmer installations in Newport Harbor in partnership with the City of Newport (2016), one in Portsmouth in partnership with New England Boatworks, and one at Fort Adams State Park in partnership with Sail Newport (2017). To date, the four COA-operated marina trash skimmers on Aquidneck Island have removed over 20,000 pounds of marine debris and 27,000 individual items of litter from local waterways.
The interest and support to get this going in Providence has been fantastic. "Having a business that is located right on the water in Providence we are fortunate to have this accessibility to the water. When Clean Ocean Access approached us about piloting the program, we were 100% on board. We look forward to being able to partake in getting as much trash out of the water as possible," says Josh Miller and Sarah Bates, owners of the Hot Club. The Hot Club Marina Trash Skimmer is the culmination of statewide efforts to curb plastic pollution and address marine debris, including Governor Raimondo's Zero Plastics Marina Initiative and Task Force to Tackle Plastics. Last year, Rhode Island became the first state to sign the UN Environment's Clean Seas Pledge during the Newport stopover of the 2018 Volvo Ocean Race. The Southeast New England Marina Trash Skimmer program upholds the Ocean State's reputation as a national leader to address plastic pollution with a comprehensive approach that combines marine debris removal with prevention and education. The Hot Club Marina Trash Skimmer, supported by Providence's Office of Sustainability and the Providence Parks Department, is an important addition to Rhode Island's capital and will help support the City's overall sustainability goals while protecting the Providence River and beyond.
"Most people do not realize that trash goes from the street to the river to the bay to the ocean. The Woonasquatucket River Watershed Council (WRWC) is thrilled to be an educational partner on the Trash Skimmer so we can help people make better choices about preventing litter and keeping our precious waterways cleaner. We are planning litter and marine debris learning events for all 500 K-12 kids we teach through our environmental education programs as well as many learning events for adults in 2019," says Alicia Lehrer, Executive Director of Woonasquatucket River Watershed Council.
11th Hour Racing Co-Founder Rob MacMillan explained, "At 11th Hour Racing, we support innovative technology and promote best practices that protect our waterways. We're proud to fund the Southeast New England Marina Trash Skimmer program as it operates as both a solution, removing marine debris before it gets washed offshore; and they're an excellent tool to educate people on the threats single-use plastic poses to the ocean. We hope this installation will encourage more marinas, sailing centers, and waterfront businesses to adopt this technology."
The marina trash skimmer is manufactured, sold and supported by KECO Pump & Equipment (San Diego, California), and is an underwater dumpster measuring 4'x6'x5' and is attached to a floating dock. A 3/4 horsepower water circulation unit using a Vacuum Driven Aerator (VDA) forces aerated water out of the skimmer; this results in a current on the surface, as the water inside the unit seeks its own level, it draws debris, oil sheen that has emulsified (and further increases adhesion and helps surrounding biological media) due to the dissolved air, to enter and be trapped inside the unit. Over 300 gallons of water is cleaned and aerated per minute. Marina maintenance crews remove the collected floating debris trapped within the unit. Marina trash skimmers are highly effective, require little maintenance, work 24 hours a day, 7 days a week and use approximately 25kw/ day resulting in minimal operating expenses.
The Marina Trash Skimmer has been produced for over 10 years and is the premier floating debris removal device. In 2017 alone, the network of Marina Trash Skimmers collected over 308,880 gallons of trash debris, that's over 1,389,960 pounds!" reported Andrew Bleier, Senior Vice President of KECO. Andrew also reported, "Engineering of version 2.0 has been underway for several months and has now entered the extensive testing phases and will be a scalable solution offered in a variety of sizes and configurations."
The long-range goal of the Southeast New England Marina Trash Skimmer program is to reduce the amount of marine debris entering Narragansett Bay from stormwater runoff, increase the recreational and commercial value of the waterfront, bring awareness to the types of re-accumulating debris via education and outreach, and promote environmental stewardship.
"Marine debris is a time sensitive issue impacting ocean health and is a solvable problem and starts with smart choices on land. Combining four marina trash skimmers with our existing year-round shoreline cleanup efforts, and education and outreach efforts – it positions us to successfully inspire, educate and empower the community to make better choices on land. Whether it is eliminating single-use material from our daily lives, composting our food scraps, recycling right, or increasing our level of responsibility to ensure no trash ends up as litter – each one of us in the Ocean State can take action today so that we become the role model for environmental stewardship," as reported by Clean Ocean Access Executive Director, Dave McLaughlin. "Think about your choices, and never expect change if you don't do it yourself. Start with yourself, start today."