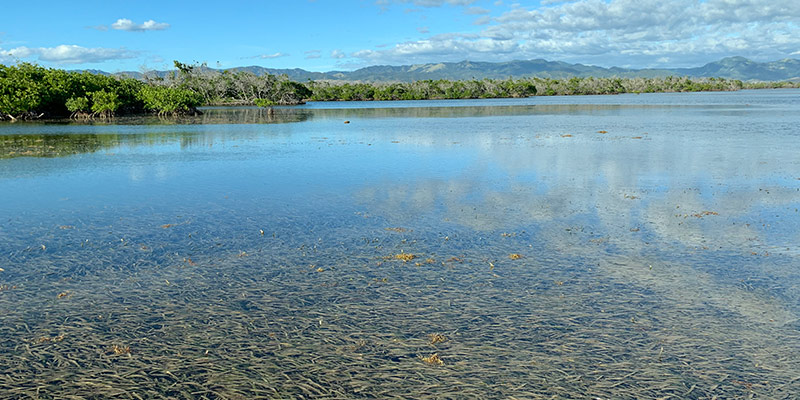 Climate Resilience Workshop kicks off in Puerto Rico
The Ocean Foundation, in partnership with 11th Hour Racing, will be conducting a week-long technical workshop in Puerto Rico on seagrass and mangrove restoration for scientists, NGOs, governmental officials, and commercial fisherman. The workshop will take place April 23-26, 2019, at the Puerto Rico Department of Natural and Environmental Resources' offices at the Jobos Bay National Estuarine Research Reserve.
"By training local organizations in coastal restoration techniques and providing ongoing assistance, we want to equip our partners with the tools they need to pursue their own coastal resilience projects throughout Puerto Rico as part of a large-scale effort to rapidly enhance the island's natural infrastructure and make communities more resilient in the face of increasingly severe storms and flooding." – Ben Scheelk, Senior Program Manager, The Ocean Foundation
The project is part of The Ocean Foundation's Blue Resilience Initiative and SeaGrass Grow blue carbon offset program. The workshop's goal is to train participants in coastal restoration techniques that will be employed in a large-scale seagrass and mangrove restoration project in Jobos Bay. The restoration project is designed to enhance community and climate resilience through the rehabilitation and protection of natural infrastructure that was severely damaged during Hurricane Maria. Restoring seagrass and mangroves will also yield significant "blue carbon" benefits resulting from carbon dioxide being sequestered and stored in the new plant biomass and the surrounding sediment.
"Whether braving the high seas or promoting climate solutions, 11th Hour Racing demonstrates its love for the ocean every day through its forward-thinking sustainability practices, innovative projects, and investments in the restoration of critical coastal ecosystems." – Mark J. Spalding, President, The Ocean Foundation
During the 2017 – 2018 Volvo Ocean Race, a 45,000-mile sailing race around the world, the competing team Vestas 11th Hour Racing tracked its carbon footprint, with the goal to offset what they could not avoid, with a carbon sequestration method that restores ocean health. In addition to offsetting the team's footprint, 11th Hour Racing is supporting The Ocean Foundation's communication initiatives to grow knowledge and awareness on the availability and benefits of selecting blue carbon offsets.
"Sailing around the world twice has been an incredible privilege, and has provided me with a greater sense of responsibility to protect our ocean. By embedding sustainable practices in our team's operations, we were able to reduce our carbon footprint and offset what the team could not avoid. It is wonderful to see how this contributes to the Seagrass Grow program, how it's mitigating the effects of climate change on a global scale, and how it's helping the local communities in Puerto Rico recover from Hurricane Maria's devastation." – Charlie Enright, Skipper and Co-Founder, Vestas 11th Hour Racing
For more information visit: oceanfdn.org