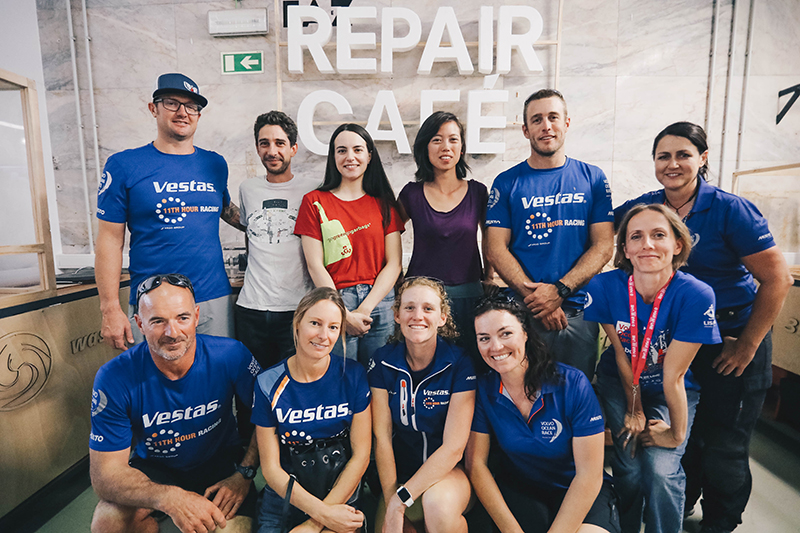 Community Engagement in Portugal
For its second grant of the Volvo Ocean Race, Vestas 11th Hour Racing chose a newly formed organization that is leading sustainability in an innovative manner – Circular Economy Portugal (CEP)! The organization was founded by Lindsey Wuisan to inspire, act and consult on solutions that accelerate the transition to a circular economy.
So what is a circular economy?
To understand the benefits of a circular economy, we must first understand that our economy is currently set up in a linear fashion. We take resources from the earth, we make products, and after one or two uses, they become waste often going to the landfill, or the material is down-cycled. In contrast, a circular economy is restorative and regenerative by design and aims to keep products, components, and materials at their highest utility and value at all times.
Watch the video below from the Ellen MacArthur Foundation for an excellent understanding of how the circular economy applies to everyday products we use.
On Tuesday, October 31, 2017, Vestas 11th Hour Racing team members visited Fablab, a public maker-space where CEP organizes Repair Cafés and operates Plastico Circular, two of five projects they have set up to stimulate a society without waste. Plastico Circular is a small-scale recycling installation equipped with a 3D printer that turns trash into treasure by printing new objects from recycled plastic. The interactive installation allows them to educate children and adults on the ocean health issues created by single-use plastics. CEP also organizes a bi-monthly Repair Café where skilled volunteers help visitors repair common household items such as computers, heaters, and lamps to name a few. CEP's first project, however, is called ComBOA! which revolves around community composting, to ensure food waste does not go into the landfill – which is also a key sustainability initiative of Vestas 11th Hour Racing.
"I'm very excited that 11th Hour Racing is giving this grant to Circular Economy Portugal. Changing the way we design products to consider how they can be reused, or simply fixing products instead of throwing them away is a key step to reducing plastic pollution in our ocean," said Damian Foxall, Sustainability Manager, Vestas 11th Hour Racing. "The ideals of a circular economy also remind me of time spent at sea. We carefully bring only the things we need, and nothing comes from outside sources once we have left the dock. And if anything breaks while we are out to sea, we fix it!"
Besides spreading knowledge about the circular economy to a wider audience, CEP also supports companies and organizations to implement circular strategies in practice. That is why they gave assistance to the Lisbon stopover with waste management, stimulating separation, recycling, and awareness-raising. For the next stopover, more focus will be placed on waste prevention and reduction. Only founded in 2016, the organization is quickly growing, and the team can't wait to check in on their progress when they finish the race!