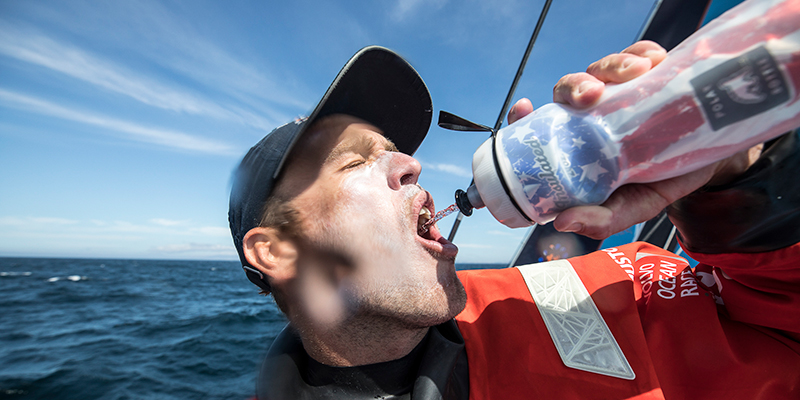 Competition, Innovation and Sustainability
Pictured above: Nick Dana quenches his thirst from a reusable water bottle while out at sea. Photo credit: Sam Greenfield/ Volvo Ocean Race
Professional sailor Damian Foxall looks at solving water scarcity onboard and beyond
Water scarcity, caused by physical shortage or inadequate infrastructure, is worsening on every continent at an alarming rate. The United Nations warns that water use has been growing globally at more than twice the rate of population in the last century, and an increasing number of regions are reaching the limit at which water services can be sustainably delivered. And not only is our access to drinking water being stretched to the limit but it is also becoming polluted by agricultural and industrial run-offs as well as micro-plastics.
At Vestas 11th Hour Racing, we are sustainability ambassadors working to promote solutions ensuring healthier ocean ecosystems. We envision a world beyond plastics — one that couples improved access to safe drinking water with reduced use of single-use plastics. While central to our mission, these issues are inspired by our role as competitive sailors. We depend on our watermaker, a mini desalination machine, to pump over 50 liters of drinking water daily. While navigating the vastness of the open seas, this machine is our lifeline. For all of us on board, it serves as a reminder of the role of innovation in an increasingly water-scarce world.
The Volvo Ocean Race is the premier ocean sailing event, traveling from continent to continent in a nine-month race around the world. At each of the 12 stopovers included in this edition, the boats are serviced and prepared for the next leg by the teams' technicians and support crew. When combined with race sponsors, guests, and race village visitors, the footfall in a race village is around tens of thousands per day. While this can provide a significant boost to the local economy for a host city, it also creates new adverse presses on local resources, including water. In ports such as Cape Town, where water access is critically limited, this is a real challenge. Of the 2.5% of freshwater on Earth, only a small fraction is accessible for human use, and much of this is not potable. This challenge was met by one of our team and race partners, Bluewater, a world leader in innovative water purification solutions. Bluewater provided public water filtration and refill units at all the Volvo Ocean Race stopover villages from Cape Town onwards, leaving some units behind as a legacy piece for future events.
One of the direct results of providing potable water to venues of a major sporting event is the reduction of single-use plastic bottles. This aligns with the core sustainability campaign of the Volvo Ocean Race on the global issue of plastic pollution in the ocean. Our 20-person sailing team alone, Vestas 11th Hour Racing, will avoid over 14,000 single-use plastic bottles (500 mL) by using an alternative source of drinking water and carrying reusable bottles.
A single-use plastic water bottle has a sizable environmental footprint considering that one bottle requires 1.2 liters of water for production, emitting a little less than 1 kilo of greenhouse gases (GHG) in the process. Moreover, the life of single-use water bottles often ends in the ocean, where they join eight million metric tonnes of plastic each year. This means that in addition to the plastic we saved, our team avoided the potential use of 9600 liters of water and 6.6 tonnes of GHGs — simply by creating a viable and cost-effective alternative to single-use water bottles.
While this important work advances the sailing community's sustainability commitments, it shows us what is possible. Our efforts have taught us that a simple solution if sustained with a commitment to stay the course, can go a long way in addressing a host of interconnected environmental challenges. However, there is still work to do and our team remains eager to explore how technology and innovation can be scaled to advance sustainability and drinking water access. Thus, 11th Hour Racing, one of our team's co-title partners, is a Founding Sponsor of the Imagine H2O Urban Drinking Water Challenge, a global search for startups with scalable drinking water solutions.
As competitive athletes, we are constantly setting ambitious goals. Back onboard our racing yacht, my mind wanders, distracted by the sound of the diesel-powered generator which powers our watermaker machine. I know we can do more. In fact, I look forward to future competitions aboard racing vessels that do not rely on fossil fuels to generate drinking water. Solutions exist and we as the sailing community can play a role an important role in showcasing innovative technology to sustainability challenges.
Damian Foxall is the sustainability manager and member of the sailing team aboard Vestas 11th Hour Racing, which is competing in the 2017–2018 edition of the Volvo Ocean Race. He has sailed around the world ten times, competed in the Volvo Ocean Race five times — and won it once. He is also passionate about restoring the health of our oceans.
For more information about the Volvo Ocean Race sustainability program, read here.
For more information about Vestas 11th Hour Racing, read here, and for more about 11th Hour Racing, click here.