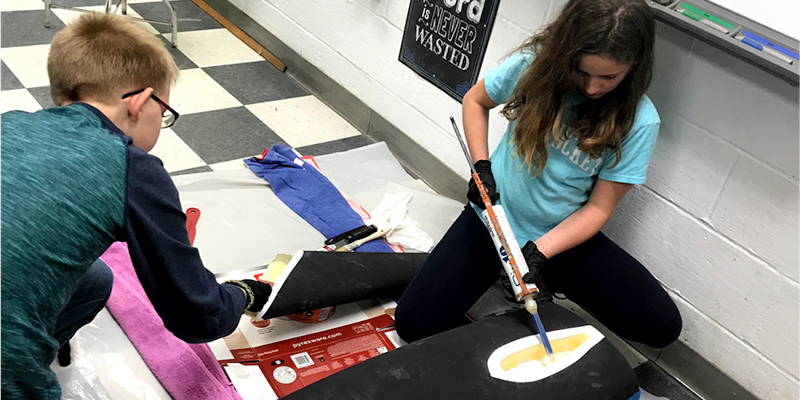 Conanicut Island Sailing Foundation
Accelerating impact with hands-on education
Conanicut Island Sailing Foundation (CISF) works to spark students' curiosity through hands-on learning. Expanding on previous work, CISF used a grant from 11th Hour Racing to strengthen its engagement with elementary and middle schools in Jamestown, RI. Throughout the 2017-18 school year, more than 260 students learned about composting, ocean currents, floatation, and marine debris.
Composting & Plastic Reduction
CISF worked with the Jamestown Melrose School to establish worm composting — educating students about using food waste to create soil rather than sending it to the landfill. "Worm Wednesdays" were a big hit with students — when the program started, only 27 percent of kids knew about composting, but at the end of the school year, all of the students could explain how worms break down their food scraps.
Inspired by the composting program and an informative video about the growing marine debris problem, the 4th-grade students decided to analyze their cafeteria's plastic consumption. The students did a cost analysis and outlined top concerns such as germs, allergies, and safety. This information was presented to the school's catering company, with a request to switch from disposable plastic cutlery to metal, reusable cutlery. After reviewing the students' analysis, the company made the switch to reusable utensils. By replacing the plastic service ware with 274 metal spoons and forks, an estimated 1,300 pieces of plastic are not used each week school is in session.
Ocean Currents
Students in grades 3-8 learned about ocean currents through in-classroom education from oceanographers, and by tracking the drifter boat pictured above. Students learned about the Gulf Stream, why warmer and colder waters create currents, and how currents impacted the Volvo Ocean Race boats that sailed into Newport, RI in May.
Sinking Versus Floating
Using PVC pieces, frisbees, and reusable zip ties, students built buoys to hold as many golf balls as possible. The building, testing, and re-building of the buoys allowed students to experiment with the concepts of buoyancy and stability. The relatively easy design challenge enabled students of all ages to participate in the project.
11th Hour Racing believes in the power of hands-on learning and expanding kids' horizons, so they can think differently and feel confident tackling tough problems. CISF's mission is to provide and promote access to the Narragansett Bay that surrounds its island community and to encourage the development of the next generation of ocean and environmental champions.
Congratulations to CISF for a powerful year of marine programming!