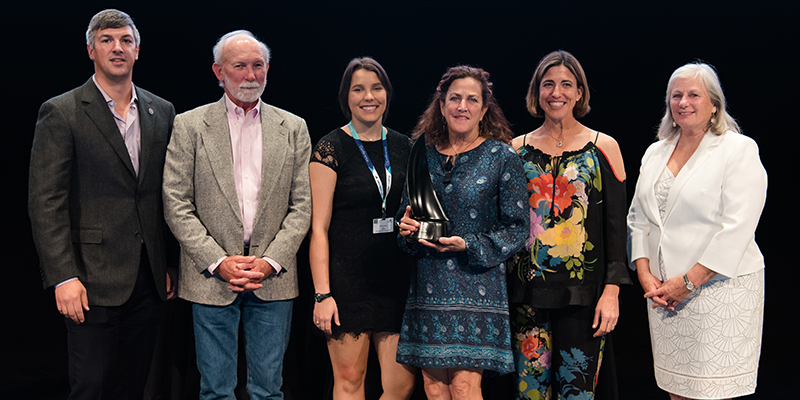 Corpus Christi Yacht Club Wins Sustainability Award
Pictured above: Todd McGuire, 11th Hour Racing Program Director, Mark Foster, Katherine Martin, Sandi Carl, and Elizabeth Kratzig, volunteers at the event, and Jan Dawson, Vice-President, World Sailing. Photo credit: World Sailing
Corpus Christi Yacht Club (CCYC) won the first World Sailing 11th Hour Racing Sustainability Award for its work on the 2018 Youth Sailing World Championships.
The World Sailing Awards celebrate outstanding achievement and exceptional contributions to the sport of sailing – and this year, three new Awards were introduced including the World Sailing 11th Hour Racing Sustainability Award. The Award celebrates the effective execution or ongoing delivery of high-impact, highly-replicable sustainability initiatives, aligned to the World Sailing Sustainability Agenda 2030.
CCYC received the award for the work delivered at the 2018 Youth Sailing World Championships in Corpus Christi, Texas, USA.
Todd McGuire, 11th Hour Racing Program Director, presented event organizers Sandi Carl, Mark Foster and Elizabeth Kratzig with the iconic perpetual trophy that is made from recycled carbon fiber, from an America's Cup boat, and bioresin. Driven by the dedication of the CCYC volunteer Green Team, the Youth Worlds was the first World Sailing Championship with a focus on ocean conservation and sustainability.
The Green Team implemented sustainable practices, reaching the Sailors for the Sea's Platinum Level of Clean Regattas. Creating educational opportunities and legacy programs, CCYC broke new ground, creating a benchmark for future World Sailing Championships to follow. It implemented many of World Sailing's Sustainability Agenda 2030 initiatives, showcasing the dedication, hard work, and power of volunteers.
Click here
to learn more about the regatta's sustainability achievements and to read its full sustainability report.