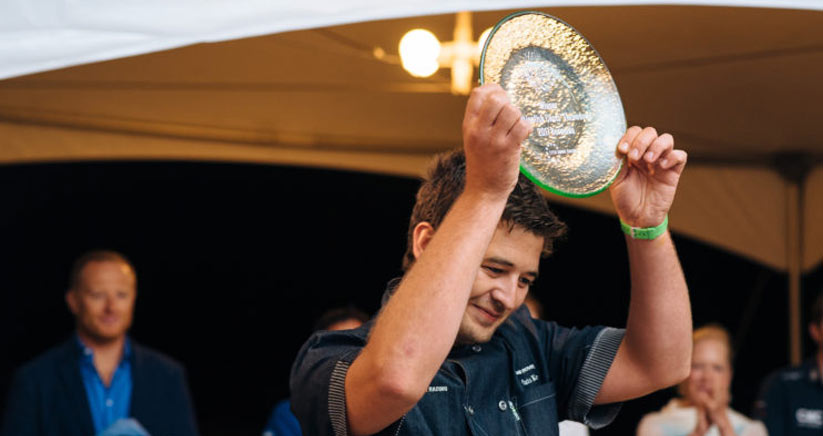 #EatLionfish Chefs' Throwdown Winner
Released by The Royal Gazette.
April 21, 2017
By Sarah Lagan
Sir Richard Branson's Necker Island head chef Chris Kenny snagged the top prize at the celebrity chef 11th Hour Racing Lionfish Throwdown with a trio of sustainable dishes.
He beat competition from five top chefs from the 35th America's Cup team nations: Annabel Langbein (New Zealand), Gael Orieux (France), Taichi Kitamura (Japan), Christopher Ekman (Sweden) and Rob Ruiz (United States).
The event at the National Museum of Bermuda in the Royal Naval Dockyard was designed to raise awareness of the problem of invasive lionfish in Bermuda's waters. With no natural predators in Bermuda, they eat local species and compete with them for food.
Speaking to The Royal Gazette about his lionfish trio — ceviche, lionfish coconut curry and fish and chips — Mr. Kenny said that he hoped to see a greater supply of lionfish to cook with in the future as methods improved in capturing them in deep water.
The Guardian LF1 submersible robot, developed by Robots in Service of the Environment using technology by iRobot, was "christened" with Gosling's rum at the event. The robot can catch lionfish remotely at depths up to 400 feet using a controller. It is hoped it will enable more of the invasive fish, which are able to produce some 40,000 eggs in five days, to be caught in Bermuda's waters.
All the chefs were chosen to participate not only for their skills but also their dedication to using and promoting sustainable food sources. Even the emcee — Rick Moonen of RM Seafood and RX Boiler Room in Las Vegas — is known as the "Godfather of Sustainability".
Continue reading The Royal Gazette.
For a full recap on the Lionfish Project, click here.
Want to create Chris Kenny's winning recipe at home? See the recipe below:
Chris Kenny Winning Lionfish Recipes for 4 people
Lionfish three ways: Lionfish Ceviche, Lionfish & Chips, LionFish Curry
Lionfish Ceviche:
Ceviche
5oz Finely Sliced Fresh Scallops
1lb Finely Sliced Fresh Lionfish (filleted and skinned)
1oz Finely chopped Shallots
½ oz Finely Sliced Chives
4 tbsp Extra Virgin Olive Oil
4 tbsp Lime Juice
½ oz Caviar
Pinch Salt per serve
Pinch Cayenne Pepper per serve
Fennel Salad
4oz Finely sliced Fennel
12 small pieces Fennel tops – picked
1 oz Fennel Seeds – triple blanched until soft
1tbsp Lime Juice
2 tbsp Olive oil
Pinch Salt- to taste
Pinch Cayenne Pepper- To Taste
Method
First Place the Fennel seeds into a pan of cold water (triple the amount of water) and bring them up to the boil. Strain. Repeat this process 3-4 times until the seeds are soft.
For the Lionfish (fillet and Skinned) slice finely along the fillet – Check at this stage for any scales and pin bones in the fish – remove if found. Split the lionfish into 4 portions.
Follow the same process for the Scallops.
To make the salad First cut the tops off the fennel (keep these for garnish). Finely slice the fennel using a mandolin and place into a mixing bowl. Add the Olive oil, Lime, and blanched fennel seeds. Mix well. Season to taste with salt and cayenne pepper.
To serve
Layer ½ of the Lionfish portion flat along the base of the Scallop Shell (or plate), do the same with 1 portion of scallop, Then put the 2nd ½ of the portion next to the scallop so it is Lionfish, Scallop, Lionfish.
Lightly season with salt and pepper. Next place thin lines of the chopped shallot and chives along the Lionfish and Scallop. Evenly spoon on the lime juice and olive oil – please note this should be done last minute as the lime will begin curing the fish immediately. Place a small ball of the fennel salad in the middle of the layered fish. Top the salad with some picked fennel tops. Finish the dish with 3 small spoons of Caviar.
Fish & Chips
1lb Lionfish –Filleted and skinned
Beer Batter
1 Bottle Guinness
1 Bottle Heineken
12FLoz Milk
1LB Flour
Chips
Minted Mushy Peas
1LB Peas
5oz Butter
1oz Mint
2 tbsp Lemon Juice
Salt
Black Pepper
Tartar Sauce
3oz Capers
3oz Gherkins
1oz Shallots
1 tbsp Lemon Juice
1oz Parsley
5oz Mayonnaise
Method
For the triple blanched chips – Blanched first in water, Drained, Confit in oil then scraped with a fork to ruffle the edges. Finally fried at 190 Deg Celsius until golden.
For The Beer Batter- 1 bottle of Guinness, 1 Bottle of Heineken, 12 FL oz Milk approximately 1lb flour- Mix the beer and Guinness with ½ of the flour until you get a thick paste. Slowly add the milk whisking slowly until smooth- the consistency should be thick similar to the "ribbon" stage when baking. You may need to add more flour of milk to correct the consistency.
For the Mushy Peas- Defrost peas and place in a food processor. Blend until you have a rough chopped pea texture. Add Melted Butter, Chopped Mint, and Lemon Juice. Salt and black pepper to taste.
For the tartar sauce
Chop capers, parsley, gherkins and shallots to a fine dice. Fold through Mayonnaise. Add Lemon Juice to finish.
For The Curry:
Curry Base
3 sticks Lemon Grass
2oz Ginger- Fresh
5 cloves Garlic
1x Chili
10oz Coconut Oil
6x Kafia Lime Leafs
2x tins coconut milk
½ tsp Clove powder
½ tsp nutmeg powder
½ tsp chopped fresh thyme
1 tsp Tumeric
1 tsp Curry powder
½ tsp ground cardamom
1x vanilla pod – scraped
1 oz coriander stalks
4x Large white onions
3x Lemon Juiced
2lb diced lionfish- Skinned & Filleted
Method
Blend Spices, Lemongrass, Garlic, Chili, Coriander, Lime Leaf, Ginger & Coconut oil until smooth in a blender. Cook on a low heat for 5 minutes. Add Coconut milk and sweated white onions. Cook for 1hr. Add Lionfish and lemon juice and remove from the heat. Let it sit for around 30 minutes then reheat before you serve with garnish listed below.
Curry Garnish:
¼ Cherry Tomatoes
Onion Seeds (nigella seeds)
Puffed Rice Noodles – Simply deep fried until they puff up
Fried Poppadum's – rubbed with curry paste before frying
Finely sliced Chilli and spring onion – iced before service so they go curly
Chili & Lime Yoghurt Gastric – Make a light caramel, De-glaze with lime juice, Fold through Greek yoghurt.
Fresh Coriander Leaves