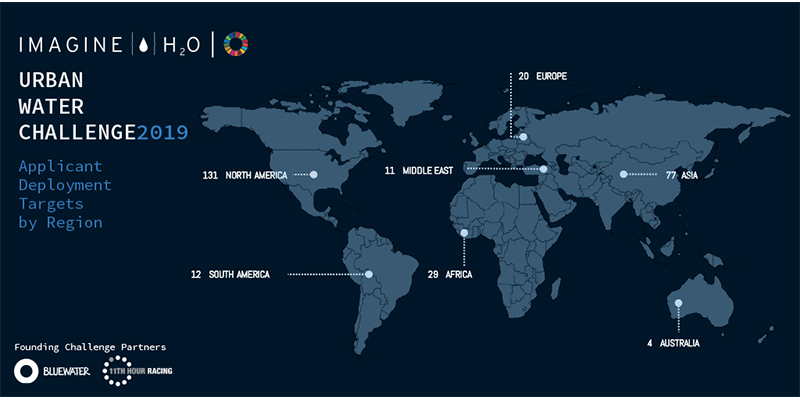 Finalists for 2019 Urban Water Challenge Announced
Meet the Entrepreneurs Reimagining a Water-Resilient Future
14 August 2019 (Newport, RI) — Imagine H2O and Founding Partners 11th Hour Racing and Bluewater today announced the 2019 finalists of the Urban Water Challenge, a global deployment program for entrepreneurs reimagining a water-resilient future. More than 220 startups from 38 countries applied to the Challenge, representing a diverse range of innovative solutions to the global water crisis – from on-site pollution control to off-grid safe drinking water supply. Imagine H2O's Evaluation Committee selected six businesses from five different countries to be honored at World Water Week in Stockholm.  
The Challenge finalists were evaluated by a panel of industry experts on the basis of commercial viability, market readiness and impact. "It was a privilege to be part of the Evaluation Committee, and I commend all the applicants for their tireless efforts to address water challenges around the world," said Michelle Carnevale, Grants Program Director, 11th Hour Racing. "We are thrilled to put a spotlight on the Challenge finalists and their innovative solutions to advancing the UN Sustainable Goals as part of 11th Hour Racing's commitment to protecting the environment through innovation."
The Challenge's Founding Partners committed $500,000 in cash awards and pilot funding to allow finalists to validate and scale their winning solutions with fast-growing urban communities globally. Each finalist will showcase their solutions at World Water Week in Stockholm on August 25-30, 2019. Two winners from the cohort will be announced during the Challenge's Award Ceremony hosted by Bluewater and 11th Hour Racing on August 26 and will be eligible for additional pilot funding awards. 
"With a quarter of the world's population of 7.7 billion wondering where their next drink of water is coming from, the planet already is coping with a water crisis," said Anders Jacobson, President, Bluewater. "It will only get worse as the UN projects that global demand will exceed supply by 40 percent in 2030. We are excited about the innovative solutions that have been developed by the finalists of our second annual Urban Water Challenge. This group of global entrepreneurs shows what is possible for a water-secure future." 
Meet the 2019 Urban Water Challenge Finalists:
Indra

: deploying modular, decentralized industrial effluent and wastewater treatment systems in Mumbai, India. 

SmarterHomes:

expanding a smart water metering solution to apartment buildings in water stressed communities in Namibia.

StormSensor:

providing real-time data and insights to US utilities, allowing them to better manage changing stormwater conditions.

Upepo:

integrating low cost measuring devices with Narrow-Band IoT to provide real time revenue and water loss management data to Kenyan utilities.

WatchTower Robotics:

scaling an untethered robotic tool for high-accuracy mapping and early leak detection in water distribution networks in Vietnam.

Zilper Trenchless:

deploying a trenchless technology in Colombia to install and replace water pipes without the need for excavation.
Header image photo credit: Imagine H2O