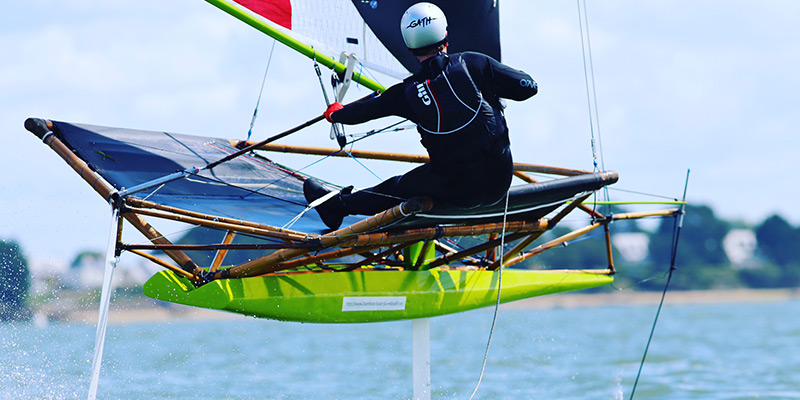 Foiling SuMoth Challenge Announces New 11th Hour Racing Sponsorship
Pictured above: The Bamboo Boat — launched in August 2016, built by Guillaume Dupont, David Burban, Margaux Le Joubioux, Rémy Dupont, Basile Mayet, Arnaud Chahinian and Alan Peresse. Photo credit: Guillaume Dupont
NEWPORT, RI – U.S. (6 May 2019) — Foiling Week announced today a new sponsorship with 11th Hour Racing to support and promote sustainable boat building practices through the Foiling SuMoth Challenge. This unique design competition challenges students to construct competitive Moth class compliant foilers while also considering the environmental, social, and economic impacts of the manufacturing process.
Managed by Foiling Week™ — the first and only global event dedicated to the amazingly fast foiling boats, their sailors, designers and builders — the SuMoth Challenge aligns with the event's key pillars of accessibility, sustainability, and safety. The goal is to provide a foiling experience that is accessible to everyone, to promote environmental and social stewardship, and ensure the safety of the foiling community on the water.
"Through this sponsorship with 11th Hour Racing, and by harnessing the power of sport and education, we will demonstrate with the best naval design students how sustainability can play a role in high performance," noted Luca Rizzotti, Founder of Foiling Week. "We believe the foiling community understands that innovation, sustainability and performance are all connected: the next generation of yacht designers will have an amazing opportunity to learn and experiment using the latest tools and technologies. The future of sailing and the health of the seas will have new knowledgeable and enthusiastic ambassadors."
The Foiling SuMoth Challenge, developed as a student competition, provides the opportunity to bring innovative and creative designs to the sport, avoiding "business as usual" practices, which often focus solely on the economic success of products. The Challenge encourages students to design high-performance boats, while considering the environmental, social, and economic impacts of boat building.
"We are excited to support the Foiling SuMoth Challenge and the innovative concepts and designs that the students will bring to the table," said Jeremy Pochman, 11th Hour Racing Co-Founder and Strategic Director. "With a focus on low-carbon emission practices, the use of bio-based materials, and strongly encouraging students to upcycle leftover materials, the Challenge is poised to produce inspirational concepts for sustainable boat building. We are also thrilled to note that scoring encourages a minimum of one female team member, helping diversify participation in Foiling Week."
To date, six teams have already announced their participation in the Challenge. 11th Hour Racing's funding will support the sustainability principles and objectives of the SuMoth Challenge, and also team travel to Foiling Week 2020 in Lake Garda, Italy, where teams will compete with their fully designed boats.
Additionally, the 11th Hour Racing sponsorship will provide participating teams access to MarineShift360's Life Cycle Assessment Tool, which will enable them to understand what the environmental footprint of their design will be over its full life cycle – from cradle to grave.
Rules and registration for the Foiling SuMoth Challenge are available on this link.