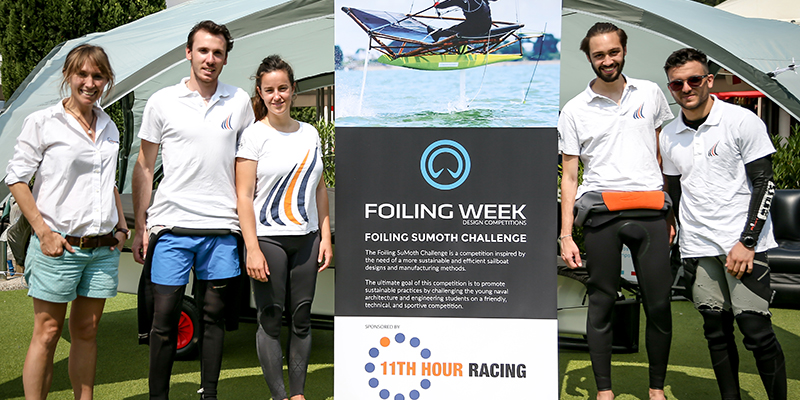 Foiling SuMoth Challenge Teams Attend Foiling Week 2019 in Lake Garda, Italy
In July, Kellie Covington of 11th Hour Racing attended Foiling Week in Lake Garda, Italy to connect with four of seven teams of students currently participating in the Foiling SuMoth Challenge. The SuMoth Challenge aligns with Foiling Week's key pillars of accessibility, sustainability, and safety, and gives students the opportunity to construct competitive Moth class-compliant foilers.
While at Foiling Week, several team representatives attended a forum on sustainable boat building best practices, with sessions that directly benefited the student-led teams, as well as the other 30-40 attendees of the session. Kellie Covington gave a brief presentation about why 11th Hour Racing is supporting the SuMoth competition, and the organization's interest in engaging with designers and engineers of the future. Covington also explored details about the Life Cycle Assessment (LCA), as teams will be required to include this assessment in their final reports preceding the evaluation process of the competition.
When asked why they wanted to be involved in the SuMoth Challenge, team representatives expressed their interest in the creativity fostered through the competition and felt that it was more challenging in comparison to other competitions. The students also conveyed their keen interest in the strong sense of community that the competition has created, and the opportunity to connect with their peers at events such as Foiling Week.
Members from all seven participating teams have practical experience in designing foiling boats, and almost all of the students have experience working with alternative materials and concepts, such as design for disassembly.
With 11th Hour Racing's support of the sustainability principles and objectives of the SuMoth Challenge, teams will be competing with their fully designed boats at Foiling Week 2020 in Lake Garda, Italy.
To read more about the Foiling SuMoth Challenge, visit FoilingWeek.com.
Header image photo credit: Foiling Week