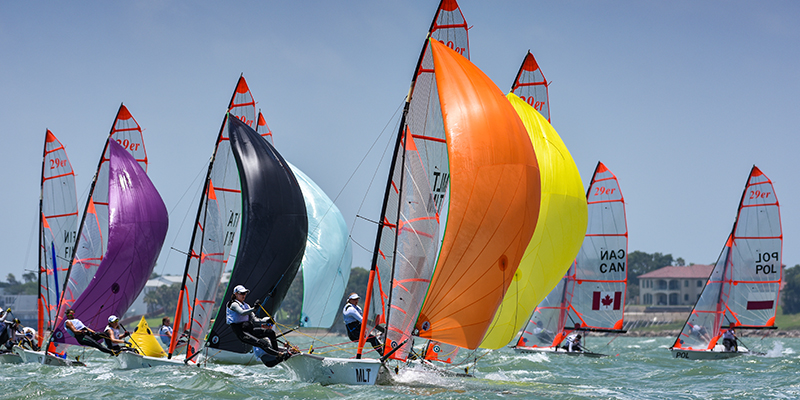 Four nominees announced for World Sailing 11th Hour Racing Sustainability Award
The Blake Foundation, CNArenal/RCNPalma/CMSAP Can Pastilla/Federacion Balear de Vela, RYA/The Green Blue and SailGP have been nominated for the 2019 World Sailing 11th Hour Racing Sustainability Award.
The World Sailing 11th Hour Racing Sustainability Award celebrates the effective execution or ongoing delivery of high-impact, highly-replicable sustainability initiatives, aligned to the World Sailing Sustainability Agenda 2030.
Corpus Christi Yacht Club won the inaugural award in 2018 for the work delivered at the 2018 Youth Sailing World Championships in Corpus Christi, Texas, USA.
For the 2019 Award, World Sailing received 20 applications from Member National Authorities, sailors, sailing clubs, organising committees and marine industry organisations.
The winner will receive the $10,000 USD prize fund as well as an iconic perpetual trophy made from recycled carbon fibre (from an America's Cup boat) and bioresin.
Each nomination was assessed by a judging panel who voted on the shortlist. The judging panel consists of World Sailing's Sustainability Commission, World Sailing Vice-President Jan Dawson, Rob MacMillan, President and Co-Founder of 11th Hour Racing and World Sailing's Head of Sustainability, Dan Reading.
Reading commented, "This year we had such an impressive batch of applications covering the whole range of the sport as well as addressing a range of sustainability issues.
"I'd like to add my thanks to all of those who applied, some of which we will be working with to maximise their impact in the future. I'd also like to congratulate the shortlist on some fantastic work helping the sport become more sustainable."
The judging panel will vote on the winner and the recipient will be announced at the 2019 World Sailing Awards.
Further information on the shortlisted organisations is available below:
The Blake Foundation
BLAKE Inspire for Sailors (BIFS) is a week-long, action-packed, residential programme that brings together 30 young sailors (aged 16-18) from all over New Zealand, covering a range of environmental themes, with a focus on the marine environment.
The event empowers delegates to follow in the footsteps of legendary yachtsman Sir Peter Blake – combining his passions for sailing and the ocean, environmental sustainability and adventure.
The aim of BIFS is to create more sustainability leaders within the New Zealand yachting community who will drive and inspire positive change. Delegates are provided with leadership training and learn about important environmental issues through experiential learning techniques and participation; and are supported by a range of science, environmental and yachting experts. Topics include ocean health, climate change, conservation, marine and island biodiversity and yacht club sustainability.
The students develop individual action plans to take away and implement within their yacht club or sailing community. These plans can have a focus on one or more of the World Sailing's Sustainability Agenda's recommendations, including venue (club), events, participation, training, technical standards and changing the hearts and minds of their members.
CNArenal/RCNPalma/CMSAP Can Pastilla/Federacion Balear de Vela
The collection of clubs and the regional federation work collaboratively to deliver the famous Trofeo S.A.R. Princesa Sofia Iberostar regatta for Olympic classes each year.
Since 2018, the event has undertaken sustainable actions to actively contribute to the aims outlined by World Sailing's Sustainability Agenda 2030. A plastic free campaign, water fountains and petrol absorbing pads alongside the collaboration of the events main sponsor, IBEROSTAR Hotels, leaders in sustainability in their field specially with their Wave of Change campaign, has enabled the event to support the sustainability campaign led by sailors – the true ambassadors of the sport.
In 2019, three beach cleans in Palma de Mallorca were held before and during the event, 350 petrol absorbing pads were handed out to coaches and the organising team and there was a huge reduction in single use plastics including 2,000 plastic bags, 2,000 cutlery sets, 4,000 plastic water bottles and 2,000 plastic containers.
RYA / The Green Blue
The Royal Yachting Association (RYA) has invested considerably in its sustainability efforts in 2018/19 and enhanced the funding of The Green Blue, a joint environmental outreach programme.
The Green Blue's main objective is to empower boaters to take action on sustainability through providing clear training and guidance on key issues. Extensive advice to the British boating community is made available through print and online, instructors are appropriately trained and workshops with clubs and centres are run throughout the year.
At the 2019 49er, 49erFX and Nacra 17 European Championships held out of Weymouth and Portland, Great Britain, a new sustainability toolkit was trialled which resulted in the awarding of Gold Regatta standard from Sailors for the Sea. The toolkit will now enable clubs and events to improve sustainability above and beyond existing accreditation schemes.
The on-going work of The Green Blue has reached significant numbers of individual sailors and their clubs through industry events, club conferences and delivery through the RYA's and British Marine's training programmes.
SailGP
Launched in October 2018, SailGP, the fan-centric grand prix racing circuit, embedded sustainability into the heart of the championship. SailGP has committed to delivering exemplar sustainable leadership in delivery of the events alongside a youth sailing, skills for life and environmental innovation programme.
SailGP has taken immediate action where solutions are in existence and have initiated long-term projects around the transition of fossil fuel powered support boats to zero carbon as well as reaching out across the industry, partnering and collaborating with innovative partners.
After the first four events, SailGP reduced carbon emissions from temporary power by 80%, reduced single use plastic with water refill stations, refillable bottles and re-usable coffee cups. Furthermore, volunteer clothing is 100% organic cotton and recyclable and there are comprehensive waste management programmes in place that includes food donation reuse programmes. SailGP also supports local organisations with beach cleans and has raised awareness of the need to control plastics.
The judging panel will vote on the winner and the recipient of the World Sailing 11th Hour Racing Sustainability Award will be announced at the 2019 World Sailing Awards, set to be held on Tuesday 29 October 2019 in Bermuda.
Video below: Introducing nominees for the World Sailing 11th Hour Racing Sustainability Award: The Blake Foundation, CNArenal/RCNPalma/CMSAP Can Pastilla/Federacion Balear de Vela, RYA/The Green Blue, and SailGP. Winner will be announced in Bermuda on October 29, 2019.
https://www.facebook.com/worldsailingofficial/videos/491008854815050/