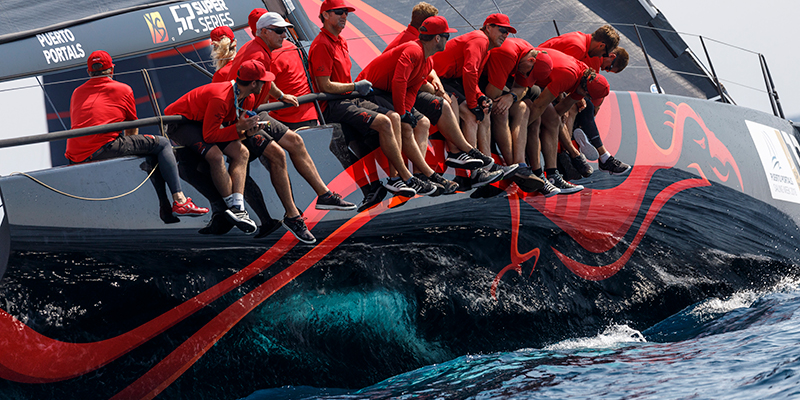 Get to know Tom Burnham
52 SUPER SERIES & 11th Hour Racing Ambassador
Tom grew up sailing with his family on Long Island Sound and spent his summers at Milford Yacht Club. Through many twists and turns over the years, sailing became his profession and he's our only Ambassador who's been competing at the 52 SUPER SERIES since it started. We caught up with Tom just after finishing the 4th event of this year's 52 SUPER SERIES, to tell us a little more about its sustainability initiatives.
What 52 SUPER SERIES team are you sailing with now and what is your role?
I am sailing on Team Phoenix as the floater/strategist.
How long have you been competing in the 52 SUPER SERIES?
I was lucky enough to have started with the 52 SUPER SERIES when it first began but then missed the 2016 and 2017 seasons when I was taking part in the America's Cup with Artemis Racing.
What's the biggest change you've seen the circuit make from a sustainability standpoint?
When we started using reusable water bottles and thinking about being more sustainable when I was sailing on the Quantum Racing team, we were the only ones. It was a bit tough to see the way forward and to convince our own team to buy into the concept of using refillable bottles. Now using refillable bottles has become the standard practice here in the 52 SUPER SERIES and all the teams now see that not only can it be easier but it also saves time and money.
Using refillable bottles was just the entry-level practice that now has led all of the teams to find many other ways to be more sustainable. As a group, we are going to work on putting together some information and videos that we can share with the wider sailing world to help guide teams on how we have been able to make this happen. It can be daunting to try and start the process, so hopefully, we can help by giving instruction on the systems that we have come up with – which will help teams skip some of the challenges that we had along the way.  
What does it mean to be a Sustainability Ambassador for the 52 SUPER SERIES?
As Ambassadors for the 52 SUPER SERIES, we work together to share ideas on what each team is doing in their programs. We may be fierce competitors on the water but when it comes to sustainability we work really hard to make sure to pass on to all the others what we have learned and share the knowledge. We are also hoping to help the larger sailing community by sharing our stories and what we think works well. We become used to the practices that we have here at the 52 SUPER SERIES, but when you go out to other events it can be disheartening to see teams still stuck in the past in terms of sustainability.
What gets covered at the Ambassadors' meetings?
Beyond what I mentioned above, this year we are doing more with suppliers like Bluewater and Ecoworks Marine, learning about how its products help the event implement sustainability best practices like ditching single-use water bottles and using boat soaps that are truly eco-friendly when a water-only wash down won't do.
What are the biggest challenges for the teams who want to implement sustainability practices?
Getting over the initial mindset that it is going to create more work or be difficult and take away from the focus on racing. Neither of which is true.
Is there anything additional that you would like to see implemented at the 52 SUPER SERIES?
I would love for there to be a better solution for the support boats that are on the water. There still doesn't seem to be a viable option for a replacement for the gas outboard motors. Maybe someday after we figure out electric cars, boats will follow. There are some products on the market but as of yet not a really good solution.
What's your favorite piece of sustainability media that the series has produced?
You travel to a lot of places for your job, what's the biggest sustainability solution or ocean health problem you noticed?
I am happy to see that steps are being taken by many organizations and governments to protect the ocean. It seems like awareness is growing but there is still a long way to go. The most frustrating thing I find is the number of cigarette butts that are on the ground and in the water around the world. This seems like a simple one to fix. We are talking a lot about straw usage and banning straws in many places to keep them out of the water. But no one purposely throws straws on the ground or in the water. Cigarette Butts, however, are thrown out of car windows and over the side of boats all the time. This drives me crazy. We have to make smokers realize that this is trash and should be discarded properly!
How does your role as an 11th Hour Racing Ambassador fit in with your professional career, and how does it impact your personal life?
Being an Ambassador for 11th Hour Racing has really raised my awareness of what is happening to our planet. It has made me think a lot more about my choices. We installed solar panels on our home a few years ago and it has been fantastic, no electricity expenses in 4 years! Realizing that all of the little choices that we make in our daily lives will have an impact is important. Being part of 11th Hour Racing has really helped me realize all of the things that we can do to help.
What's up next for you?
After finishing the latest 52 SUPER SERIES event I am looking forward to some well deserved time at home for the end of summer and helping the kids get back to school.
Check out the latest 52 SUPER SERIES sustainability video, featuring Tom refusing straws in his drinks!
Header image credit: Nico Martinez | 52 SUPER SERIES