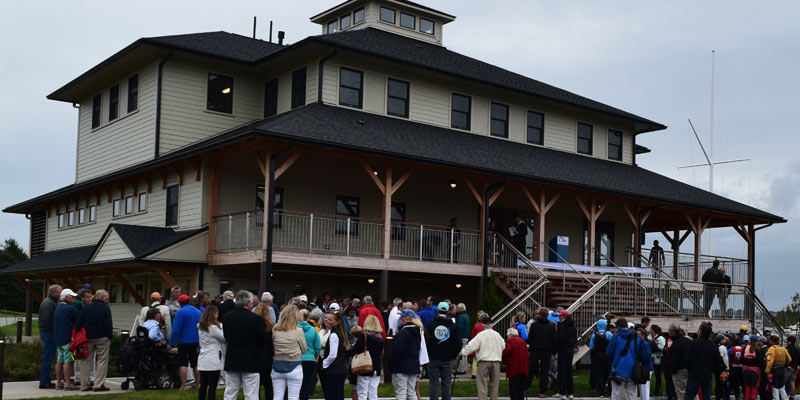 Governor Gina Raimondo Leads Ribbon Cutting Ceremony to Open Sail Newport
Center provides more facilities for classrooms, regattas and marine education activities at the non-profit Sailing Center
NEWPORT, RI (August 30, 2017) – Sail Newport, along with a slate of dignitaries, officials and supporters celebrated the opening of its new Mid-Park Marine Education and Recreation Center today. Over 200 people joined Executive Director Brad Read for a ribbon cutting ceremony including Governor Gina Raimondo, Senator Sheldon Whitehouse, Rhode Island Department of Environmental Management (RIDEM) Director Janet Coit, former Senate President Teresa Paiva Weed, Representative Marvin Abney and Rob MacMillan of 11th Hour Racing.
Rhode Island Governor Gina Raimondo says, "This is a Center truly worthy of the Ocean State," Raimondo said. "The state-of-the-art sustainable design will allow Sail Newport to bring the magical experience of being out on the water to more Rhode Islanders. In particular, the Center will teach our younger generation that these natural resources are gifts we must protect and preserve for the future."
The 8,500 square foot LEED-compliant building located in Fort Adams State Park was conceived, designed, engineered and built with support and guidance from the State of Rhode Island and many construction and sustainability partners.
In addition to sustainably-resourced materials and a flood-resilient design, the new center operates with energy-efficient heating and cooling, solar power, and a rainwater harvesting system for irrigation, boat wash and restroom water.
RIDEM Director Janet Coit says, "I am thrilled to celebrate the completion of the Mid-Park Education and Recreation Center at historic Fort Adams State Park – a place of profound beauty and culture and home to exceptional recreation, facilities, and marquee events," said DEM Director Janet Coit. "Beautiful waters and greenspaces, breathtaking vistas, and world-class boating – all of which surround you at Fort Adams – are hallmarks of Rhode Island. They are an intrinsic part of life here. And they attract streams of people and opportunity to our state."
Coit adds, "Kudos to Sail Newport and all partners involved in making this project a reality and continuing to enhance and promote Fort Adams as a destination. I look forward to the many public programs and opportunities Mid-Park will offer – and the love of sailing and enjoyment of our parks that it will help inspire."
The growth and progress of Sail Newport prompted the organization's leaders to set a goal five years ago to expand their public access sailing programs and marine education for the community. The new center was designed to facilitate more education with year-round classrooms and restrooms and an upgraded facility in order to offer more public sailing programs and more access to the water for all ages. Sail Newport held a ground-breaking ceremony less than one year ago.
Read says, "the State of Rhode Island, DEM and many generous donors have brought us to this day." He adds, "Not only do we now have a sustainable headquarters, this new center will serve the community with more public access sailing programs and access to Narragansett Bay."
Sail Newport also partnered with 11th Hour Racing for the design of the building to include sustainability at the heart of its sailing center operation and green events and programs. It was announced almost a year ago that 11th Hour Racing granted $1 million towards costs for the new center.
Rob MacMillan, co-founder of 11th Hour Racing says, "We are thrilled to see the grant that 11th Hour Racing awarded to Sail Newport in 2016 come to fruition, with the new Mid-Park Education and Recreation Center ready to welcome and expand Sail Newport's educational programs, while integrating the message of preservation and maintenance of our ocean and shoreline. Since 2010, 11th Hour Racing has been harnessing the power of sport with an innovative and comprehensive approach, and these new sustainable headquarters are a testament to our core values centered around environmental and social responsibility."
MacMillan adds, "We exist to provide public access sailing programs and services. The new center will have a positive impact on all of our community-based programs that we provide at low cost or no cost to other nonprofit organizations," Read adds. "Most importantly," he says, "we hope to inspire all sailors as to the importance of preserving and maintaining our ocean and shoreline."
ABOUT SAIL NEWPORT
The non–profit organization provides public access to sailing programs through instruction, rentals, regattas, events and sailing center services. Sail Newport was founded in 1983 after the loss of the America's Cup inspired local sailors to launch a non-profit organization that would foster the sport of sailing and attract sailing events to Newport. Thirty –three years later Sail Newport is thriving sailing center with a internationally-recognized Youth Program, three seasons of adult sailing, racing and instruction programs and an annual calendar of local, national and world-class regattas. The sailing center facility is located in Fort Adams State Park. For more information, please visit www.sailnewport.org