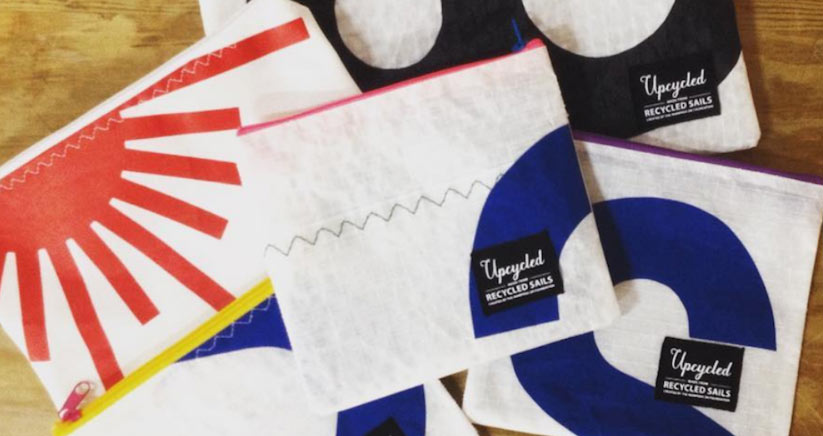 Grantee Spotlight: Upcycled Sails & the Mariposa DR Foundation
Instead of disposing of old racing sails and kiteboard sails in the landfill, what if we could repurpose that material into something new? A new product that not only is useful but also supports a social good: improving the livelihoods of local women in the Dominican Republic by providing jobs and training, and using proceeds from sales to support the education of young girls to help end generational poverty.  Upcycled Sails is a collaborative initiative between 11th Hour Racing, the Mariposa DR Foundation, professional kiteboarder and 11th Hour Racing Ambassador Brock Callen, and Cabarete business owner and philanthropist Laurel Eastman. It has created a meaningful partnership between the international sailing community and the local girls and women of Cabarete, Dominican Republic to create tangible, sustainable solutions for economic, environmental and educational goals.
How the Upcycled Sails Project Works:
Brock Callen, 11th Hour Racing Ambassador and Professional Sailor/Kitesurfer 
There are a number of small businesses that seek to upcycle sails, which I applaud. This project is vastly different in that it works with sailing community at the highest level to not only upcycle their sails into boutique merchandise but to create a business model that directly impacts the lives of young women in a developing country. Every sail that is donated becomes a job, a skill, an income, a sense of worth, an opportunity to advance the community."
Laurel Eastman, Mariposa DR Center for Girls Board Member
"As an entrepreneur I'm in love with the 'social business' model, creating jobs and sustainable income and investing the profit in community development feels fantastic. As an environmentalist I'm delighted to save sails from the landfill and educate the sailing community on how to reduce waste and re-use this valuable material. As a believer in education as a solution to both social and environmental challenges I'm so stoked to be investing the profit from this project in environmental education for young women in our coastal community in the Dominican Republic."
Patricia Suriel, Executive Director of the Mariposa DR Center for Girls (501c3)
"It's incredibly re-affirming and inspiring that we can do our part in small corner of the world (teaching Dominican girls skills swimming, surfing, permaculture and ocean ecology) and now feel that we're part of the bigger picture and not alone on our little island. Thanks to the 11th
Hour Racing grant we are growing international support, and spreading the word about our projects. We're so passionate about our work, and the environment. To be supported by an organization equally as passionate is a very special opportunity. We're very thankful to be actively engaging girls in their coastal environment and inspiring them to become environmentalists. We're incredibly grateful for our partnership with 11th Hour Racing, and honored that our work is being supported by the international sailing community."
While this pilot project is still developing, stay tuned to learn where you can purchase these cool upcycled bags and support the Mariposa Center for Girls!
For more information on the Mariposa DR Foundation see this link, or check out their Facebook page & instagram!