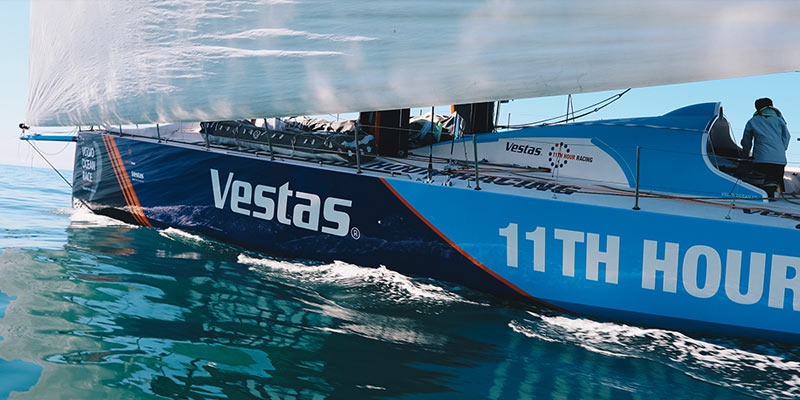 Happy Earth Day from Vestas 11th Hour Racing
70 percent of our planet is covered by the ocean, yet to date, we have explored approximately only five percent of the ocean. Competing in the Volvo Ocean Race allows us to sail in some of the most remote places on the planet. The Race and our team have chosen to use this adventure as an opportunity to discuss some of the issues faced by our oceans and highlight innovative solutions available to solve the planet's most pressing problems.
The Race does not come without its own environmental footprint. Staff must fly around the world to meet the boats and set up and manage operations on the ground, while two sets of containers transport from one stopover to the next the equipment needed for each Race Village; lastly, the boats themselves have an impact on the ocean.
When Vestas 11th Hour Racing was formed, sustainability was placed at its core. From the choice of suppliers to logistics, to daily operations on and off the water, to communications – we aim to be the most sustainable team in the race. Much of this work is done behind the scenes with our sustainability manager, Damian Foxall, diligently tracking our progress, and with the support of our co-title sponsors, Vestas and 11th Hour Racing, as well as environmentally responsible suppliers.
So what does it mean to lead sustainability? It means looking at our entire footprint, making the best possible choices with careful planning, eliminating unnecessary waste, refusing single-use plastic, choosing Meatless Mondays and locally sourced food as much as possible, staying within walking or biking distance of the Race Village – and continuously looking for ways to improve. We also look at the bigger picture, by engaging with the future generations on education and positive action for a healthier planet.
This mission does not come without setbacks. Unfortunately, we've flown more miles than we expected and we were forced to cut away our rig leaving marine debris in the ocean – but that means we are working harder to complete this mission.
Check out our infographic encompassing many of the ways we track and reduce our environmental impact.