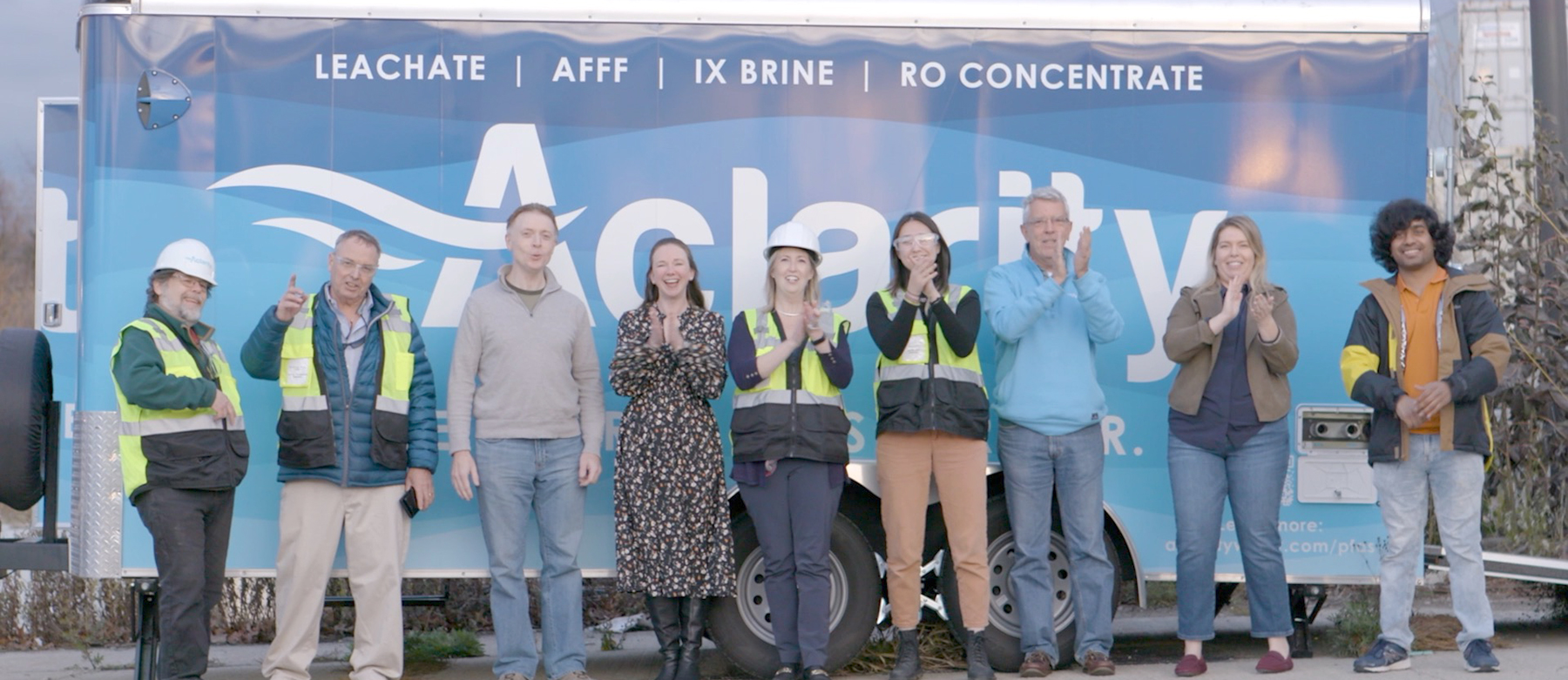 Imagine H2O Announces Aclarity as the Winner Of The 2022 Urban Water Challenge
PFAS destruction technology wins pilot funding challenge
For the fourth annual Urban Water Challenge, 211 startups from 37 countries applied, and six companies were selected as finalists. From these, one frontrunner emerged, singular in their ability to remove PFAS efficiently and effectively for good. Imagine H2O is proud to announce that Aclarity is the 2022 Urban Water Challenge Award Winner, supported by Oceankind and 11th Hour Racing's grant program, funded by The Schmidt Family Foundation.
Aclarity's groundbreaking technology in PFAS destruction revolutionizes water treatment and paves the way for a healthier, PFAS-free future. Their water treatment solution eliminates health-harming PFAS compounds from water sources and ensures safe and healthy water.
The pressing challenge of PFAS contamination demands innovative solutions. "After decades of PFAS chemicals being released from industrial sources, it's in our rainwater, it's in our groundwater, it's in rivers, and it's contaminated our drinking water," said Julie Bliss Mullen, chief executive officer of Aclarity. "PFAS are Teflon Based chemicals. They're called 'Forever Chemicals' because they don't degrade in the environment, and they don't degrade in our bodies. They are toxic and carcinogenic," Mullen added.
PFAS are persistent and harmful chemicals that pose significant risks to human well-being. Among the many health consequences, PFAS are known to contribute to various types of cancer, developmental delays in children, and decreased fertility. Globally, PFAS contaminates freshwater sources. These forever chemicals contaminate our blood—98 percent of Americans have PFAS in their blood.
Aclarity's electrochemical oxidation process eliminates PFAS at the source, from landfill leachate, to municipal water and wastewater. Their onsite tech integrates into existing systems. This empowers users to quickly adopt the technology and achieve better outcomes after just one use. By leveraging the power of electricity and advanced materials alongside intricate knowledge of the challenges facing their customers, Aclarity has developed a game-changing solution that guarantees the water we consume is safe and free from PFAS.
Aclarity's technology has the potential to transform millions of lives while protecting the environment and safeguarding human well-being. Their innovative approach to destroying PFAS without harmful byproducts is a beacon of hope in the fight for clean water, earning them the spot as the 2022 Urban Water Challenge Winner.
Since its launch in 2018, the Urban Water Challenge has awarded over $1.5M to help 27 startups complete 35 pilots in 17 countries. In addition to non-dilutive funding, Urban Water Challenge finalists receive recognition and visibility through showcase opportunities and the Imagine H2O platform. Join Imagine H2O,11th Hour Racing, and Oceankind in celebrating Aclarity's remarkable journey to destroy PFAS. Forever.