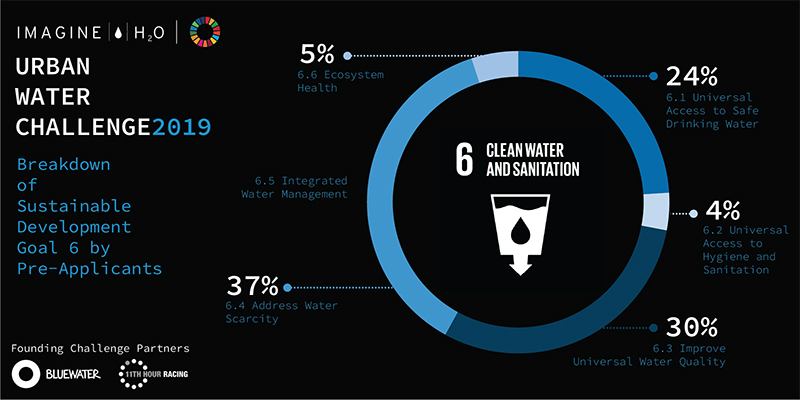 Imagine H2O Second Annual Urban Water Challenge Receives 226 Applications From 38 Countries
The second annual Urban Water Challenge (UWC) hosted by Imagine H2O aims to jumpstart innovative deployments of scalable water solutions through pilot funding, introductions to global mentors and advisors, and access to the Imagine H2O customer and investor network. With the partnership and support of Bluewater and 11th Hour Racing, the UWC intends to show what is possible when it comes to water resilience for megacities. 
Goal of the Challenge
Today, 30% of urban dwellers in developing regions now reside in informal settlements, often lacking fundamental water and sanitation services. In the global effort to secure universal access to safe drinking water, one thing is for certain: technology remains underutilized. Responsibility falls on future megacities and coastal communities to adapt infrastructure and modern technology to reach underserved communities, manage plastic pollution and emerging contaminants as well as build long-term climate-resilience.
Marching toward urban water resilience, the UWC empowers promising water technology startups and end-users, through marketing and visibility opportunities as well as investor relations, to deploy innovative solutions to meet the world's growing water demand. By co-designing the Challenge with active end-users, the UWC accelerates innovative solutions that reflect the real water resource needs of fast growing cities and communities globally. Identifying and addressing relevant needs will likely accelerate the path to deployment of the winning projects.
Global applicants
This year's innovation themes include solutions for drinking water, water reuse and recycling infrastructure, and systems to improve ecosystem health. The UWC has received 226 pre-applications from 38 countries and the shortlist of candidates is currently under evaluation by a diverse group of industry experts, including Michelle Carnevale of 11th Hour Racing, Jamie Dean of The Schmidt Family Foundation, and Anders Jacobson of Bluewater.
In a recent breakdown of the Challenge alignment with the UN Sustainable Development Goals (SDGs), 37% of pre-applicants plan to address water scarcity, 30% aim to improve universal water quality, and 24% hope to achieve universal access to safe drinking water for developing regions. The remaining 9% of pre-applicants are laser-focused on ecosystem health or granting universal access to hygiene and sanitation. 
Stay tuned for the results
This innovation competition will provide winners up to $250,000 in awards and visibility opportunities, including a dedicated marketing campaign. Winning companies will also be invited to World Water Week in Stockholm, Sweden in August, with travel stipends provided by Imagine H2O, to be honored during an awards ceremony and innovation showcase at the event. 11th Hour Racing hopes that these winning solutions will be adopted globally and help cities meet their growing water needs, and that the winning leaders will inspire a generation of water-focused entrepreneurs.
To learn more about this year's Urban Water Challenge and to take a look at last year's awardees, visit ImagineH2O.org.
Header image photo credit: Imagine H2O