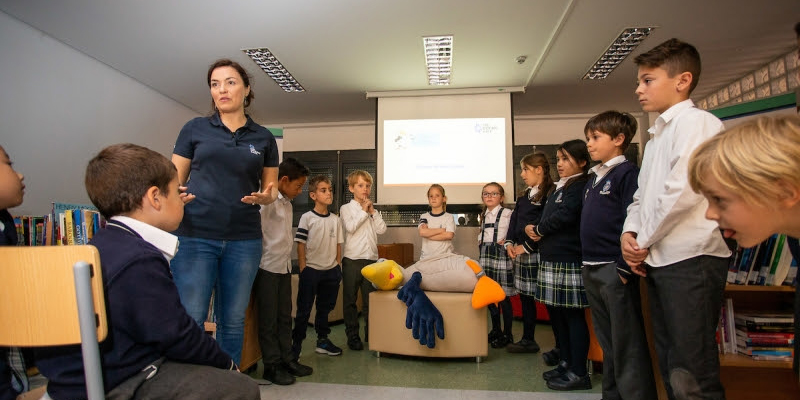 Kids invited aboard The Ocean Race Learning Programme
The Ocean Race Learning Programme provides stimulating resources to give schoolchildren aged 6-12 years of age, a unique insight into the problems and positive, practical solutions to combat the ocean plastic crisis. Building on the programme from the previous edition of the race – already used by over 110,000 children in 41 countries – a new science and sailing module has been introduced. This shows how sailors are helping scientists to increase our understanding of the scale of the problem and use this knowledge to create positive action.
Lucy Hunt, The Ocean Race, Learning Programme Manager, said: "The topics are designed to offer an exciting way for children to learn more about the plastic crisis affecting our seas. "They allow insight into the exciting world of yacht racing and ocean health whilst contributing to a range of national curricula with all resources easily downloadable through our website."
The programme consists of five topics; 'What is The Ocean Race?' 'What is Ocean Plastic Pollution?' 'How to reduce plastic pollution', 'My Positive Plastic Footprint' and 'Science and Sailing'.
The science module is subdivided into five suggested lesson plans which can be delivered over five days as part of science week. The module addresses STEAM (Science, Technology, Engineering and Maths) themes, global citizenship, geography, drama and language.
Curricula for geography, history, STEAM, language, global citizenship and art are all catered for in the lesson plans and color-coded worksheets. Different cross-curricular class activities are also optional and listed in the teacher's booklet of each topic.
The Ocean Race mascot Wisdom, a real-life Laysan albatross from Midway Atoll in the Pacific Ocean, accompanies the children on their journey and empowers them to become 'Champions for the Sea'. She features throughout the education resources and enables students to reflect on their lessons and learn about each topic in a fun way.
Although the resources are age specific, the 8-12 year olds versions are a good introductory fact booklet for anyone older who also wants to be better informed on The Ocean Race, our ocean connection, ocean health and how we can reduce ocean plastic pollution. A programme for secondary schools is being developed in time for the start of the next edition of the race in Alicante, Spain, in autumn 2021.
The Learning Programme forms part of 'Racing with Purpose', in collaboration with Premier Partner 11th Hour Racing. This contains a broad range of initiatives for cleaner and healthier seas, with sustainability as a core value of the event.
Todd McGuire, 11th Hour Racing Program Director, added: "Sailing offers an incredibly powerful platform to engage youth on many education topics – whether it's the science of sailing, the mystery and complexity of the ocean, the variety of sea life, or the devastating effects of plastic pollution.
"Contributing and enriching the overall sustainability strategy of The Ocean Race, the Education Programme has proven to be a really successful tool to engage large audiences across all continents, and also reach communities that may not have daily interaction with the ocean. We are excited to contribute to the expansion and continued legacy of this program, with the goal of inspiring new and upcoming ocean stewards and future leaders."
Resources are currently available in English and all education materials are available for free download at: learning.theoceanrace.com
Header image photo credit: Brian Carlin/The Ocean Race