La Copa set to unfurl its sails in Larmor Plage, France, in January 2024
La Copa
The eighth edition of La Copa will hoist its sails again on January 13-14, 2024, in the heart of the French sailing valley in Larmor Plage, with 32 skippers competing in a series of tournaments, on MiniJ class boats.
The event, which ran from 2010 to 2017, is being organized by a new team, with the support of the new title sponsor 11th Hour Racing, a US-based organization that works with sailing, maritime and coastal communities with an innovative approach to inspire solutions for the ocean.
Winter in Brittany, France, is renowned for being long, rough, gloomy, dark and rainy. Nevertheless, there seems to be a certain consensus among the sailors registered to make this period a joyful, friendly, sustainable and competitive one. For a whole weekend, the port of Kernevel will be transformed into a nautical stadium in which 32 skippers, men and women, will compete from qualifying rounds (Saturday) to the final (Sunday afternoon).
The incredible 2024 line-up of sailors will include Vendée Globe, The Ocean Race, Mini Transat, and Solitaire du Figaro winners. Here is the complete list of skippers involved in this winter's sailing tournament:
Charlie Dalin, Anne C Le Berre, Julien Villion, Marie Lumeau, Jean-Pierre Dick, David Sineau, Thomas Ruyan, Morgan Lagraviere, Charlotte Marilley, Yoann Richomme, Quentin Ponroy, Jean-Pierre Nicol, Willow Terrassier, Tanguy Le Turquais, Thibaut Vauchel, Jean-Luc Nelias, Tiphaine Ragueneau, Clarisse Cremer, Benoit Hantzperg, Sébastien Josse, Sam Manuard, Gautier Sergent, Jérémie Beyou, Nico Andrieu, Seb Col, François Gabart, Sébastien Rogues, Alan Pennaneac'h, Fabien Delahaye, Yves Le Blevec, and Cécile Andrieu.
La Copa sponsored by 11th Hour Racing in figures: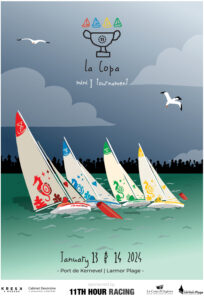 A renaissance supported by 11th Hour Racing, a sustainability-committed partner
Conviviality and sport are not incompatible with lasting commitments. That's the path we want to take. Thanks to 11th Hour Racing's guidance and support, we aim to optimize our impact both on land and on the water by identifying local event partners, capitalizing on four completely renovated 2011 MiniJs that will be given a second life, and selecting partners who are also committed to a similar sustainable approach in their day-to-day business. We see La Copa as an incredible platform to highlight to all stakeholders involved our capacity to create a carbon-neutral event. In three years' time, we want to reach 50/50 gender equality on the sailors' lineup and be carbon neutral.

Header image credit: Thomas Normand