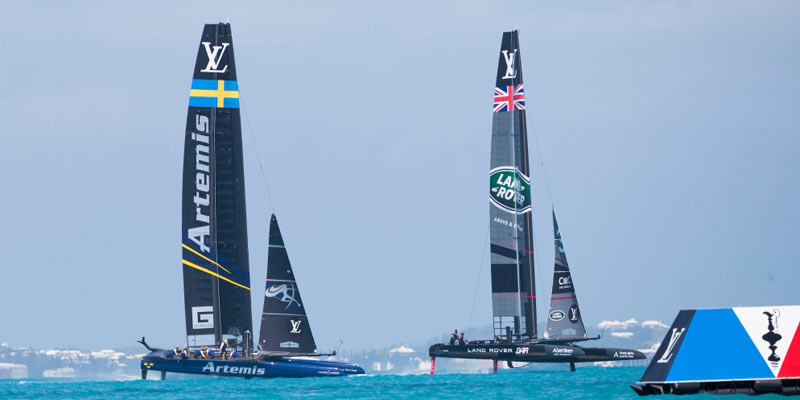 Land Rover BAR fight back
Released by Land Rover BAR.
Land Rover BAR fought back in their sixth race of the Louis Vuitton America's Cup Qualifiers. Skipper Ben Ainslie and the team sailed their best race to date, winning another great pre-start against Artemis Racing, accelerating around the Swedish team before hitting 43 knots on the first leg to lead by 10s at Mark 1.
This was the first day of the America's Cup Qualifiers Round Robin 2, where the teams sail each other twice. The result solidifies the British in third place with four points, behind the Defender, Oracle Racing USA on six points, and Emirates Team New Zealand on five. Behind Land Rover BAR, the rest of the fleet are all on two points, intensifying the battle to make the semi-finals.
Thoughts on the racing
Ben Ainslie, Skipper and Team Principal: "It was a big day for our team. We've had a couple of really tough days with a couple of losses on the run and we really needed to turn that around. We had some pretty frank conversations last night, and we all knew what we had to do today. It's a big boost for the team and we must now keep improving and moving forward. 
"A few people have mentioned the two points that we carried into the Qualifiers from the World Series. Coming into this event it has been well documented that we were struggling for straight line speed. Thankfully our performance in the Louis Vuitton ACWS was very strong. It was a target for the team to get the points, but also for a new team in the Cup to show we could race and win at this level. So they've turned out very useful, and we may well need them to get to the next stage."
Giles Scott, Tactician and Grinder: "We were pretty gutted to have lost that race against the French [yesterday]. We did have to pull together to re-group last night, and we did that really well. We came in this morning, we were super positive about the tweaks we made, and how we would approach today. 
"We raced really clean, Ben did a great job in the pre-start. We did something that sounds easy but is incredibly hard in these boats, and that is to keep it nice and simple. We didn't have any crash down off the foils today, which made a big difference ultimately.  
"So today we were nice and calm and relaxed, it's amazing how things can spiral out of control onboard –  one little touch-down, one bad tack, one bad gybe, one missed lay line. You really do have to sail perfectly to have a nice clean race, and today we got as close as we could to this, and I think it shows in the result.
"We know that we have to sail clean, we feel like our speed is getting closer especially in the conditions that we had today. We have to go out for every race and attack it like we did today and get through this round robin."
Photos ©Land Rover BAR
Published by: Land Rover BAR, May 29, 2017.