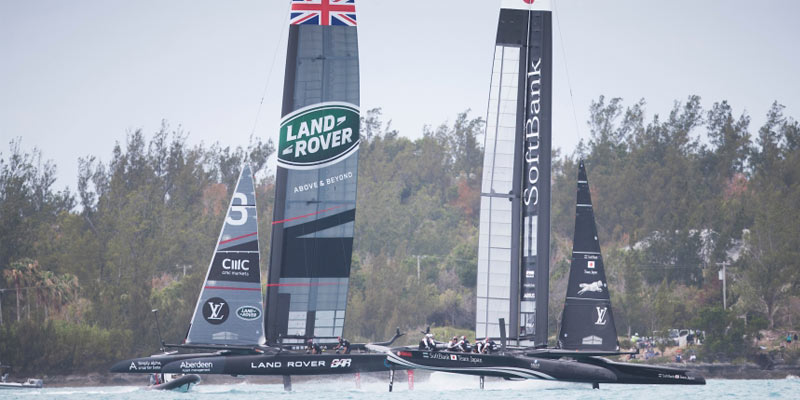 Land Rover BAR finish third in Qualifiers
Released by Land Rover BAR.
Land Rover BAR ended the Louis Vuitton America's Cup Challenger Qualifiers in third place after splitting their final day of racing with one win and one loss. The team opened with a very solid performance against Soft Bank Team Japan.
Another stunning start gave Ben Ainslie and his crew their seventh pre-start win from nine races and saw them lead the Japanese team from start to finish.
A close second race against Oracle Team USA saw Land Rover BAR uncharacteristically lose the start. The Americans led by 11s at Mark 1 and kept a tight cover on the British team until the finish.
Land Rover BAR completed the Qualifiers with a total of six points, two behind Emirates Team New Zealand in second. They are a further one point behind the winners and defenders of the America's Cup, Oracle Team USA. As a result, the American's will take a bonus point into the America's Cup match in two weeks time.
The Louis Vuitton Challenger Playoff first-to-five-points semi-finals will start on Sunday 4th June. The top ranked challenger chooses their opponent, and Emirates Team New Zealand have picked Land Rover BAR.
Sailing Team Manager, Jono Macbeth summarised the feeling in the camp."We've had a never-give-in attitude and it's been led from the front by Ben. He has proven time and time again that he is a strong leader, and he is absolutely not prepared to go out there without putting our best foot forward and putting up a good fight. I think today we really showed that, I know we are all looking forward to the Playoffs tomorrow and into next week."
Thoughts on the racing
Ben Ainslie, Skipper and Team Principal: "We are constantly developing. I think the great thing about our team is that we are constantly improving. From the beginning of the Qualifiers through to today there has been a remarkable improvement, and that's a great credit to the team – designers, engineers, shore team. We have improved the boat and improved the performance, but we still have more to come, and we know we can get faster.
"I think certainly two months ago, we were really struggling with performance against these teams and we have had a number of upgrades that we needed to sort out. So again, huge credit to the team. We have taken a lot of criticism, so I'm very proud of how the team has pulled through that and the gains we have made.
"We also know we can sail well. Our starts have been great and our boat handling and tactics have been second to none. So if we can get off the line well and put ETNZ under a bit of pressure, I think anything is possible.
"It's going to be a close race. To win the America's Cup you've got to beat all the teams. ETNZ have proven to be sailing well and fast over a range of conditions. It'll be a real battle, but we're really looking forward to it."
Jono Macbeth, Sailing Team Manager: "Today was quite a positive day for us. We would have liked to have gone away with two wins, but we had a solid win over SoftBank Team Japan and a strong performance against Oracle.
"Looking back over the Qualifiers, I think today showed how much we have improved and how far we have come. It shows what a huge team effort it has been from the shore team to the designers to the sailors; continually pushing to try and find as much boat speed as we can."
Nick Hutton, Grinder and Board Trimmer: "We had a really close start against Japan, and Ben has proven through most of the event that starts are a strong point for us. We do rely on that pretty heavily at the minute, but Ben is doing a great job and got us off the start line and down the first reach really well. After that it was a bit of a battle but it was great to come away with a win in our first race.
"Everyone on board did a good job with the boat handling and getting the boat around the track showing we have got the potential to be up there. And Giles and Ben between them did a great job of getting us around the track. It's tricky, it's shifty. You wouldn't have thought that – in the middle of the Atlantic – it would be as shifty as it is, but it is hugely shifty out there and puffy. So the boys did a good job of that and got us out of some tricky situations."
Published by: Land Rover BAR, June 03, 2017.