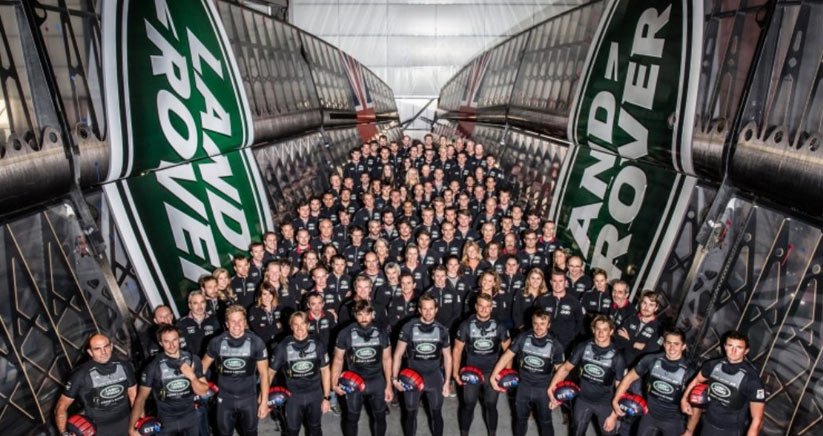 Land Rover BAR head to Bermuda for the final lap
Released by Land Rover BAR.
The Louis Vuitton America's Cup World Series is over and Land Rover BAR have two vital bonus points forward into the next stage of the competition for the 35th America's Cup. The team now start the transition of sailing operations from Portsmouth to Bermuda.
The first two shipments of boats and equipment have left the base, an award-winning building at Camber Docks in Old Portsmouth. The new sailing and hospitality facility located in Bermuda's Royal Navy Dockyard has been under construction since mid-summer and sailing will begin there for the team in early December.
About fifty percent of the team will move to Bermuda, but many of them will be on rotation from Portsmouth, which will remain the core of the operation and the teams home. The team has built a 'Virtual Chase Boat' to allow engineers and performance analysts to monitor all the sailing in Bermuda from the Dell EMC Mission Control in Portsmouth. In addition to the team members in Bermuda 54 family members will be moving full time including 30 children (Inc 6 babies – now that's a lot of nappies!)
BT, the team's Technology in Sustainability Partner has built the data channel that allows the 190 sensors and four video cameras to report in real time from the America's Cup race course on the Great Sound, Bermuda all the way back to Portsmouth. Once there, the performance analysis is supported with tools developed with help from Title and Exclusive Innovation Partner Land Rover.
Richard Hopkirk, Engineering Manager commented, "The next few months of sailing and development with our race boat will be some of the most important in this America's Cup. And while the design and engineering teams will be split, we've used communications technology to our advantage to ensure that the team in Portsmouth will be an integral part of the onwards development programme. It's an exciting new way of operating in the America's Cup, and is closer to the F1 model than what's been done in the Cup before."
Here are some stats behind the move to Bermuda:
3 shipments (July, November and December)- including:
42 x 40 foot containers full of kit
1 x Crane
1 x R1 – Race boat
1 x T3 – Test boat
1 x fully equipped gym
Team support RIBS
1 x challenge to #BringTheCupHome
Photo © Jack Abel Smith
Published by: Land Rover BAR, December 2, 2016.