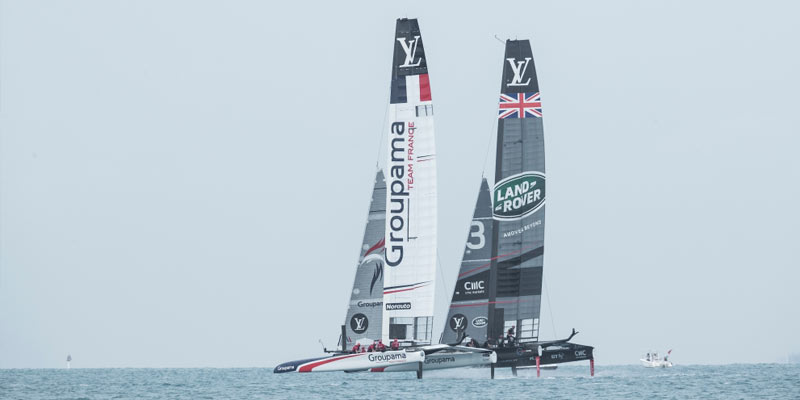 Land Rover BAR into the Semi-Finals
Released by Land Rover BAR.
Land Rover BAR qualified for the Louis Vuitton America's Cup Challenger Playoffs today, with defeat of Groupama Team France. A tense race was sailed right on the lower limit of the legal wind speed, and included multiple passes.
The final overtaking move went in favour of Land Rover BAR, as Ben Ainslie and Giles Scott found more wind and the right-of-way advantage just before the finish line of the shorter, five leg course.
Earlier, Land Rover BAR had lost their opening race to Emirates Team New Zealand. Ben Ainslie and his crew won the start, but then lost a lot of ground in a gybe before suffering a system failure that prevented them from controlling the port daggerboard.
The two results leave the team in third place with five points; Oracle Team USA lead with seven points, and Emirates Team New Zealand are second with six.
The team have no races on Friday, and will complete the final two races of the second-round robin of the Qualifiers with matches against Soft Bank Team Japan and Oracle Team USA on Saturday before the semi-finals start on Sunday.
Thoughts on the racing
Ben Ainslie, Skipper and Team Principal: "We had a nice start against Emirates Team New Zealand but they were coming over us with pace. We had to gybe away and we had a system failure which meant that we couldn't control our daggerboard properly; the new daggerboard coming onto the port gybe. We stuffed the bows in and wiped out all the speed and in those light winds when you do that it's so painful trying to re-build the speed and get going again. 
"In all fairness to Team New Zealand they were going really well in those conditions. I think they would have probably found a way past us anyway, but it would have been nice if we could have made life a little bit harder for them.
"We knew we had a big race ahead with Groupama Team France, so we pulled out against Emirates Team New Zealand as we wanted to give our engineers and technicians a chance to get in and fix the issues; which they did as always and got us through that final race.
"Clearly our performance wasn't good enough in those conditions, but tomorrow we aren't scheduled to race so we'll be working on our speed in those lighter conditions, the setup of the boat, the wing, the rudders and a lot you can play with to increase the performance."
Giles Scott, Tactician and Grinder: "We had a great start against the Kiwis this morning, and set up underneath them. But honestly, they were just a bit quicker than us in those conditions. Wind speed was right at the bottom end of the range that we can race in – maybe 6 knots – and we knew we had it all on. Unfortunately, we had a malfunction with the control system that Nick [Hutton] uses to control the boards through the manoeuvres, and that really ended it for us unfortunately. 
"It was so close against France. Super light, on and off the foils and plenty of overtakes. My role is to take an overlook of the race course and find more wind. It's great to come through races like that and it was a great race. Certainly one we didn't want to lose."
Photos ©Lloyd Images
Published by: Land Rover BAR, May 29, 2017.