Land Rover BAR lead the way in sustainable sport with BREEAM Excellent building
Released by Land Rover BAR.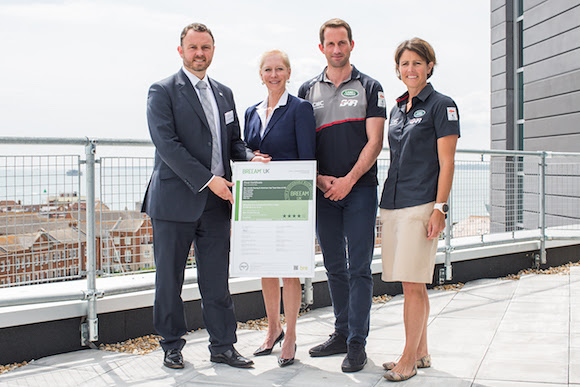 VIDEO: The oceans are our playground. Land Rover BAR has teamed up with Exclusive Sustainability Partner 11th Hour Racing to help promote a greener future and reduce the amount of ocean plastics.
Land Rover BAR are forging ahead in their goal to become the UK's most sustainable professional sports team, now believed to be the first professional British sports team to operate from a BREEAM Excellent building.
The team's new 74,000sq.ft waterfront home on Camber Quay received the accolade this week from the world's leading arbiters of sustainable architecture. Used in more than 70 countries, BREEAM have issued more than 530,000 certificates on more than 24,000 projects around the world, and over 2.2 million buildings and communities are registered for certification.
Simon Guy from BREEAM commented, "Congratulations to Land Rover BAR achieving a first in the sailing world with the BREEAM Excellent rating for the Camber Quay HQ. BREEAM is an international standard that rewards exceptional sustainable design and construction – a real recognition of a strong vision and team effort from all concerned."
The team have already seen their operations awarded the Olympic-inspired international standard, ISO 20121, providing a framework for delivery of sustainable operations throughout the team's activities. Land Rover BAR is the only sports team in the UK to achieve the certification across all its activities. Now it has added to this accolade by achieving BREEAM Excellent standard.
The team takes its responsibility for addressing the issue of climate change seriously, and reducing carbon emissions through the design and build of their team base is just one element of their commitment to sustainability. Working alongside their Exclusive Sustainability Partner 11th Hour Racing, and with the help of Land Rover, BT and Low Carbon, they are committed to becoming the most sustainable sports team in the UK, and these two achievements set the team on the right path.
Jeremy Pochman, President of 11th Hour Racing commented, "We are proud of Land Rover BAR's achievements and progress across the board of their sustainability strategy, which is highlighted in the team's headquarters. The team's base is a true testament to innovation, technology, long-term vision and sustainability – all elements that are integral to the mission of 11th Hour Racing.
"By investing in such a progressive structure, Land Rover BAR have demonstrated how smart sustainable design and construction can lead to enormous gains in terms of efficiency – not only as far as energy, but also at a competitive and sporting level. For 11th Hour Racing, this milestone of BREEAM excellent standard represents an unprecedented success story, and a legacy that will inspire the next generation of sailors, engineers, architects and fans across the world of sport."
Opened in June 2015, the building contains many sustainability features.
Renewable Energy
"This project has exciting implications for renewable energy. Because the Land Rover BAR philosophy is about educating and engaging locally, the project will be a fantastic showcase for how large buildings can be sustainable." – Roy Bedlow, Founder and CEO, Low Carbon (Land Rover BAR's renewable energy partner)
Low Carbon installed 432 Solar panels on 100% of the available roof space.
Solar panels generate 130 Mwh/yr and 20% of our energy.
Remaining electricity supplied by renewable sources.
Ecology
"The team have made a particular effort with this site to provide ecological enhancements that are suitable for the habitat and marine environment in which the site is situated, demonstrating a long term commitment to establishing a locally relevant enhancement of the species diversity of the site, using best practice and marine ecosystem conservation management." – Tony Blunden, Ecologist, Aluco Ecology Ltd
69 new species now find their home on the site, compared to eight prior to the development of the building.
Oysters were saved from a dredge site and relocated to 9m2 of protected oyster beds hosted on the team's pontoon developed in partnership with our marina partner MDL Marinas to help restart a viable population of oysters in the Solent region.
The Atrium
"One of our favourite parts of the building is the Atrium; it allows a direct source of daylight to filter through from the top floor down through all levels to the heart of the workshop. It is also used to draw air up through the building, releasing it through glazed louvres to help regulate internal temperatures; all while providing visual interest and physical connection between the various functions and teams within the building." – Vivienne Conway, architects, HGP Architects
Natural ventilation through the central atrium eliminates the need for a mechanical ventilation system.
All offices have direct access to natural daylight, reducing the demand for interior artificial light.
The Wrap
"A gigantic fabric wrap has been applied to much of the building façade, its translucency will still admit natural light to the interior, while reducing solar glare. It provides a layer of insulation, protecting the building fabric and retaining heat in winter like a coat." – Phil Ward, environmental consultants, Couch Perry Wilkes
A heat saving air cushion of approximately 4-5 degrees around the building.
The fabric controls the amount of sunlight that enters the building, reducing energy used for cooling and so reduces the carbon emissions.
For more information on BREEAM and the video case study see www.breeam.com
Published by: Land Rover BAR, July 21, 2016.