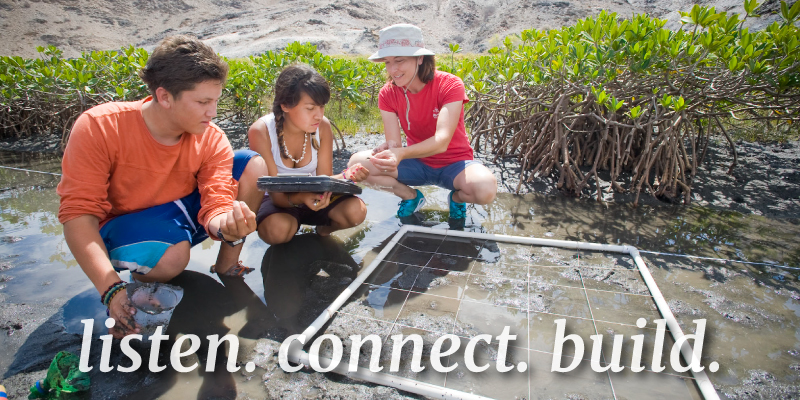 Listening to our community: Ocean Discovery Institute
11th Hour Racing fosters systemic change to restore ocean health — our vision for the future includes cleaner, healthier waterways through strong local stewardship and collective action. As the climate crisis intensifies, it disproportionately creates more severe impacts on low-income communities.
As part of our commitment to a more just, sustainable future, we are working to amplify our grantees' voices in a new blog series — Listen, Connect, Build. In this series, we listen to students and alumni from some of the fantastic organizations we are proud to support that increase ocean stewardship, access, and literacy in under-resourced communities.
Rudy Vargas-Lima
, Alumnus & Former Staff Member, and current Board Member at

Ocean Discovery Institute (San Diego, Calif.)

Current District Director for the United States Senator Kamala D. Harris
How has spending time on the ocean impacted your life?
After immigrating to the United States, my family lived in a community called Pacific Beach in San Diego, CA. My parents both worked restaurants and hotels along the beach. We were physically close to the ocean, yet I never had a relationship to the ocean. One of the few times I visited the beach I nearly drowned. 
My parents bought their first home in an inner-city neighborhood named City Heights when I was entering the 6th grade. But like so many minorities and people living in low-income communities in San Diego, transportation barriers made it difficult to get to the beach, even though we were only 15 minutes away.
Then, in the 9th grade, I joined Ocean Discovery Institute. Ocean Discovery opened the world of the ocean to me. Not only was I able to do the fun stuff like learn how to swim and snorkel in marine protected habitats, I learned real science. Throughout my time as a student, I was able to conduct authentic conservation research in San Diego and even in the Gulf of California in Mexico. I was also able to participate in an internship at the world-renowned Scripps Institute of Oceanography. I now have this depth of knowledge of why our ocean is important and why we need to protect it. Let's just say I will never see the ocean the same. Nearly 20 years later, I know that access to the ocean isn't only a matter of distance but also a matter of people's socio-economic status. 
What's the most important aspect of your work?
As a representative for a US Senator, I love the fact that I get to work on some of the country's most difficult challenges. Although change can be slow at a nationwide level, I know that it can lead to having big impacts on people's lives. It's been a privilege to work on finding solutions to local issues such as transboundary ocean pollution and even speaking on offshore drilling on behalf of my boss. Offshore drilling opponents gather in Encinitas  
What's your biggest concern about climate change?
My biggest concern about climate change is the possibility that we won't redirect our course before it is too late. I know that many communities around the world are already starting to face the impacts of climate change but it seems to be out of sight and out of mind for some of the biggest contributors to global warming. 
How has attending and working for Ocean Discovery Institute affected your life?
Participating in Ocean Discovery programs as a student, working as a staff member supporting students on their paths to college, and now as Board Member, Ocean Discovery has been there every step of the way. As I said above, it is the experiences I gained through Ocean Discovery have literally shaped my view of the ocean and its importance. I am proud to have a career where I can continue to make a difference.
What would you say to young students who would like to explore a career with the ocean, but don't have access to the water?
I am lucky to be near the ocean, but natural environments throughout our country are in need of advocacy. I am certain that young people have had similar stories with their connection to deserts, forests, and rivers. Those natural environments are also facing challenges. We need the next generation to lead the way.
About Ocean Discovery Institute
Ocean Discovery Institute, located in San Diego, CA, is a nonprofit that uses science to empower young people from underserved urban communities to transform their lives, their community, and our world as scientific and conservation leaders.
Header image photo credit: Ocean Discovery Institute