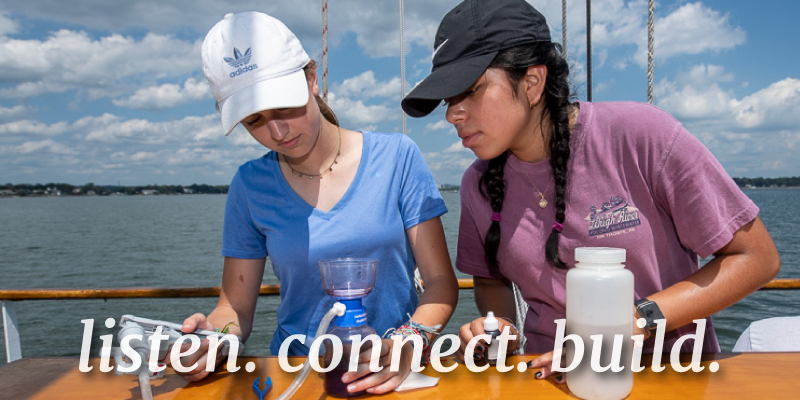 Listening to our community: SoundWaters
11th Hour Racing fosters systemic change to restore ocean health — our vision for the future includes cleaner, healthier waterways through strong local stewardship and collective action. As the climate crisis intensifies, it disproportionately creates more severe impacts on low-income communities.
As part of our commitment to a more just, sustainable future, we are working to amplify our grantees' voices in a new blog series — Listen, Connect, Build. In this series, we listen to students and alumni from some of the fantastic organizations we are proud to support that increase ocean stewardship, access, and literacy in under-resourced communities.
Naomi Solares
, Alumni & Staff Member,
SoundWaters
(Stamford, Conn.)
Naomi shares her experience moving from Guatemala City to Stamford, Connecticut. Since becoming a student at SoundWaters, Naomi's interest in the ocean has greatly increased, and she is now pursuing a degree at the University of Connecticut, planning to major in Environmental Science with a focus on Environmental Justice.
About SoundWaters
SoundWaters is a recognized and trusted environmental education organization across the Long Island Sound region, working with 146 schools across 65 communities in Connecticut and New York. They have sustained relationships with communities, schools, businesses, and political leaders for over 30 years based on shared values and trust. They have been awarded a 4-star rating, the highest possible, from Charity Navigator, based on financial health and commitment to accountability and transparency.
Header image photo credit: Michael Bagley/SoundWaters