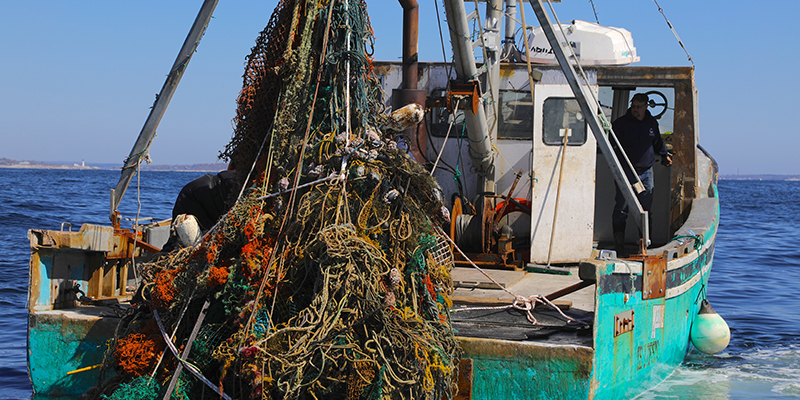 Local and National NGOs Partner to Remove 5,000-Pound Gear Ball from Gulf of Maine
Ocean Conservancy, Global Ghost Gear Initiative and Gulf of Maine Lobster Foundation, with Support from 11th Hour Racing, Leading Expedition to Recover Tons of Lost Fishing Gear on June 6
On Thursday, June 6, a crew from the Gulf of Maine Lobster Foundation (GOMLF) and the Global Ghost Gear Initiative (GGGI)—helmed by D.C.-based nonprofit Ocean Conservancy as of earlier this year—will remove an estimated 5,000 pound ball of lost and abandoned fishing gear (also known as "ghost gear") that has accumulated in the Gulf of Maine. This project builds on the success of last year's removal effort led by GOMLF, World Animal Protection and GGGI.
GOMLF works closely with fishermen within the Gulf of Maine on derelict fishing gear prevention and recovery. The GGGI is the world's premier, cross-sectoral alliance committed to driving solutions to the problem of lost and abandoned fishing gear in our marine environment; Ocean Conservancy assumed leadership of the GGGI in 2019. The Gulf of Maine project is funded by 11th Hour Racing, which establishes strategic partnerships within the sailing and maritime communities to advance solutions and practices that protect and restore the health of the ocean. Based in Newport, RI, 11th Hour Racing is intimately familiar with the threat that ghost gear poses to coastal ecosystems and communities, and recognizes the importance and urgency of collaborative efforts to mitigate this global issue.
"Lost or abandoned fishing gear is the deadliest form of marine debris because it is specifically designed to trap and kill," said Nicholas Mallos, director of Ocean Conservancy's Trash Free Seas® program. "And because the majority of fishing gear is made of plastic and other synthetic materials, once lost it lingers in the environment and continues to indiscriminately capture fish and other marine wildlife for years to come. This 'ghost fishing' impacts marine habitats and the fishers and coastal economies that depend on a healthy ocean."
"We are excited this project is bringing many dedicated parties together for the common goal of cleaning up our ocean," said GOMLF Executive Director Erin Pelletier. "Fishermen make a living on the water and are stewards at heart. While lost gear is an unfortunate reality of providing fresh seafood, fishermen are eager to find solutions and want to do what they can to help recover lost gear."
While scientists estimate that approximately 8 million metric tons of plastic enters the ocean from land every year, the amount of fishing gear remains largely unknown. Best estimates state that upwards of 800,000 tons of ghost gear is lost; however, emerging science suggests these inputs may be much higher.
Note to media: Limited spots are available on the boat; please contact Jordana Merran at jmerran@oceanconservancy.org if interested in traveling with the crew. Additional photo and video opportunities will follow the gear removal.
WHO
Nicholas Mallos, Director of Ocean Conservancy's Trash Free Seas® Program
Eric DesRoberts, Senior Manager of Ocean Conservancy's Trash Free Seas® Program
Erin Pelletier, Executive Director of Gulf of Maine Lobster Foundation
Michelle Carnevale, Program Manager, 11th Hour Racing
WHAT
Removal of 5,000-lb. ball of ghost gear (lost and abandoned fishing gear) in the Gulf of Maine.
WHEN
Thursday, June 6, 2019; 9 AM departure with early afternoon estimated return.
WHERE
The boat will depart from the Portland Fish Exchange.
(6 Portland Fish Pier, Portland, ME 04101)
CONTACT
Jordana Merran, Communications Manager, Ocean Conservancy
jmerran@oceanconservancy.org
301.873.4484
Header image photo credit: World Animal Protection