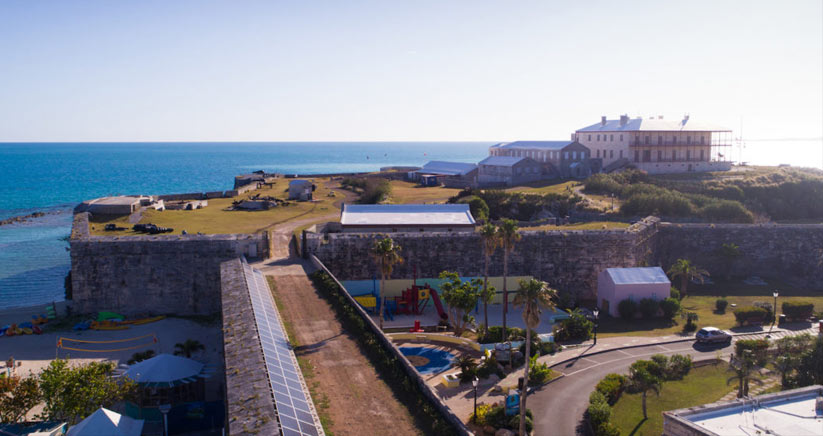 Low Carbon powers up the National Museum of Bermuda with solar installation
UK-based renewable energy investment company
Low Carbon
, the official renewable energy partner to Land Rover BAR, has announced the completion of a partnership project to install solar panels at the
National Museum of Bermuda
, drastically reducing the museum's carbon emissions.
The solar panel installation was funded through a partnership with Low Carbon, Land Rover BAR and a generous donation from the Stempel Foundation, with installation led by local company BE Solar. The panels will help offset the energy used by Land Rover BAR while competing in Bermuda during this year's America's Cup, and will contribute to the team's efforts to be the world's most sustainable sports team.
The installation consists of 194 high-performance solar panels installed along the museum's northwest rampart, and is expected to generate more than 93,600kWh of clean energy, save 43 tonnes of CO2 per year, and cut the museum's electricity bills by up to 20 percent. Solar panels have already been successfully installed by Low Carbon at Land Rover BAR's base in Portsmouth, enabling the sailing team to save more than 100 tonnes of CO2 across the two projects each year.
The panels installed at the National Museum of Bermuda will completely offset the team's Bermuda-based energy consumption within two years and will continue providing power to the island for a minimum of 30 years. The site will also be a valuable educational resource for local school children about the importance of renewable energy in building sustainable island communities.
Roy Bedlow, Chief Executive of Low Carbon, said:
"This installation is going to make a fundamental difference to the local community for years to come. We're delighted to be able to support the museum team, and our partners Land Rover BAR in their efforts to be the world's most sustainable sports team.
"We also shouldn't underestimate the importance of this legacy project. Land Rover BAR are drawing attention to the importance of sustainability, and showing their commitment to giving back to the communities they're part of during training and competition. I can only thank and congratulate them for making a difference and for setting an example that we should all look to emulate."
Martin Whitmarsh, Chief Executive Officer for Land Rover BAR, said:
"When Ben Ainslie Racing was first established, we set ourselves the target of becoming the UK's most sustainable sports team. This latest installation at the National Museum in Bermuda is further evidence of the steps we're taking to meet that goal.
"Whilst the sailing community will be closely watching the racing in Bermuda over the coming weeks, it's important that we also leave a positive legacy. The solar panel installation at the National Museum is important in helping to reduce the team's short term impact, but also for offsetting our carbon footprint and helping to demonstrate how we can build sustainable island communities."
James Hallett, Chairman of the National Museum of Bermuda, said:
"We're grateful to Land Rover Bar, Low Carbon and the Stempel Foundation for their generosity. The importance of this installation can't be underestimated. Not only is it helping to reduce our carbon footprint, and will help educate local young people, it'll also significantly reduce our energy costs. We expect our electricity bills to fall by 20 percent, and this means we can dedicate more funding to cultural heritage preservation."
Travis Burland, Sales and Engineering Director for BE Solar, said:
"The BE Solar team are delighted to complete Bermuda's largest ground mounted solar installation. This will provide the National Museum of Bermuda with notable sustainability benefits, both in terms of its carbon footprint reduction and a significant decrease in their energy costs. As a result, this project has seriously empowered the ongoing preservation of Bermuda's cultural heritage. It was a sincere pleasure to work together with Low Carbon, Land Rover BAR, The Stempel Foundation, and The National Museum of Bermuda to develop and complete this fantastic legacy project for our island."