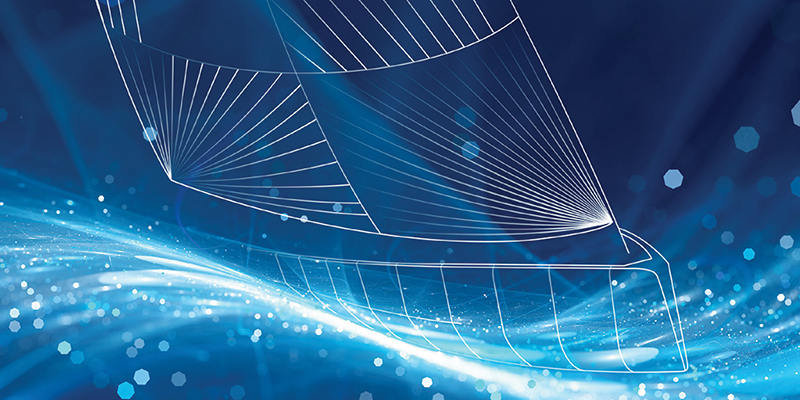 MarineShift360
A new life cycle assessment tool for the marine industry
MarineShift360 is a new marine industry collaboration that is delivering a bespoke life cycle assessment (LCA) tool to help the industry take responsibility for the environmental impact of its products. The tool, which is in phase two of development, will enable marine businesses to quickly assess the impact of its products, drive innovation at the design stage and adapt to changes required across the industry. This movement is critical for business and is driven by potential future environmental legislation as well as by the urgent need to reduce carbon dioxide emissions described in the IPCC (Intergovernmental Panel on Climate Change) report released in October.
MarineShift360 has been formed by 11th Hour Racing and Into the Blue to encourage collaboration and accelerate the industry towards sustainable change.
Life cycle assessment is widely regarded as a key method for understanding product sustainability by quantifying the environmental impacts of a product's full life cycle – from raw materials to disposal. The MarineShift360 tool is being developed to assess a wide range of materials and processes allowing users to understand the impact of their product, whether it is a single component or a whole yacht. Using industry-wide, reliable datasets, users of the tool will be able to compare choices and investigate alternatives at the design stage to increase efficiency and reduce costs without compromising on performance.
The automotive and apparel industries are examples of those that have made significant advances in closed-loop product design, moving away from the linear 'take-make-waste' approach towards a circular economy – motivated by consumer demand and legislation.
MarineShift360 is looking for Pilot Partners to form a unique collaboration with industry leaders in their fields to further develop this robust tool. Partners will be asked to provide data from their materials and processes, which will contribute to the development of a fully comprehensive database. To find out more about the tool and the exclusive benefits of becoming a Pilot Partner please visit MarineShift360.org.
All businesses in the marine industry are encouraged to provide immediate input by taking part in a questionnaire on the MarineShift360 website, which will help ensure the data and processes modeled are useful industry-wide.
Todd McGuire, Program Director at 11th Hour Racing, founding partner of MarineShift360, says: "In a world of ever decreasing natural resources, the marine industry needs to take responsibility for the impacts of its products. MarineShift360 looks to provide a platform that encourages collaboration across the marine community to better quantify its environmental impact, share sustainability best practices and inspire positive change. Our vision is for a marine industry that fully understands the environmental footprint of its products, and is empowered through data and analysis tools to make smart choices within design and manufacturing processes."
Jo Grindley, founder of Into the Blue, project partner of MarineShift360, says: "It is time to treat sustainability as an integral part of product design and development, and for the industry to take responsibility for its impact, but we can't make this change in our approach without understanding our impacts. The MarineShift360 LCA tool offers an effective way to use sustainable design to reduce both our short and long-term impact on the environment."
About MarineShift360
MarineShift360 has its roots in the life cycle assessment tool developed during the British challenge for the 35th America's Cup in 2017 by 11th Hour Racing. MarineShift360 has been founded to drive positive, sustainable changes towards design and manufacturing in the marine industry. MarineShift360 will equip the user with life cycle assessments to evaluate and compare materials and processes, investigate alternatives, and drive innovation to allow informed, environmentally and economically sustainable choices without compromising performance of the final product.
11th Hour Racing has forged a partnership with Into the Blue to continue to develop this LCA tool from a one-off, in-house tool to something that can provide significant value to the entire marine industry.