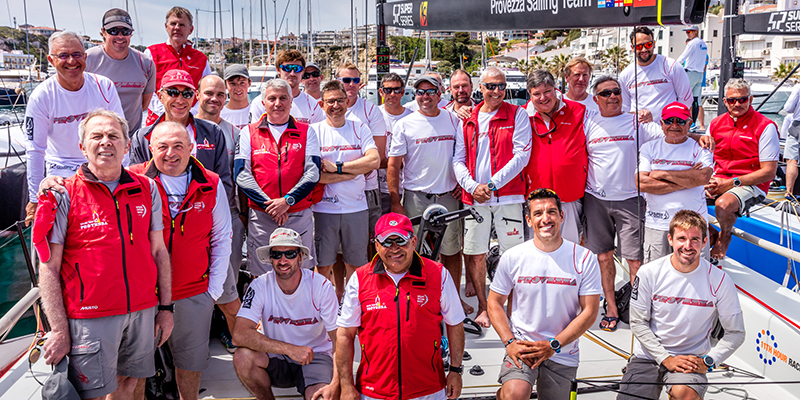 Meet the 52 SUPER SERIES Greenest Team of the Year
The 52 SUPER SERIES ended its season on a green note, honoring the Turkish sailing team, Provezza, with this year's 52 SUPER SERIES Greenest Team of the Year Award. Provezza boasts a strong commitment to sustainable operations, having never missed an ambassador meeting and participating in every underwater cleanup throughout the event. 
Using the platform of sport to lead by example, Provezza began its sustainable journey on land with a 20 seater bus used for group transport to lessen its carbon footprint. On land and at sea, Provezza only uses reusable china and utensils, in addition to providing food to its sailors in reusable containers. 
In the Bay of Palma Provezza lost its rig, but took the time and effort to recover it before it caused any harm to the ocean — an impressive feat. Provezza was also one of the first teams to use Ecoworks Marine cleaning products, even before the company became a partner of the 52 SUPER SERIES.
Other highlights include:
The team's boat captain, Guy Barron is a strong leader creating an example for the rest of the fleet on how to implement sustainable operations for a team.

They only use

reusable utensils and china at their team base.

Quickly providing race organizers with sustainability data.
Click here to learn more about the 52 SUPER SERIES Greenest Team of the Year.
Video below: Full highlights from the 2019 52 SUPER SERIES, beginning the season in Menorca, Spain and ending with the Audi 52 SUPER SERIES Sailing Week Porto Cervo in Sardinia, Italy.
https://www.facebook.com/52SuperSeries/videos/499390227578731/
Header image caption: Provezza crew in Porto Cervo, honored with the 52 SUPER SERIES Greenest Team of the Year Award. Credit: Nico Martinez | Martinez Studio